Portland sees benefits of deconstruction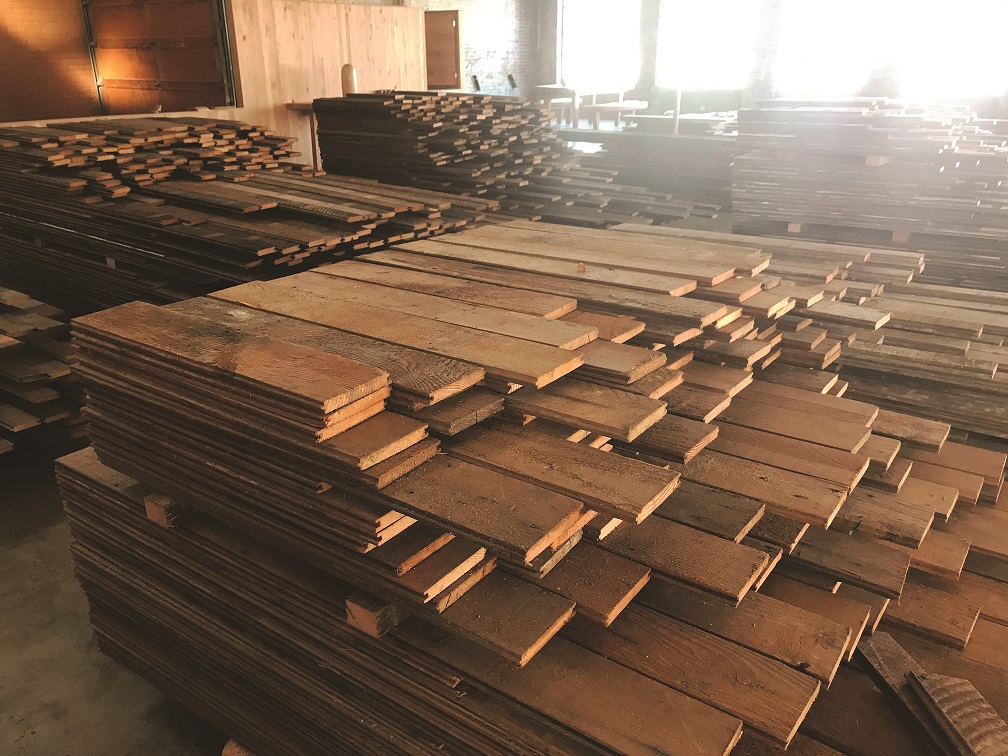 When it comes to enacting deconstruction policies, weighing the pros versus the cons and being able to share those with officials and residents is one key to success.
There are several benefits to deconstruction versus mechanical demolition. Environmental benefits, historical preservation and job creation are the big three, but cities that have enacted such policies admit deconstruction costs more and takes longer than mechanical demolition.
One city that has enacted a deconstruction policy successfully is Portland, Ore. Shawn Wood, construction waste specialist for the city of Portland, shared how its deconstruction ordinance came about.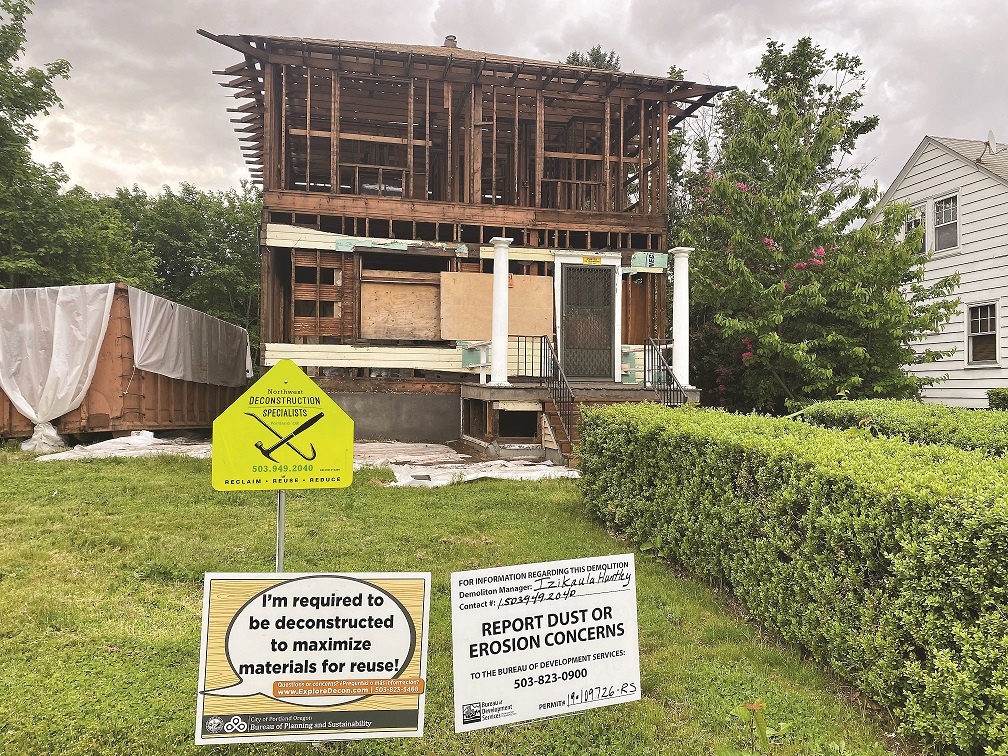 Wood said around 2013-2014 the country was coming out of a recession, and the city saw a "sharp uptick in house demolition permits." Most of Portland's demolitions are driven by new development — knocking down a house and building a bigger one in its place. Around that same time, he conversed with a local nonprofit organization that was doing deconstruction "way before our ordinance was in place and were selling materials."
He said they began thinking about how they could level the playing field for deconstruction.
"It's a hard sell when deconstruction costs more and takes longer," he said. "But the outcome is much better."
Also, around that same time, the city was receiving complaints and concerns from neighborhood groups who were asking the city to halt demolitions and preserve the modest housing. Unlike cities like Baltimore and Milwaukee, many of Portland's demolitions were private and were knocking down modest 1,200- to 1,400-square-foot homes and replacing them with 3,000-square-foot homes that were valued at $1 million versus the previous value of $350,000 for example.
"Huge McMansions were going up towering over the tiny homes next door," Wood said, adding in 2014 someone could walk in to the permit division and get a permit over the counter and have the house razed within a couple of hours.
"Imagine coming home from work, and the house next door is gone and there's asbestos and lead dust all over your garden, your pets and (your) kids' toys," he said.
The neighborhood groups went to the city council asking that the permit bureau shore up the system requiring notification of neighbors. That resulted in delays of demolition as everyone worked through this process. Neighborhood groups kept pressuring the council to expand notification and advance deconstruction. The council told the Bureau of Planning and Sustainability, where Wood works, to form an advisory group and come back to the council with a recommendation in three months.
Wood said he felt that was a "pivotal moment moving this forward." A deconstruction advisory group was formed including Rebuild — the nonprofit group — for-profit deconstruction companies, Habitat for Humanity, homebuilders, developers, representatives from the permitting bureau, and historic preservation and neighborhood groups.
"Everyone we could think of we brought to the table," Wood said.
By June, the advisory group brought a proposal to the city council to start giving voluntary incentives for deconstruction and requirements phased in over time. By September 2015, the city developed a grant program giving $2,500 to $3,000 in grant money to deconstruction projects that anyone involved could apply for.
"In return, we got a bunch of information: how much it costs versus mechanical, how many crew hours it took, what happens if they run into unabated asbestos. It became a proving ground for elements that were later in requirements," he said.
Some of those elements included keeping receipts for materials sold and having yard signage promoting deconstruction. The advisory group continued meeting monthly, and in 2016, members discussed the possibility of a demolition tax — $25,000 a year on a number of demolitions.
"If we were going that route, I wanted a lower tax for deconstruction projects and maybe a rebate," he said.
But Wood said the homebuilder's associations fought back on that and the conversation only lasted three weeks. The advisory group continued meeting to determine what a deconstruction ordinance would look like so everyone was back at the table. Members decided to have a requirement based on the year the structure was built.
"That was another aha moment," Wood said.
The advisory group looked at the demolition permits, and from that, it knew that structures built in 1916 or before routinely captured one-third of house permits.
"Setting the threshold at 1916, we knew we'd capture one-third of the demolitions. Everyone agreed that was a reasonable first step," he said.
The neighborhood groups wanted everything to be deconstructed, but those that sold the materials said they wouldn't be able to handle it and costs would go down. Wood said members wanted to start off balanced and not overwhelm anyone. The neighborhood groups relented, but with a caveat that the ordinance would include the year built requirement be raised to 1940 in three years.
Everyone agreed, and the council adopted the resolution in February 2016, followed by the ordinance in July that was effective Oct. 31, 2016. Wood said everything was moving along fine, and the city knew if it moved the year built to 1940, it would capture two-thirds of the demolitions, potentially doubling the amount to be deconstructed.
But in 2018, he said, "It became clear demolition permits had peaked in 2016 and were starting to go down."
Wood became concerned whether there'd be enough demand for the materials so they wouldn't eventually end up in the landfill. Wood said a whole infrastructure had been built because of the ordinance — new deconstruction companies formed, new retailers developed to sell materials and lines of furniture had been developed using salvaged materials. The city was supporting workforce training, etc.
But when he looked at the demolition permits, he realized Portland would have the same level of demolitions because there were fewer projects. In 2020, the city raised the year built to 1940, missing the 2019 caveat by one month.
"That's where we are today, capturing two-thirds, and it's no longer an oddball way of doing demolitions, it's become the primary way," Wood said.
In fact, he said they're seeing voluntary deconstruction projects of homes built in the 1950s and 1960s. The upside is the cost of deconstruction has gone down over the five years, and the cost of mechanical demolition has gone up. Portland went from two companies doing deconstruction to 15 to 16 certified companies doing the work, with a half dozen doing the majority of the projects. Some of those companies have opened their own retail showrooms to sell salvaged materials, and some have become one-stop contractors by getting hazardous material removal certified and acquiring heavy machinery to remove the concrete and foundation.
Wood said the neighborhood groups really recognized the benefits of the way hazardous materials were handled in deconstruction projects. If hidden asbestos was found, contractors stopped work and called in hazardous materials abatement companies to remove it. He said that didn't happen in mechanical deconstruction — the excavator allows asbestos and lead dust to go everywhere.
So the neighborhood groups went back to the council, saying if the city wasn't going to require every demolition be done through deconstruction, they wanted more stringent requirements on mechanical demolitions.
In 2018, new regulations went into effect. Contractors have to hand remove any painted material that is not structural — doors, trim, siding and deck railing. They also have to wet down the structure. Both things require additional staff, causing costs to rise. That's created a level playing field, and both types of demolition can bid on projects, according to Wood.
Pictured are cladding profiles of salvaged lumber from Portland, Ore. (Photo provided by Good Wood Deconstruction and Salvage)

A deconstruction worker de-nails lumber on a project in Portland, Ore. Removing the nails makes the lumber more saleable. Portland has a successful deconstruction program where two-thirds of the city's demolition projects are conducted through deconstruction. (Photo provided by Northwest Deconstruction Specialist)
He said deconstruction should cost more because it does a much better job from a health standpoint and an environmental standpoint. Wood said lead dust can travel 400 feet before settling, and he just testified to the Environmental Protection Agency asking them to consider demolition a source of lead.
Wood said the key for making this work is there has to be a demand and a market for the material and that varies by location. In Portland, the old growth wood drives the industry, and "Stumptown" was Portland's nickname because when it was first developed, there were stumps everywhere.
Wood said even though, "the hardest thing I ever did was getting this ordinance passed, it was relatively easy compared to other places."
That was because Portland already had pieces in place — it had retail outlets selling materials and it is part of Portland's design.
"Portland prides itself on recycling and thrift stores. One of the deconstruction contractors said, 'We recycle bottles but throw away our houses.'"
You can see the salvaged materials in bars and restaurants in the city, and Wood believes they'll see that being more of a focus because salvaged materials have less of an impact on the environment. He said processing metals and virgin wood uses a lot of energy and releases carbon in the air. He said two elements are needed for the salvaged materials: for-profit retailers for higher value materials and nonprofits for reusing smaller valued items like doors, fixtures, etc.
Wood said there needs to be a champion on the council or the mayor to take on the pushback that it costs more, but added if a duplex or multi-unit apartment goes up in its place, that cost is negligible.
Wood advised if a city doesn't already have a green or climate action plan, to create one as it lays the groundwork for deconstruction. He mentioned that the city of San Francisco is approaching deconstruction differently — it is first creating the market for the salvaged material, then will seek deconstruction. "Don't go full throttle — start off with incentives, learn about it, promote it with signage, make sure your ecosystem is up for the task (of storing and selling materials) and raise requirements over time. That's what worked for us," Wood said. "In a perfect world, you'd have a deconstruction ordinance and a complimentary policy requiring or incentivizing the use of salvaged materials in new construction. That'd be perfect."