Museum of Clean – Pocatello, Idaho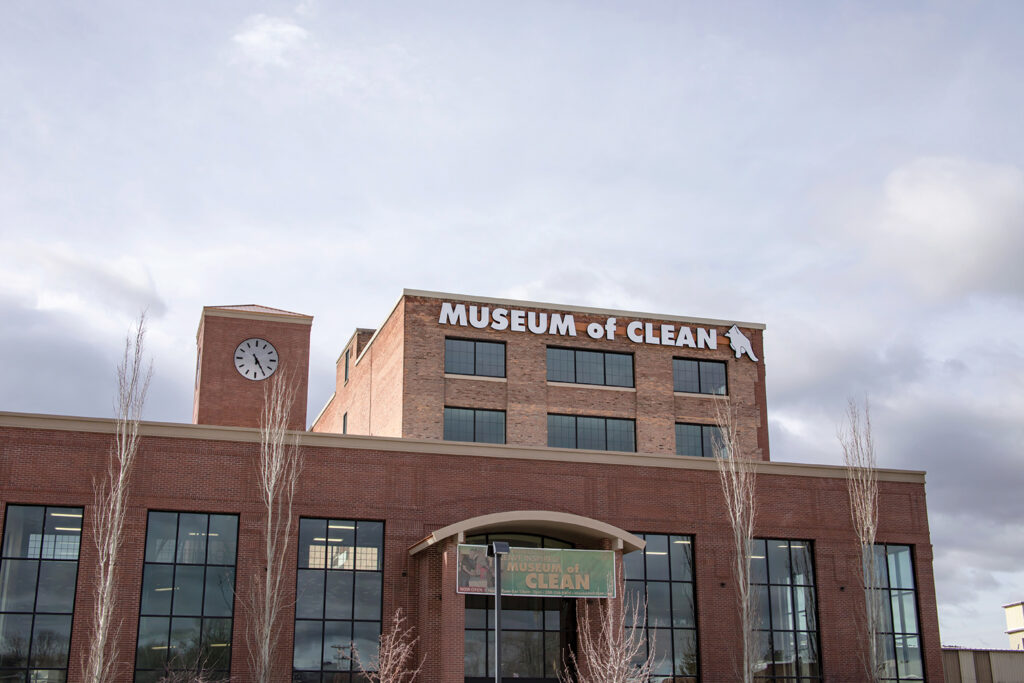 Don Aslett is all about clean, in every perspective and nuance of the word: being clean, doing clean, the history of clean, environmental cleanliness, the science and technology of clean, clean as a paradigm and lifestyle, clean humor and clean personal hygiene. The Idaho farm-boy-turned-millionaire-entrepreneur, now known as the "King of Clean," has also parlayed some of the profits from his highly successful Varsity House Cleaning Company into a six-story, 74,000-square-foot museum highlighting the multifaceted concept of "clean" in Pocatello, Idaho.
According to its website, www.museumofclean.com, "The ultimate mission and vision of the Museum of Clean is to sell the idea and value of clean, to put clean into the minds of all who visit. We want to expand the scope of clean into areas like clean homes, clean minds, clean language, clean community and a clean world."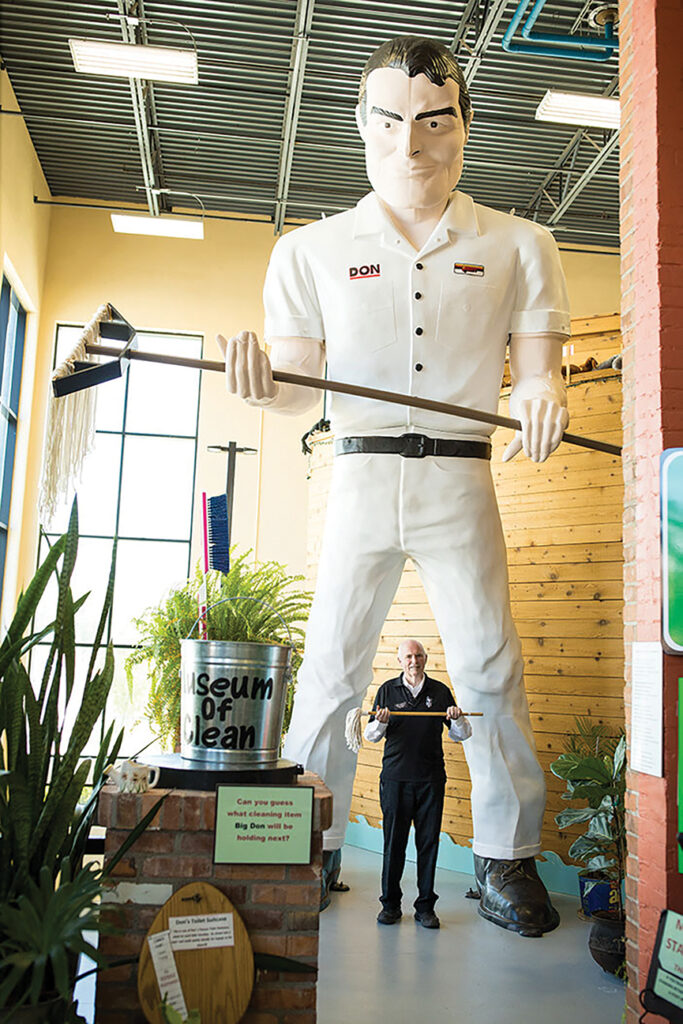 Aslett has authored 40 books and conducted — nationally and internationally — more than 6,000 seminars, workshops and television shows on the subject. Still spry at 87, he still hasn't run out of words to say about clean as he greets visitors to his family-friendly museum and escorts them around the exhibits.
Tours take 45 to 60 minutes and guests are then left to explore on their own and engage in interactive learning and photo-taking. Art and history lovers can expect to spend three or four hours absorbing the displays. The experience is designed, in Aslett's words, for people to "come interested, leave inspired."
Aslett first entertained the idea of opening a museum devoted to his life's passion in 1984 but didn't acquire a significant inventory for display until 2006, when he purchased a private collection of several hundred vacuum cleaners and associated items such as attachments, original patents, brochures and other paraphernalia.
The museum is divided into several sections, each with its own unique character, combining education and entertainment.
Vacuum collection
Aslett's collection is arguably the largest on the planet and includes the world's first — and, in fact, only one still in existence — vacuum cleaner, the Daniel Hess Carpet Sweeper dating from 1860.
The collection, numbering 500-plus machines, also contains the world's first motor-powered vacuum, built in Great Britain in 1902. The large, unwieldy machine was horse drawn and its operators would park the cart outside a building, fire up a gas-powered exterior engine to create suction and clean the building's interior with a long hose.
Art gallery
The gallery, housed in its own room, contains more than 200 rare pieces of art, sculpture, photos, jewelry, artifacts and handwritten recipes for cleaning products, all related to a central theme of cleaning. Some of the items are more than 2,000 years old.
Garden of Clean
The garden has more than 20 plants that clean the air of common household toxins like formaldehyde, xylene and benzene. Some of the plants and trees possess medicinal properties as well.
Kid Planet
The globe-shaped area for kids is "filled with serious and fun activities that teach children how to clean through activities like the power of suction, recycling, washing windows, bed making and sweeping," Aslett said. "All these teach how to make cleaning a positive experience."
Library of Clean
The library offers hundreds of educational books and videos for visitors to learn the history of clean. Aslett's books are available for purchase, and he'll gladly autograph a copy when he's in the building.
Orchestra of Clean
Just outside the art gallery is an assemblage of sculptures playing instruments made from cleaning equipment. The maestro conducts the music with a squeegee for a baton.
Big Don statue
The 20-foot statue, a la the kitschy 1960s advertising monoliths known as Muffler Men, features a young likeness of Aslett bedecked in white janitorial garb and holding a mop. Other displays feature brooms, mops, cleaning chemicals and other supplies, some centuries old.
The library has an extensive inventory of books on the history of cleaning and comfortable accommodations for visitors to enjoy their reading. (Provided by Museum of Clean)

The museum's Garden of Clean contains more than 20 plants and trees that take harmful toxins out of household air. (Provided by Museum of Clean

Some of the museum's many vintage vacuums are available for visitors to attempt using. Some of the machines require strong arms and a sturdy back to operate. (Provided by Museum of Clean)

The front foyer of the museum houses the world's oldest vacuum cleaner, the only one of its kind in existence. (Provided by Museum of Clean)
The exhibits and displays are all intended to transcend the stagnant presentation of sterile facts found in some other museums. To Aslett, teaching about the history, technology and indispensability of clean is more than a curiosity or part-time avocation; it is a vital clarion call for a better world, one personal commitment at a time.
"Clean will solve most of our personal problems, hence most of the world's problems," Aslett says on the museum's Facebook page. "Clean creates harmony, peace, safety and security. Clean speaks with a clear voice that all is well and in control.
"Nothing will change your life faster than when you throw away your junk. You have more time, you have more space, you feel better, you're healthier."
Aslett vows to continue his crusade until his last breath, because of the importance of his quest. "Anything that's clean has value. Probably next to fire, soap is the biggest cultural achievement of man."
The museum has welcomed more than 90,000 visitors since its opening in 2012. The Museum of Clean is located at 711 S. 2nd Ave., Pocatello, Idaho, and is open 10 a.m. to 5 p.m. Tuesday through Saturday. Admission is $6 for adults, $5 for children 3-15 and $20 for a family of two adults and three children. For more information, call (208) 236-6906 or visit www.museumofclean.com.