PennDOT mixes up a new type of road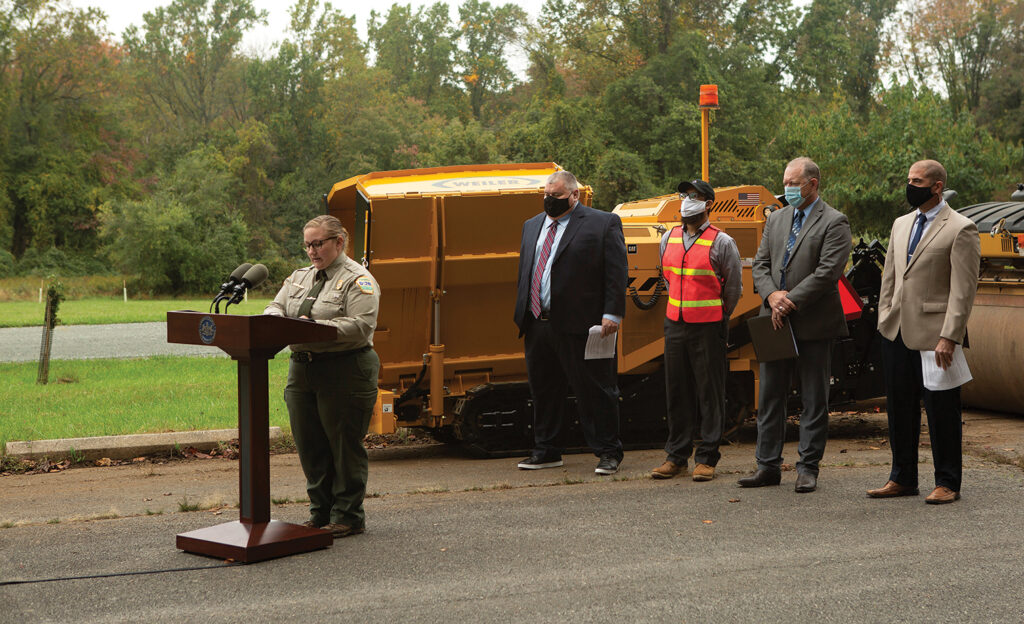 Pennsylvania may not be the first state to construct a road from recycled plastic, but leaders of the Pennsylvania Department of Transportation's Strategic Recycling Program hope that their new roadway at Ridley Creek State Park will be a catalyst for continued projects and eventual state recycled roadway standards.
"Our overall goal is to develop approved specifications for plastic use and asset application," explained Dave Condo, PennDOT environmental chemist and program manager for the strategic recycling program.
The new roadway at Ridley Creek State Park is one of many demonstration projects that will allow PennDOT to create standards and includes another in Lancaster County developed in March 2021, one in Delaware County and one in Allegheny County using various similar and different techniques.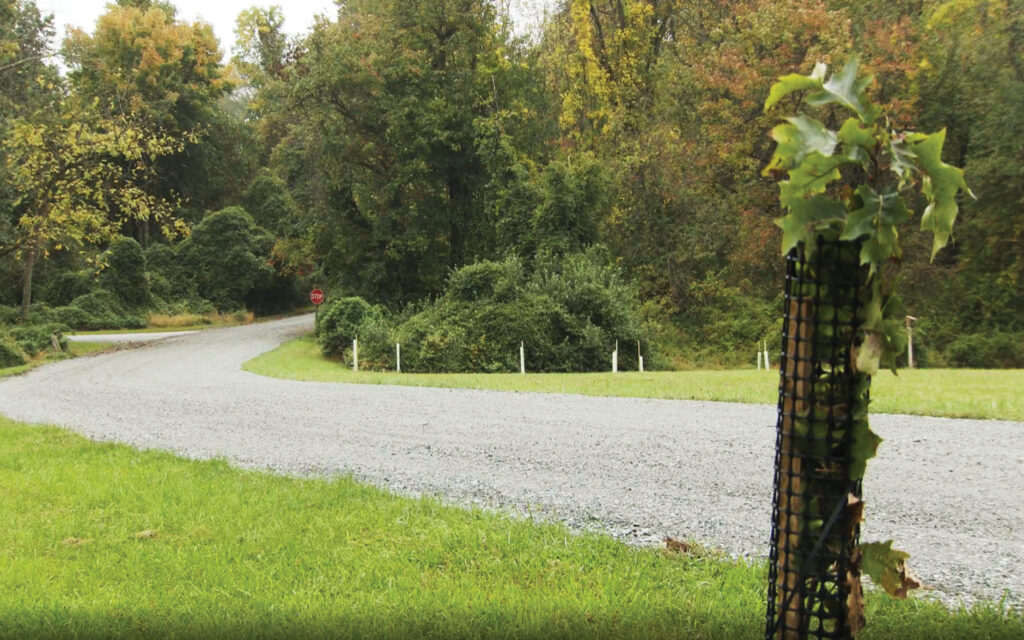 For example, one roadway in Allegheny County saw contractors mix asphalt with plastic bottles. This mixture is one that PennDOT hopes will lead to a long-lasting roadway that keeps plastic out of landfills. At Ridley Creek State Park, PennDOT used plastic bags and asphalt to create about half a mile of roadway on either end of the park's main thoroughfare. They refreshed the rest — about 1.5 miles — with a traditional asphalt mixture as a control sample.
At the test site, Department of Conservation and Natural Resources' Crystal May said contractors ground up 30% of the original road wrap, compared to the normal 15%, using it along with the plastic additives on the upper two inches of the wearing course of the road.
"We looked at a variety of recycled materials, not just plastics, but this has been a focus in the last year and a half," said Jeffrey Obrecht, manager of Environmental Health and Safety Services at RK&K, a civil engineering company in Allegheny County. "The ultimate goal is to develop a specification so this type of product can be used by the commonwealth. We wanted to use one product as a demonstration this time and perhaps another in another demonstration project coming up."
Obrecht suggested that the research will take at least 18 to 24 months to complete.
Asphalt modifiers are not a unique product; contractors have been using them for many years, but plastic-based asphalt modifiers using recycled materials are less common. The team learned from projects in other states, including Iowa, where five similar projects have been completed. They used these to find out potential value and concerns related to their plastic roadway pilot programs.
"We even worked with the lab crew to discuss this technology and how we can further advance it," said May.
PennDOT pavement materials engineer Neal Fannin said the department is heading for a performance specification that would allow it to evaluate additives in a more rational way and evaluate their performance in a manner of what can be expected on the road. This could open up the department's specification more toward recycled materials.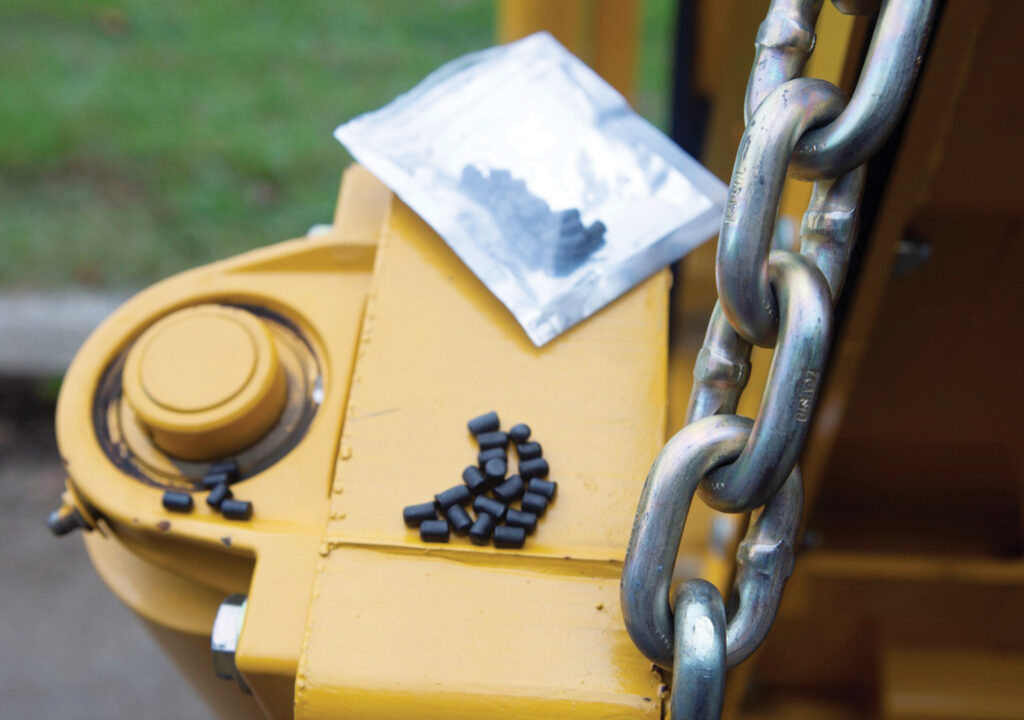 "Research needs to be done, and this project and others are a part of that research," he continued. "Asphalt modifiers generally positively affect one property and may decrease the effectiveness at another property."
PennDOT chief materials engineer Joe Robinson explained the plastics are reduced into a form to be incorporated with the asphalt. They act as the glue binding the ground gravel and rocks together.
Asphalt pavement typically has a base and a binder, an intermediate layer and then a wearing layer. The plastic and asphalt mix functions as only the wearing layer of the roadway, going about 2 inches deep.
Still, the ratio and type of plastic may cause a variety of issues with the durability and stiffness of the roadway.
"There's a balance with asphalt in particular between a stiff mix that will stand up to the heavy traffic and won't rut," said Fannin. "Asphalt is referred to as a flexible pavement material, and if it becomes inflexible, it will fracture in a brittle way, and you don't want asphalt that fractures brittlely. You want it to flex with the ground so that when freeze-thaw happens, it goes with it."
Condo explained the construction industry has been interested in roads from the angle of including recycled products since the concept was first introduced in the early 2000s.
"Everyone thought it was a great project, but you have to get the industry to use it and afford it from a cost standpoint," he explained. "We're treating it as with any other product on the market. It has to perform, and it has to be effective. We're trying to build this market because that is the only way we have found that this is going to be a sustainable practice."
Like other pilot projects of similar latitude, the Ridley Creek State Park asphalt and plastic roadway pilot program will have a multi-year performance evaluation to test the durability of the specific product used. Data is being shared with universities and associations, which are using this information as well as their own to undertake tests to continue the development of products and to create standards.
The PennDOT Strategic Recycling Program is always looking for new things to recycle, having tried wood, glass and concrete in the past, as it continues to seek affordable and durable ways to use difficult-to-recycle materials.