Cities seek to brighten holiday spirits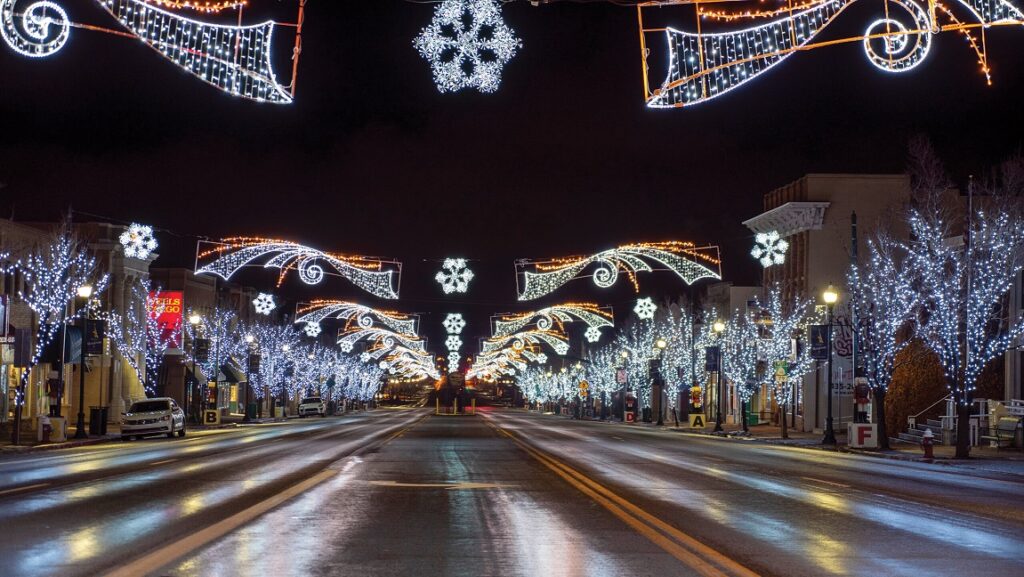 Nearly two years ago, the COVID-19 global pandemic brought the world to a screeching halt. Every aspect of life was altered in some way, including the ways the holidays were celebrated. Festivals were canceled, public gatherings were outlawed and the normally cheerful holiday spirit was diminished, with moods being dampened by the fear of this invisible viral threat. But communities rallied, and people stuck together in an incredible show of strength and courage — and although tentative about the future and keeping vigilant about public health and safety, city residents appear to have regained their group morale.
In late 2020, both Beckley, W. Va., and Cedar City, Utah, sought to brighten residents' spirits in the midst of COVID-19. During the holiday season, they brought in new lights and displays. City leaders' efforts brightened their communities and introduced a "new normal" way of celebrating the holidays. Both Beckley and Cedar City look forward to the 2021 holiday season and holding as many festive events as possible.
Both uptown and downtown Beckley have seen holiday light displays, wreaths decorating the area, an enlarged skating rink and the lights at the Exhibition Coal Mine, all of which offer a unique, outdoor wintertime experience. Another effort made in 2020 to brighten the holidays in Beckley was bringing in new festive lights, including popular Edison bulbs, to decorate the downtown area. Beckley's Mayor Rob Rappold decided to have the warmly glowing Edison bulbs installed at the gazebo at Jim Word Memorial Park and the pergola at Shoemaker Square, according to a local news source, the Beckley Register-Herald.
"We want to probably grow the theme of the white Edison lights, not only at holiday season but, at some point, throughout the year, to brighten the city and make it warmer and more appealing," Rappold was quoted as saying. "It's a good way to give people a good, warm feeling and, at the same time, provide a little extra light where there may not be that much, otherwise."
Beckley Director of Events Jill Moorefield said the city continues to recover from the impact of COVID-19. "Beckley did not have a traditional Christmas parade in 2020; instead, we had a 'Reverse Parade,' where entries stayed in place around the convention center and spectators drove thru the parade line-up," said Moorefield. "It caused quite a traffic jam in the parking lots and nearby roads, so we hope that we do not need to do a reverse parade again, but it was popular and well attended since so many activities had been canceled in 2020. The Beckley Exhibition Coal Mine hosted an ice skating rink in their parking lot over a few weeks that year, which was also very popular: they did not have their normal Appalachian Coal Town Christmas Festival activities."
Leslie Baker, director of operations for Beckley's parks and recreation department, said the city is absolutely thrilled to have holiday events open for the public again. "Everyone is so glad to have all of our holiday traditions back this year," said Baker. "We have our yearly Christmas parade, which has been around for a very long time. In fact, I know many people who say their Christmas season doesn't really begin properly without going to the parade!"
This year's parade has a "Gingerbread House Christmas" theme and is planned for Dec. 4, 2021. Organizers are excited to host the annual parade again, which will include four categories for floats, many awards and prizes, and above all, a great family event for the city. According to city events planners, the course of the parade will follow the same route as in past years. The Christmas Parade brings so much joy to the Beckley community, especially in such uncertain times where people rely on warm, cozy, comforting traditions to take away the chill. In addition to the parade, the city will also be hosting its traditional Coal Town Christmas Festival as well as the Nutcracker Ballet performance, both of which are essential to the holiday season, according to most Beckley residents.
Baker also said that the city of Beckley has several more new lighted displays ready to decorate downtown and uptown for the holiday season, and that area residents are so excited to be able to gather safely — with health protocols like masks and sanitizer implemented — and celebrate one of the happiest times of year together as a community.
"We are all so glad to be open again," Baker said, speaking for herself as well as for the city at large. "When we reopened in the springtime, everyone was ready to get back to 'normal' while still remaining safe. Our events have all been at capacity, and the city has shown how ready we are to be up and running!"
Moorefield also said the Beckley Exhibition Coal Mine will have the ice skating rink open from Nov. 20-Dec. 5 and will celebrate two weekends of the Appalachian Coal Town Christmas Festival with COVID precautions in place.
"We encourage attendees to try to be as safe as possible and recommend social distancing, getting the vaccine, wearing masks and sanitizing often," she said. "Residents can enjoy some pre-Covid events such as the traditional Christmas parade, holiday activities at the Exhibition Mine Complex and Youth Museum, and lights around town. Several holiday activities are booked at the city's Historic Black Knight facility as well."
Community leaders in Cedar City have also committed themselves to bringing the holiday cheer this year, as in years past. In 2020, Cedar City Event Director Brad Abrams said a new two-block stretch of overhead LED light displays now runs along Center Street between 100 East and 100 West, adding to the ones that the city newly installed along Main Street last year between Center Street and 200 North. Abrams said the project was part of the city's "All is Bright" campaign designed to attract visitors to the historic downtown area.
In addition to installing new lighting displays, Cedar City has also made significant infrastructure improvements to add to the overall atmosphere of the historic downtown. Local holiday events will still be held, including the fourth annual Holiday Tree Jubilee at the Cedar City Heritage Center Theater. Visitors will see Santa and an incredible display of decorated Christmas trees to help kick off the holiday season. Keeping with spreading holiday cheer and giving back to the community, all proceeds benefit local children and teens who are homeless or otherwise in need. Along with Santa and the Holiday Trees, residents and city visitors can enjoy professional Christmas photographs, hot chocolate, a fun children's area and other joyful activities. City leaders are confident that this year's jubilee will be extra special as everyone continues to fight through the pandemic and all the struggles from the past two years.
Cedar City also plans to host its Wreaths Across America event this December, where people will be encouraged to "REMEMBER the fallen, HONOR those that serve and their families, and TEACH the next generation about the value of freedom." Event planners have designed a brief program, which will consist of a color guard, a special ceremonial wreath presentation honoring each branch of the military, music, remarks from Cedar City Mayor Maile Wilson-Edwards, tributes, bagpipes, taps and more. The Wreaths Across America celebration is yet another way for the city to embrace the holiday spirit and continue to bring joy to the community.
The past two years may not have seemed very "wonderful," but the SimonFest Theatre Company in Cedar City wishes to change that by putting on the holiday classic screenplay, "It's a Wonderful Life." Theatre goers can escape the challenges and turmoil the world has been facing and get lost in a positive storyline that is sure to boost the spirits of everyone.
No matter the challenges faced by the country and the world as a whole, individual communities strive to keep the spirits of residents uplifted and positive. The holidays are a time for joy and sharing, coming together as a supportive and collective unit. Cities like Beckley and Cedar City have done just that by bringing in festive new decorations and lighting displays, keeping local traditions alive and hosting as many holiday events as possible — and as safely as possible — in order to maintain the "normal" holiday cheer usually seen this time of year.