New QuickJack TL Portable Car Lifts Raise Virtually Any Car, SUV or Light Truck Higher in Just 30 Seconds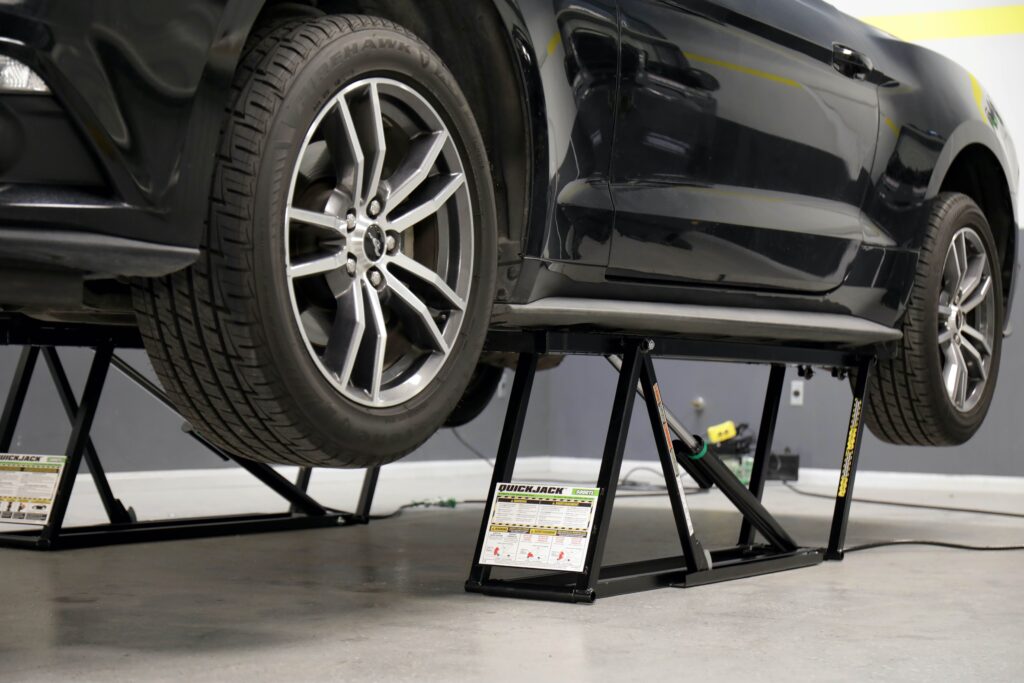 LAS VEGAS, SEMA Booths 81030, 36133 (Nov. 3, 2021) — QuickJack™, the brand that revolutionized vehicle lifting at home, at the track and at the shop when it hit the scene in 2015, has improved almost its entire lineup of portable car lifts to offer customers greater lifting height and versatility.

QuickJack lifts are compact, frame-engaging models with an open-center design for complete access to the vehicle's undercarriage. The new QuickJack TL Series lifts provide an additional 3 inches of lifting height over the outgoing SLX models — for a full 2 feet or more of ground clearance. The increased lifting height allows for improved access and working room under the vehicle for maintenance and repair tasks, plus it offers even better ergonomics for wheel work and detailing.

"We invented QuickJack to give customers a faster, safer lifting alternative to floor jacks, stands or ramps without the expense or massive space requirements of a permanently installed lift. The original QuickJack design was an immediate hit with consumers and professionals alike," explains Jeff Kritzer, BendPak executive vice president. "Now, our product design and engineering team has made this professional-grade lift line even better, adding rise height while maintaining the compact, portable package our customers love."

The new QuickJack TL line includes four models to handle everything from cars to light trucks:

5000TL: 5,000 lbs. capacity, 24-in. lifting height, 70-in. frame, 3-in. lowered height
5000TLX: 5,000 lbs. capacity, 24-in. lifting height, 76-in. frame, 3-in. lowered height
7000TL: 7,000 lbs. capacity, 24.25-in. lifting height, 70.75-in. frame, 3.5-in. lowered height
7000TLX: 7,000 lbs. capacity, 24.5-in. lifting height, 76-in. frame, 3.5-in. lowered height

All QuickJack TL models feature pendant controls for one-handed operation, dual-position automatic safety locks and durable urethane wheels to make it easy to roll the lift wherever it's needed. Each lift reaches its full height in just 30 seconds. When the job is done, the lifts collapse to 3 to 3.5 inches high and can hang on a wall, slide under a toolbox, or go into the trunk until next time. All are backed by a standard one-year warranty and priced under $2,000 with free shipping in the continental United States.

Customers who currently have QuickJack SL models can upgrade their lifts to get the additional rise by purchasing new TL frame assemblies.

To order or learn more about the QuickJack TL lifts, stop by the QuickJack/MaxJax booths at the 2021 SEMA Show, outside in Silver Lots booth 81030 or inside the South Hall at booth 36133, visit quickjack.com or call (888) 262-3880 Monday through Friday from 7 a.m. to 4:30 p.m. Pacific Standard Time.

About BendPak BendPak Inc. is a global manufacturer of vehicle service equipment sold under the trademarked brands BendPak®, Ranger®, Autostacker®, QuickJack®, GrandPrix®, JackPak®, MaxJax® and Dannmar®. Its collective range of products includes car lifts, parking lifts, pipe benders, air compressors, tire changers, wheel balancers, wheel aligners, brake lathes and other garage equipment.