Wausau sign shop project displays customizable cabinets available at CTech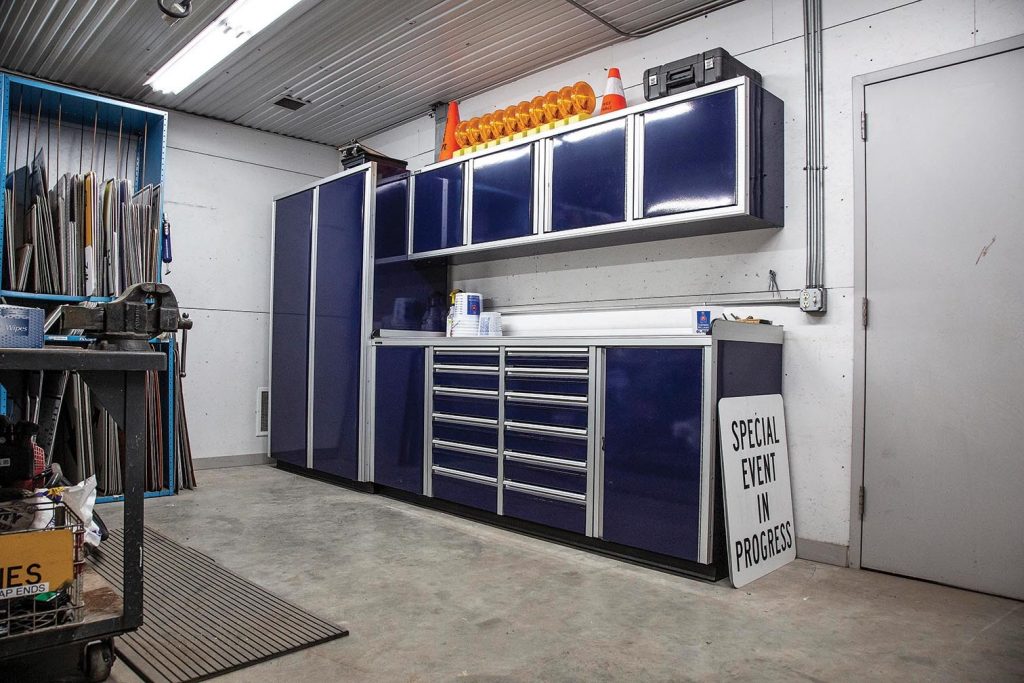 One of the most important aspects of a business is its versatility in providing its customers exactly what they need. CTech Manufacturing showcased its ability to specially customize a job when it built and installed the custom cabinets in the city of Wausau, Wis.'s, new sign shop.
The city of Wausau saw the quality of product offered from CTech Manufacturing through its work with different schools, including North Central Technical College, DC Everest, Wittenberg High School and Stevens Point Area Senior High. After seeing this work, the city reached out to CTech to meet the needs of its sign shop.
The city's sign shop serves a variety of functions — from office to sign making shop to storage to break room — and it needed the ability to properly utilize the space it had for each of these. In order to properly serve all these necessary functions, each area needed its own specific, custom storage solutions.
Nate Birkenmeier, CTech Manufacturing product line manager, emphasized, "CTech parametric design allows us to build cabinets to the specification of the customer's storage needs. We make it easy for our dealers because the answer is, 'Yes, we can do that.' Each and every order is built to suit our customer's storage needs."
For the city's sign shop project, CTech worked with FSS Business Solutions, one of the company's dealers, to collaborate with the sign shop on what its storage needs were and then install the cabinetry after it was designed. CTech, FSS and the city all worked together to collaborate on the best storage solutions for the sign shop. In under a week, they designed the best layout for the most efficient and productive work environment. When it came to completing the project, CTech had the cabinetry manufactured within 30 business days and FSS completed the install process in just a few days.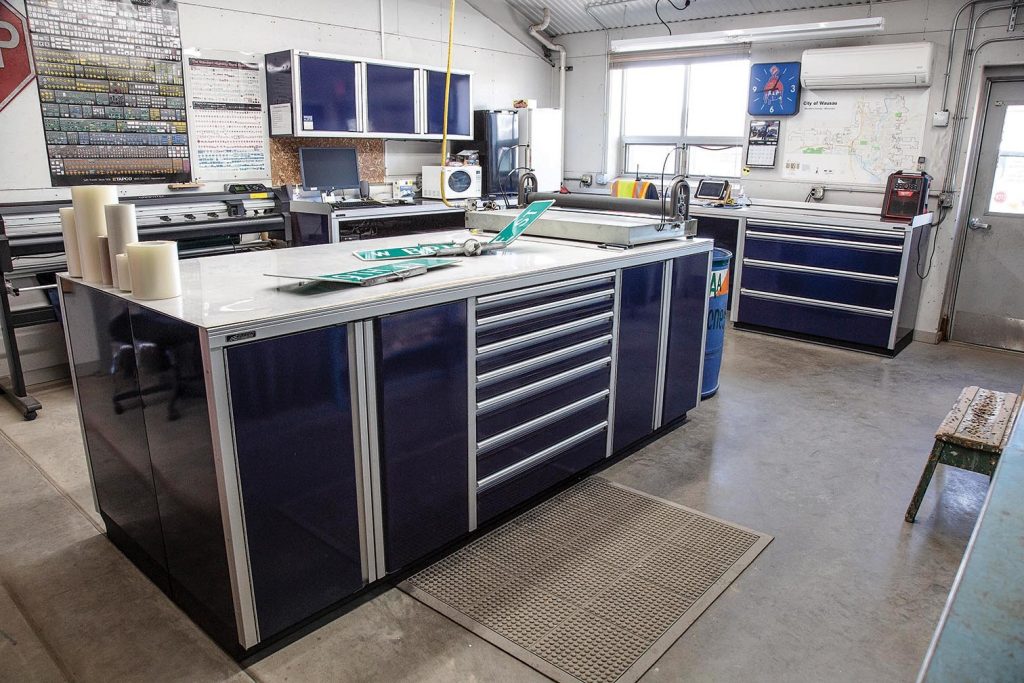 Some of the customized options CTech provided were multiple desk base cabinets, island worktop cabinets and a stand-up cabinet package with overhead storage. The island cabinet, however, stood out specifically among the rest. The island provides an uninterrupted, solid workspace surface while also providing plenty of drawer storage for necessary supplies and materials below. Birkenmeier mentioned, "The sign shop works with vinyl and adhesives on a daily basis, so the storage of the rolls of vinyl and adhesives was a key component of storage. Putting the vinyl rolls in CTech drawers limited the amount of exposure to dust."
Sit-down office spaces were outfitted with MotionLatch® drawers in order to house office materials and production assets. In order to ensure employees had appropriate working space, open areas and compartments were designed into the system.
The reduction and, in some cases, total elimination of clutter in this space is a sure sign that the project was a major success.
CTech Manufacturing provides easily customizable cabinets to fit any space for any application. "All aluminum construction, extrusion framing, tough powder coat finish, MotionLatch® drawers and doors, parametric design, items built to suit, customer service second to none and a great certified dealer network sets CTech apart," Birkenmeier stated.
Cabinets are not the only thing CTech can customize for customers. It can also provide carts, drawers, tactical boxes, mobile medical labs and personal protective equipment, and accessories.
Some exclusive features offered by CTech include the aforementioned MotionLatch® drawers, which allow for one hand, one motion opening and closing; GasketLoc™ countertop, which hides all fasteners and keeps unwanted liquid from entering a cabinet; Adjust-A-Loc™ shelving, which helps the cart change over time as different needs arise; custom openings for specialized equipment, including venting; and a choice of 10 standard powder coat colors to protect against the elements.
Besides manufacturing each of these customizable products, CTech also provides a service industry with industrial carts, service and mechanic truck body tool drawers, specialty vehicles, CopBox Cabinets® and more.
CTech has a new online cabinet configurator to help customers design the right cabinets to meet their needs. Customers can choose from a base, overhead, wall or closet cabinet and customize from there.
Visit their website at www.ctechmanufacturing.com/shop for more details.