T2 Systems Releases New Residential Permits Solution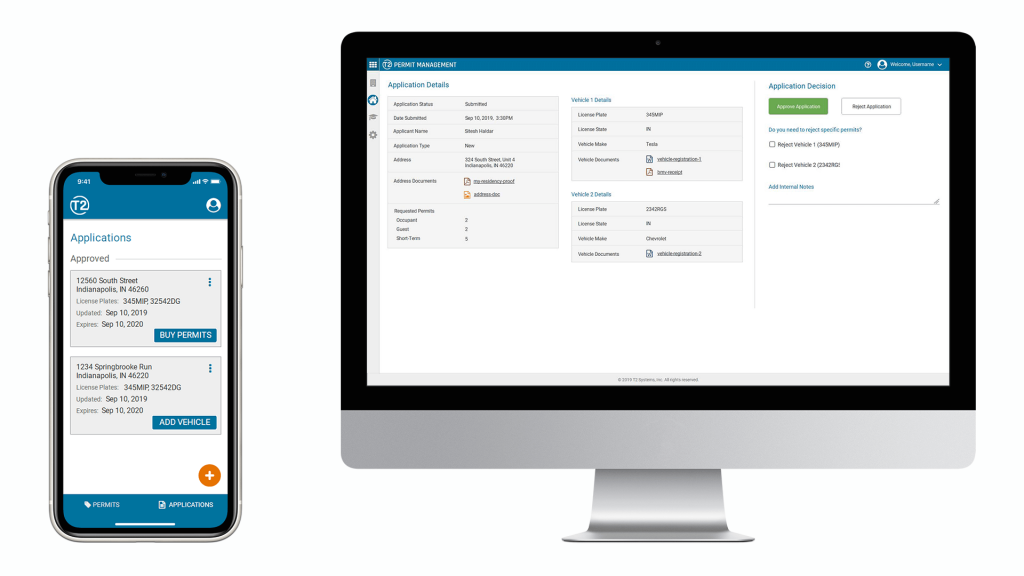 July 27, 2021 – Parking technology leader T2 Systems has released its Residential Permits solution, a mobile web application and back end platform that enables parking operations to sell and manage property-based permits. This solution empowers customers with self-service functionality while streamlining internal processes for parking and enforcement staff.
With Residential Permits, residents can apply for parking permits online from any device – smartphone, tablet, or computer – while parking staff reviews documentation and evaluates applications in real time. Once approved, residents are notified and can purchase and use their virtual permits immediately, after which they can easily add guest permits and update their information from the same mobile-friendly web application.
"Ensuring your residents and local businesses have parking in their area can be challenging for municipal parking leaders. T2's new Residential Permits solution extends an already powerful permit and enforcement solution to manage property-based eligibility while making it easy to purchase parking on a mobile phone," said Scot DeLancey, SVP, Strategy and Product for T2 Systems.
On the back end, Residential Permits provides parking staff all the information they need to easily approve or reject applications, such as applicant documentation, existing permits and applications, and unpaid citations. It also automatically enforces permit districts, eliminating the need to manually verify applicant addresses.
"We've been able to process applications in a few hours that normally could have taken a week. We have used paper applications in the past, and eliminating paper has been freeing. I'm looking forward to the renewal process being a breeze next year," said Debbi Zell, Parking Programs Manager for the City of Aspen, CO.
The customer-facing mobile web application features an easy-to-use, mobile-friendly interface. Users can save progress on applications and complete at a later time, as well as stay logged in to their account just like a regular smartphone app. The platform is also 100 percent white labeled, allowing an organization to add its name, branding, and colors for a customized experience.
For more information or to contact a T2 Systems representative about Residential Permits, click here.