Student firefighter program allows recruits to serve while pursuing a degree
A student firefighter program started in 1985 by the Manhattan Fire Department in Kansas continues to grow and challenge local college students today.
          From the very beginning, the program has created a connection between the fire department and Kansas State University. The Headquarters Fire Station and Regional Training Center, which opened in 1985 on the corner of Kimball and Denison avenues, sits on land owned by the university. The university leased it to the city for 50 years. When six men and three women, all students at the university, were hired onto the department, the student firefighter program officially had its beginning.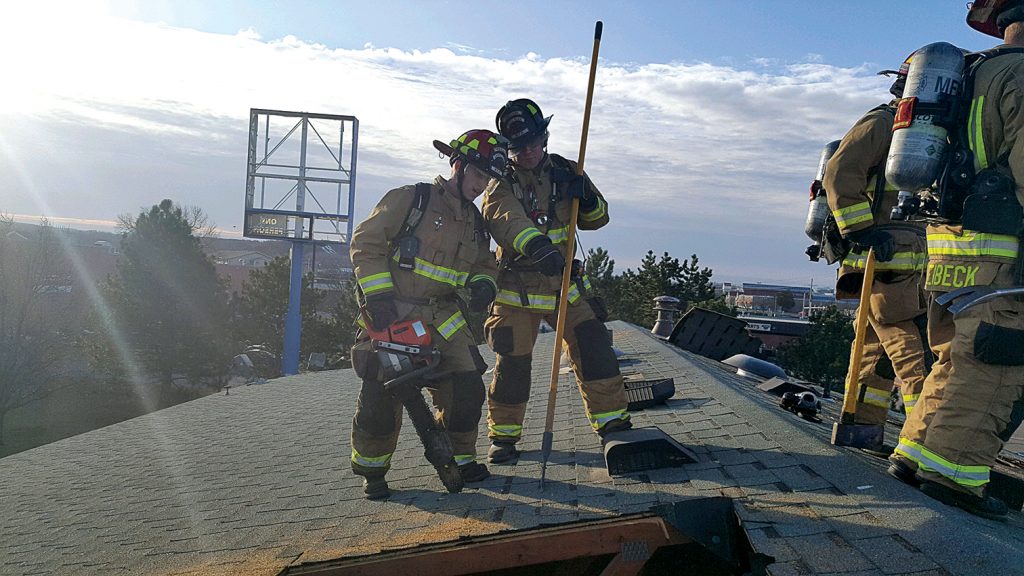 In order to qualify to be hired into the student firefighter program, one must be at least 18 years of age, a U.S. citizen or legal resident and be enrolled at either Kansas State University or Manhattan Christian College. Proof of enrollment or a letter of acceptance must be shown during the formal hiring process. Students must also complete the same six-week fire academy used for full-time hires. Academy is typically held two weeks after spring semester. On the last day of academy, they must also complete the same physical performance assessment. Program hires must reside within the fire department residency area.
Within the fire department, student firefighters are classified as a temporary part-time position. Students must maintain at least 12 credit hours per semester as an undergraduate or six hours as a graduate student. Undergraduates must maintain a 2.0 grade point average while graduate students must maintain a 3.0 GPA. Any changes in academic status or hours enrolled must be reported to the department.
When it comes to work at the fire department, assignments are limited in duration and dependent upon a shift schedule. On an annual basis, a student firefighter works less than 1,000 hours. They do not receive any fringe benefits from the city. The current hourly rate for a student firefighter is $10.68.
There have been some changes throughout the program's history regarding the student firefighters' training and responsibilities. Originally, program participants would live for free in the Headquarters Fire Station's basement quarters in addition to receiving a small salary. At night the student firefighters would be used to supplement staffing and either assist with dispatch or respond to a fire scene. Deputy Fire Chief Ryan Almes explained, "Dispatching was a large part of the SFF job until dispatch was consolidated in 2012." Prior to 2012, the department had a full-time day dispatcher and the student firefighters would be assigned shifts to work dispatch overnight.
Living arrangements for student firefighters also changed. Students were able to live for free in the basement quarters until 1996 when the area was repurposed. Now the students only stay in the building while on shift.
In 1985, training for student firefighters occurred while they were on shift. Now the students not only must complete the same fire academy as full-time firefighters, but they must also complete the same probationary manual that new firefighters are required to complete during their first year of employment. The training received is comprehensive and prepares them to do all the functions of a full-time firefighter. This includes training in hose deployment, search, ventilation, forcible entry, rapid intervention teams, first aid and CPR, hazardous materials, public education and more.
"The department does consider the student position as regular staffing for minimum staffing purposes, and they are required to have monthly training but at a reduced rate compared to the full-time positions," Almes clarified.
Before the spring semester's start in January, the department utilizes a one-week refresher academy training course. This enables student firefighters to complete the necessary annual requirements and training hours, such as the department physical. "The only difference between our full-time firefighters and our student firefighters is our full-time people have to be certified as EMTs," Almes described.
After completion of the training academy, each student firefighter is assigned to a specific captain and firehouse and works only on that shift. Battalion chiefs and students work together on monthly scheduling so there are no conflicts with school. The department employs up to 12 student firefighters.
          On each shift, there are up to three student firefighters assigned. "During the school year, students typically report to work at 5 p.m. and work until 8 a.m. the following day during weekdays and occasionally work a 24-hour shift on a weekend," Almes described. Each month a student firefighter averages four or five shifts and between 64 and 80 hours. During semester break and summer breaks, student firefighters are assigned to 24-hour shifts.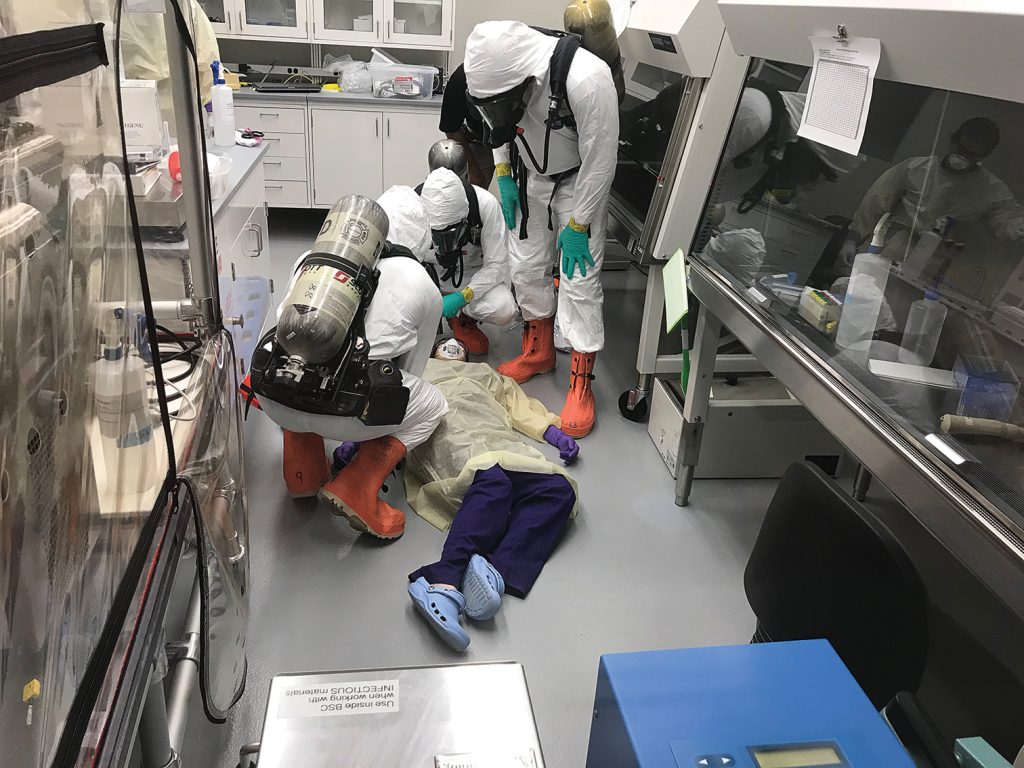 After graduation, some student firefighters choose to apply for full-time status with the department. Currently about 20% of the department, or 89 of the uniformed full-time members, began as student firefighters. These member positions include the chief, deputy chief, training chief, fire marshal and one battalion chief.
"On a personal note, I served as a student firefighter for two years before joining the fire department full time," Almes stated. "It let me learn about a career in the fire service that I never imagined myself becoming a part of. After joining, for the first time in my life, I felt like I truly belonged. I gained many great friends through the program who I am still very close with today. What a great part-time job and opportunity for so many. I am forever grateful for the program."
"The student firefighter program was a great start for my fire service career," said Manhattan Fire Chief Scott French. "And what an honor it was for me to be able to welcome my son Austin to the Manhattan Fire Department in 2017, when he was hired as a student firefighter."
No matter the future pursuits, Almes emphasized the program has a way of jumpstarting a future career. "We have former SFFs who are career firefighters all over the state of Kansas and some across the nation, including one who is an officer with the Fire Department of New York," he claimed. Others go on to become physicians, engineers, physician assistants, architects, military officers and entrepreneurs.
          The program helps not only the department, but the city. This supplemental staffing allows it to have more firefighters on duty at a time. It has also created a network of former employees who other student firefighters as well as community members can reach out to and draw upon their expertise not only in fire service but other professions. Students firefighters also provide the department with a deep, though less traditional connection to the university while working as a good way to fill open full-time positions within the department.
"Many departments reach out to us due to the success and longevity of our program," Almes explained. "I think this is the kind of community-oriented connection many departments would like to have but have had trouble getting started."