Oelo's colorful lights pull double duty, saving money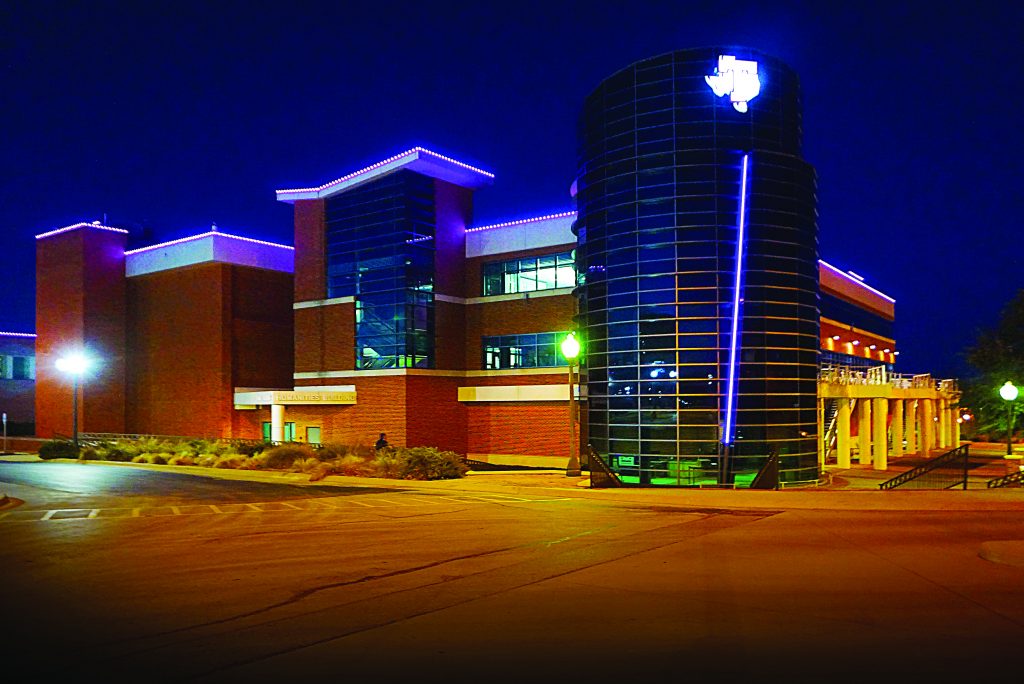 Calm settles over Tarleton State University. Another bustling day has come to an end as hundreds of lampposts across the Stephenville, Texas, campus wink on to guide lingering students back to their dorms. A purple glow emanates from nine buildings across the 122-year-old campus, accenting some of the university's most visited buildings.
          The glow is new, an addition that was made in December 2020 when Tarleton Facilities Management and Campus Operations invested in Oelo Permanent Structural Lighting to dazzle students. The patented color-changing lighting system features permanent weather-resistant channels that blend in with the buildings' exterior, available in acrylic or optional aluminum. Tarleton opted for custom powder-coated aluminum channels for a seamless match.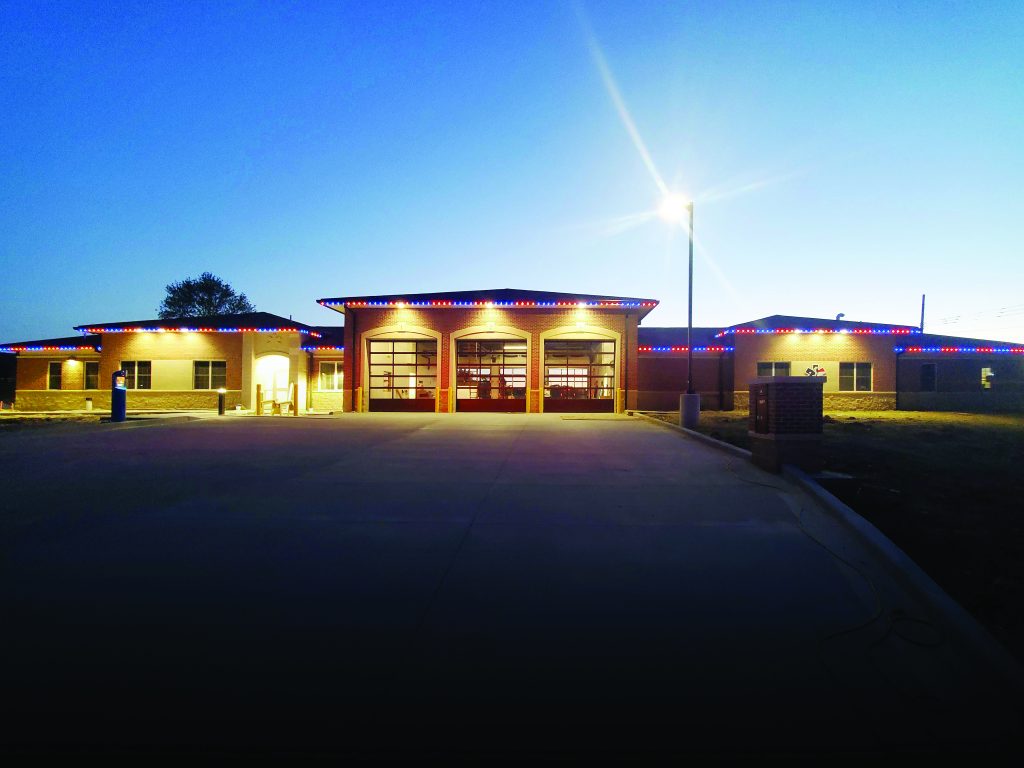 And while Oelo is practically invisible by day, it's hard to miss at night. Not only can Tarleton accent its structures in Tarleton purple, but campus operations can use the Oelo cloud-based lights to customize 6 million hues and 10 movement settings to celebrate special occasions, university causes and favorite holidays. The system can also create the iconic white "bulb" look often seen accenting shopping plaza rooflines.
And with so many color variations, Oelo pulls double duty as holiday lights whenever the season calls for it. From a management standpoint, Oelo is a no-brainer, helping municipalities eliminate the ongoing time and money it takes grounds crews to hang holiday lights on an annual basis. Featuring a five-year warranty, each system is rated for 100,000 hours of use — the equivalent of 22 years of nightly 12-hour glow. In comparison, LED string lights and neon tube lights are only rated for 10,000 to 40,000 hours.
Tarleton's system features 7,500 lights, 35 power supplies and 14 control units on nine buildings, and while the addition is new to the university, Oelo isn't a newcomer in the facilities management space. You can find Oelo lighting on community centers, like the Platte Valley Community Center in Wyoming, or on fire and ambulance stations, like the Calabash Fire Department in North Carolina or the North Jefferson County Ambulance District in Missouri. Oelo has also made a name for itself among franchisee owners, becoming a favorite commercial lighting partner on Chick-Fil-A and Human Bean storefronts.
"During the holidays, it's definitely a blessing having this system," said Human Bean franchisee owner Frank Sherman, who bathes most of his coffee storefronts in Oelo hues. "We don't have to hire contractors to climb ladders and hang string lights around the building, and after Christmas, they don't come back to take them down. I don't like roofs and ladders. The combination creates liability, and it also impacts business. With Oelo, a professional team installs them once, and after that, we enjoy them year-round."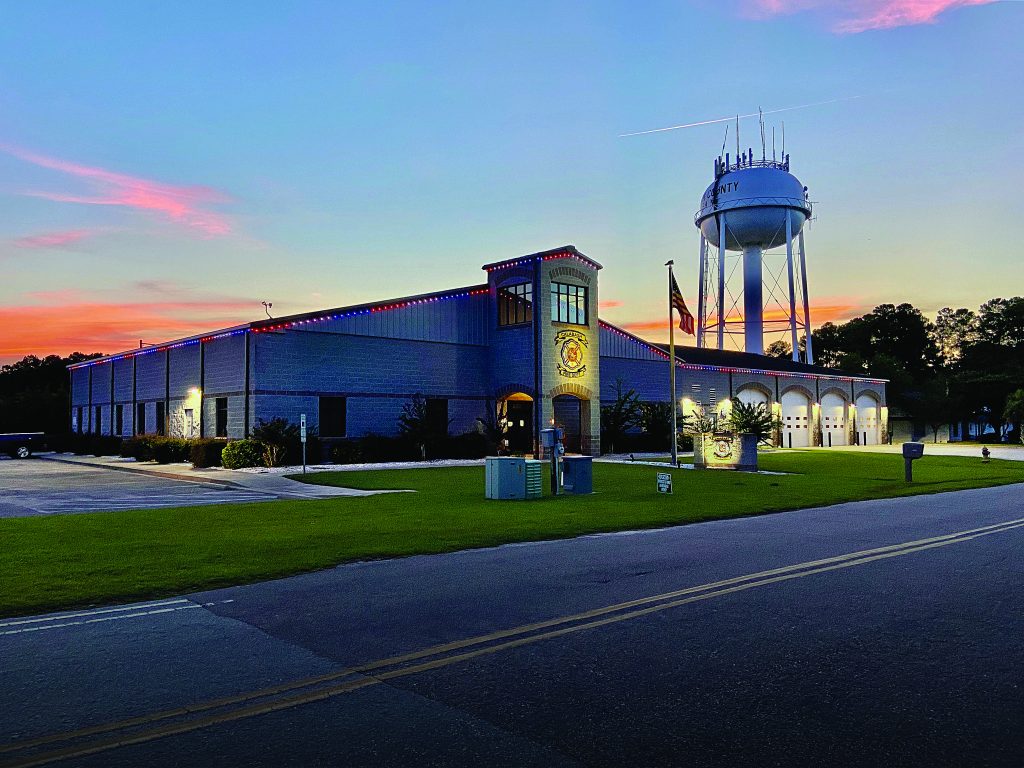 And while Tarleton is a fan of purple hues, Sherman likes rocking pink during Human Bean's Coffee for a Cure event, a day when the franchise owner pools together 100% of his sales from 10 northern Colorado Human Bean locations to benefit local breast cancer funds. Most years, Sherman raises more than $50,000 to aid his community. The lights, he said, helps create important awareness.
Sherman said he stumbled across Oelo when he was building a food truck for his coffee franchise.
"I was working with SVI Trucks, an international world-class company that builds emergency vehicles, to build a custom food truck. During the process, we spent a lot of time at the SVI facility, and that's when we discovered Oelo, one of SVI's sister companies," Sherman recalled. "We gave the lights a try, and now, every time we add a store, we're adding Oelo lights because we know it's a product backed by a very strong parent company."
In short, Oelo COO Clay Horst said Super Vacuum Manufacturing, Oelo's parent company, knows the ins and outs of government projects. Incorporated in 1954, Super Vac also has two other divisions that offer specialty lighting products in the emergency vehicle industry.
"It's sort of neat that Oelo was born from that industry," Horst said. "While sourcing some great LED products for our other divisions, we thought it would be cool to hang these color-changing lights on buildings, and that's how the idea of permanent holiday lighting was born. Since then, we've discovered just how versatile these lights can be in the municipal space."
Some might even say it's the only kind of structural lighting that keeps on giving — and all without yearly hassle and annual costs.