Hog Technologies simplifies pavement jobs with innovative solutions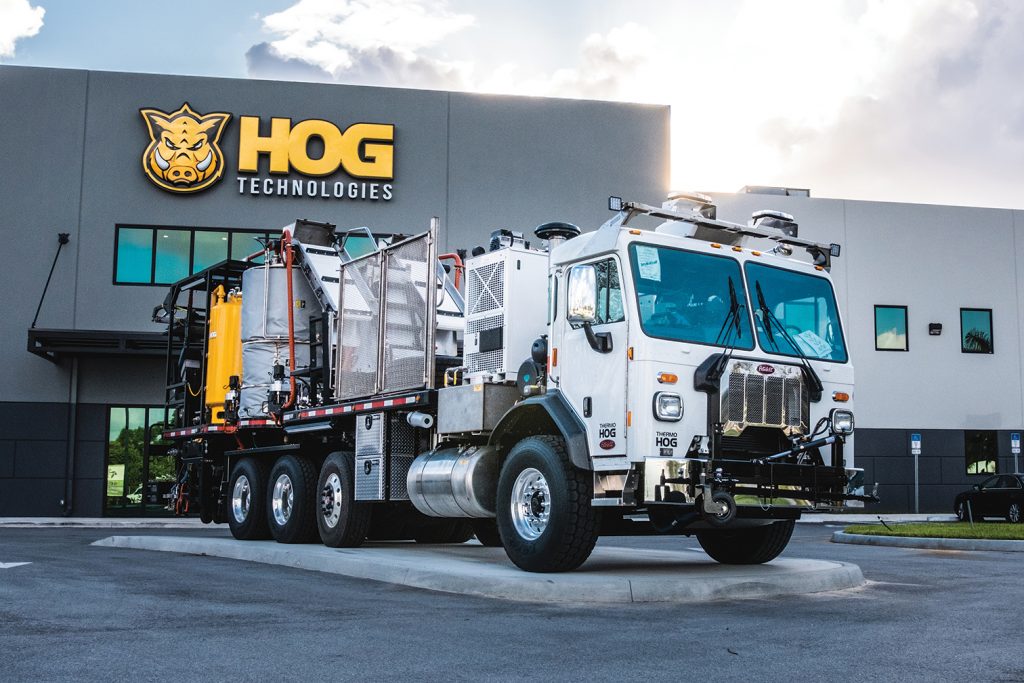 Hog Technologies has a 30-plus year history manufacturing solutions for the road, highway and airport industries. These solutions range from marking and rubber removal, grinding and grooving, cutting rumble strips, thermoplastic line marking, and surface cleaning. These solutions make Hog Technologies your total pavement solution.
Water blasting
The Stripe Hog has won many awards and has become the preferred water blasting machine amongst contractors. With the fastest removal rates in the industry and flow rates from 5.2 GPM (19.2 LPM) to 24 GPM (91 LPM), the Stripe Hog delivers a wide variety of versatile solutions for any job. The Stripe Hog can be integrated into the chassis of your choice, run independently with an auxiliary engine or fit onto a skid or trailer. In addition, there are many tools available to help you get the job done such as our Ground Hog walk-behind tool, our Hog Rider tractor, our Hog Waller handheld blaster as well as our Hog Tusk grinding/water blasting combo head and our Triple Spray Bar, which gives you a retexturing and removal path up to 48 inches wide.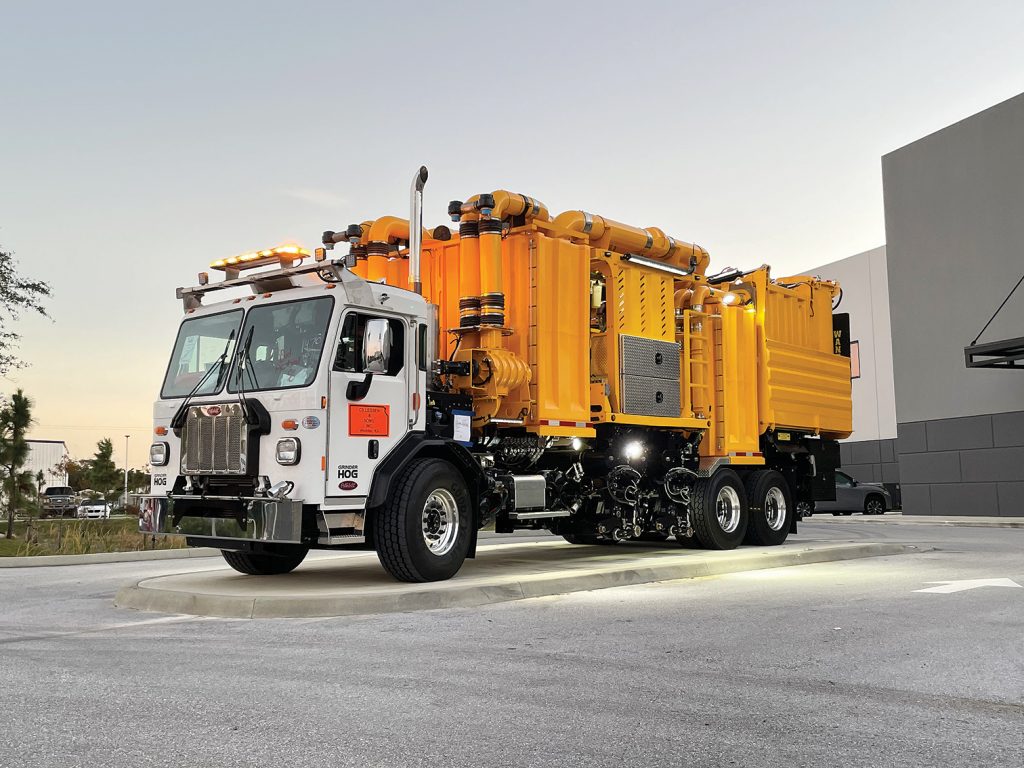 In fact, the Stripe Hog 24.0 is able to house up to three of these Triple-Head Spray Bars for a total blasting width of 96 inches (243 centimeters). With such a wide path, road retexturing jobs have their time investment significantly reduced.
Thermoplastic marking
After years of research and testing, the Thermo Hog was born. Instead of using a traditional kettle, the Thermo Hog circulates heated oil through a heat exchanger, covering the entire surface. Since the surface is evenly heated, a Thermo Hog can shut down instantly without waiting for the thermoplastic to settle and cool at the bottom. This innovation also allows the Thermo Hog to achieve ultra-fast startup times of around one hour.
The temperature in the kettle never exceeds 500°F, resulting in no scorched or charred material. The kettles can be built to any size and offer capacities up to 16,000 pounds. With two kettles per truck, you can house up to 32,000 pounds or thermoplastic and melt them at rates up to 24,000 pounds per hour.
After innovating this new technology, Hog Technologies transferred that innovation to a skid-based system. Its skids come in sizes as small as a twin 1,250-pound skid all the way up to an 8,000-pound skid. Depending on the model, the skids can also melt at rates of 2,000, 6,000 and 8,000 pounds per hour, respectively. It uses the same melting technology as the Thermo Hog with temperatures never exceeding 500°F.
The skids are also available in single- or dual-color configurations and have the option to load the thermoplastic via a conveyor belt to reduce worker fatigue and strain.
In addition, Hog Technologies has introduced its brand-new Mini Hog. Slightly larger than a John Deere tractor, this small form factor machine can melt thermoplastic and apply it to the pavement without having to feed it into a separate application vehicle or device. The Mini Hog is the perfect solution for smaller jobs such as parking lots, crosswalks and other road markings.
The Mini Hog comes with a shoe applicator that allows you to customize your line widths. The shoe has four doors that are 4 inches, 2 inches, 2 inches and 4 inches. Simply open the knives for the door(s) that you need in order to achieve your desired line width. You can also just open the outer 4-inch knives to perform a double line.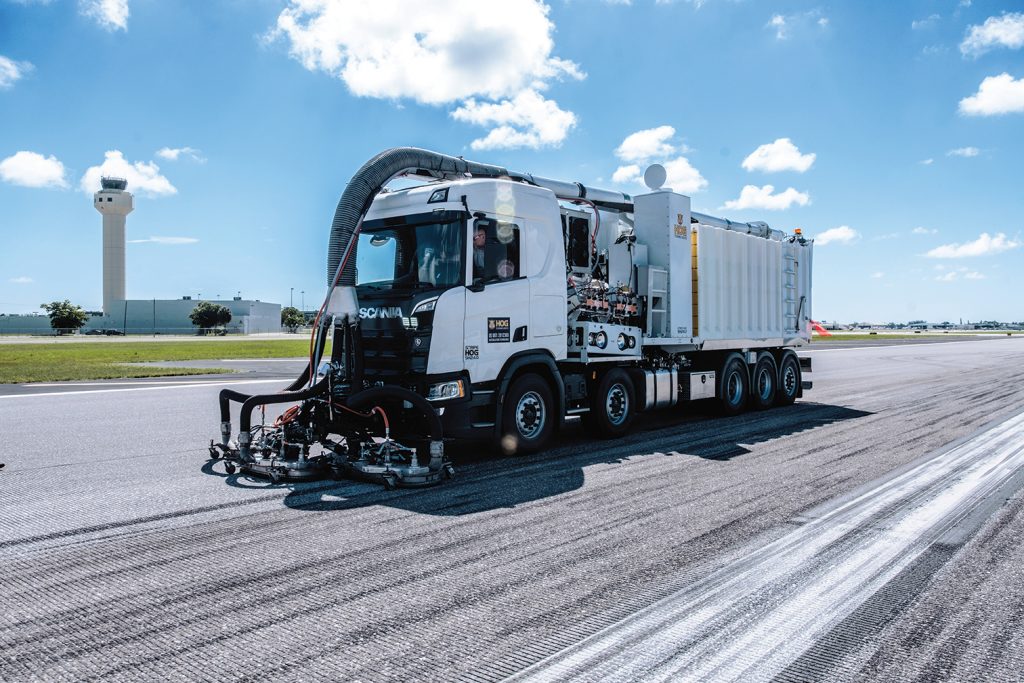 Grinding/grooving/rumble strips
Hog Technologies began this venture with the Rumble Hog. By mounting a cutting drum on the rear of a Ford F-750, the Rumble Hog became a three-in-one solution, grinding pavement markings, grooving pavement for inlaid markings and cutting rumble strips. After a while, we needed a chassis with more power, so we switched to the Mack GU432 chassis. With that, we were able to offer additional features such as an offloading auger, a scissor lift high dump, and a cutting package that performed plunge cuts and sinusoidal cuts.
While a rear-mounted drum that did everything was pretty innovative, Hog Technologies soon discovered the traditional method of having heads on each side of the truck was still a desired solution for contractors. With that in mind, the Grinder Hog was born. The Grinder Hog can house two, three or four total heads so you can perform centerline and shoulder work simultaneously.
Surface cleaning
The Surface Hog is built on an Isuzu NRR chassis, allowing it to fit into tight areas. Using up to 7,250 psi, the Surface Hog can clean and prepare surfaces including porous asphalt, making it perfect for airport parking lots and parking garages. The Surface Hog uses a water reclamation system for a three- to four-hour runtime and can be converted into a light-duty water blaster with an optional 40,000 psi pump.
The hog difference
Hog Technologies prides itself on its team of customer service specialists, who are ready to help 24/7, 365 days a year. We also ship 98% of parts orders the same day that the order is placed to keep customers' downtime to a minimum. To aid this endeavor, Hog Technologies opened a dedicated European office in the Czech Republic in 2018.
Hog Technologies also offers training through Hog Tech University. We believe training is vital to ensure the job is done correctly. With the proper training, we truly believe you can maximize productivity, minimize costs and optimize results.