Drone usage in law enforcement likely to increase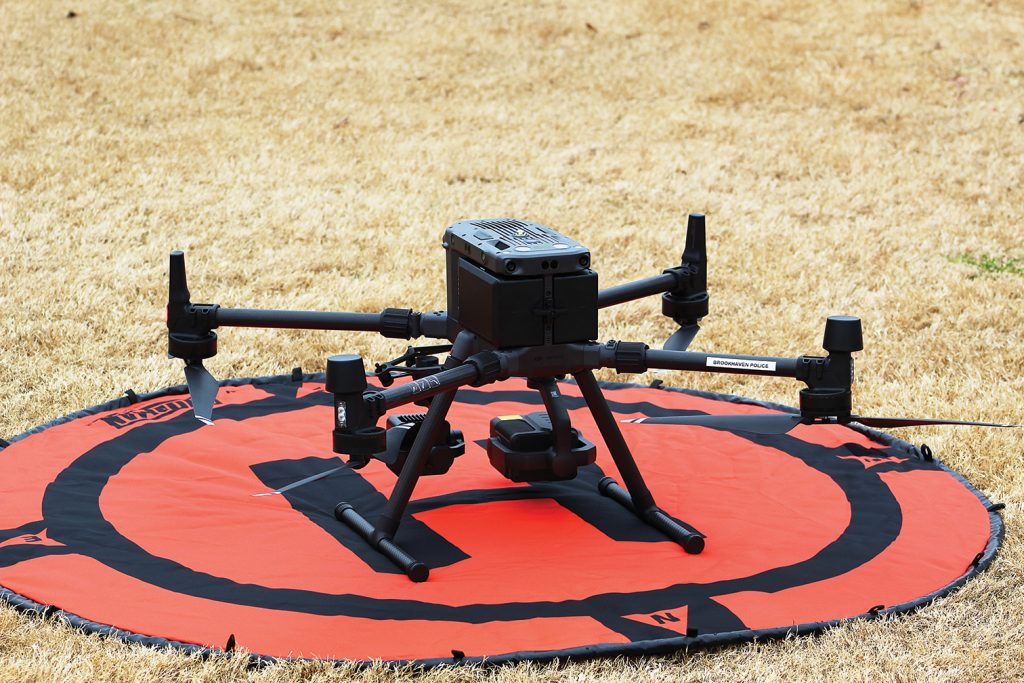 For police departments across the nation with drone units, their usage is likely to increase as additional benefits are being realized during the current COVID-19 pandemic. For instance, officers could use drones to retain social distancing on an initial call response or in crowd control situations, preserving personal protective equipment.
Two departments — one just starting its drone program and the other with an established program behind it — are considering these uses.
          Wilmington, N.C., first began an airborne unit called SABLE — an acronym for Southeastern North Carolina Airborne Law Enforcement — in 2007 as a multiagency effort between the city of Wilmington, city of Leland, Pender County and New Hanover County. All four departments are equal partners. The unit currently has five full-time and three collateral members. The SABLE unit started with helicopters and two and a half years ago added drones.
The drone unit operates under SABLE's umbrella for record-keeping; however, it is also a multiagency unit that is separate from SABLE.
          Chief Pilot Officer Paul Letson explained, "We bring in an interested party and get them licensed. They're first trained as an observer, then they learn the technical side and can assist with camera work, etc., and after they're certified, they train to become an operator."
The drone unit and the SABLE unit operate under the same standard operating procedures. There are currently five drone unit members with plans to expand to eight.
As to why a drone unit was formed, Letson said, "It's the way of the future. Drones won't replace our helicopters, but they complement the operation."
When there's a need for crime scene investigation or crash investigation, a drone is readily available to capture photos. "The helicopter can do the same but on a much larger scale," he said.
During critical incidents where, for example, a subject is barricaded, a helicopter could aggravate the situation, while the quieter drone can still give situational awareness, according to Letson. While the unit has primarily used the drones for CSI and crash investigations in its highly developed coastal area, it has also used them for crowd control, riots and some weather situations.
When it comes to large crowds, particularly at protests, "the additional noise created by the helicopter can give negative attention and instigate a crowd," he said.
The drone can give them the same bird's-eye view without instigation. "It's a very good tool for command staff and supervisors on the scene for situational awareness."
During last summer's protests, the unit used the drones for crowd overwatch and found it kept the officers and public safer with less potential COVID exposure.
It wasn't a hard sell to acquire the drones. "Our agency is very forward-looking, and the drone industry markets itself very well — any law enforcement administrative conference would have someone there talking about the benefits, so by the time we brought it up, the bait was already there, and we just laid it out," Letson said. "So that wasn't a challenge for us — everyone was on board. It was just a matter of how we were going to build it up."
The challenge for Wilmington came with budgeting for the future. "For us, like any agency starting out," Letson said, "we had an initial plan than a follow-up — all equipment has to be maintained over time."
Once the unit was operational, all calls involving drones were tracked to determine after a few years if the program was sustainable.
"There are always hobbyists in aviation, and they become subject experts for the agency, so bringing them into the fold for documentation and licensing and having to educate command staff on the hows and whys of moving forward," he said. "Those are our challenges — budgets and policies."
Public perception
As for public perception, Letson explained, "The way we approached that is with transparency, education and legal review."
According to Letson, no one person operates the drone alone, and no flights operate outside of approved situations, so there are supervisors there. "So there are checks and balances on-site, checks and balances with policies and procedures, and those are all checked by legal review."
On the transparency side, Letson said the unit produces documents every month and releases them to the public via the website as to why the drones flew, where and for what purpose.
          "There are no flight secrets," he said, adding officials constantly push information out to the public via monthly newsletters and keep city council members informed as they are the ones receiving the most questions.
As for distinguishing a police drone from a private drone, Letson said all police drones are registered, but visually the clue will be a police presence. "If there's a police drone flying, there's going to be a police presence — a situation will be going on. Everything we do is out in the open, so there's no way to confuse us with a private or business drone."
In the future, he sees the unit using the drones more to assess hurricane and storm damage, and the long-term plan is to integrate a drone within each district for the police department to use them as additional response units until the helicopter arrives. As large events like festivals and concerts start opening up, he envisions the city using drones to oversee the crowds.
Brookhaven is ready to take flight
Brookhaven, Ga., was approaching the full operational phase of using drones to respond to 911 calls in mid-February. About 18 officers completed the initial training to get Federal Aviation Administration licensed to be remote pilots.
Lt. Abrem Ayana, program coordinator, said, "Technically speaking, they just need a certificate of authorization (COA), but we wanted to take it a step further — another layer that shows this is a professional operation."
As to why Brookhaven wanted a drone unit, Ayana responded, "We've always been interested in some sort of aerial equipment to give us an advantage."
Being a suburb of metro Atlanta, he said there are a lot of car break-ins, and even with a response time of three to five minutes, when officers pull up in a patrol car, perpetrators see them coming and are gone. It was frustrating that the department wasn't catching a lot of those perpetrators. This led Ayana to think about a drone, and he started doing research. One day a major called him into his office and showed him a YouTube video of Chula Vista, Calif.'s, drone unit responding to a call.
"They were the first in the nation — the pioneers — of using a drone to respond to 911 calls," he said.
They watched as the drones stayed on scene, providing updates and thought, "That's awesome! But we'll never get the money."
Ayana reached out to Chula Vista's officers, who encouraged him to pursue it, but he still thought the department would never get the funding.
"When the pandemic hit, we were looking at what ways (we could) continue to serve the public but do it safer," he said.
He noted having officers face-to-face with hundreds of people daily potentially makes that officer a pathway to spreading the virus. Officials realized a drone could help with that, giving real-time, quality information where an officer might not be needed versus having an officer knocking on doors interviewing the callers.
"It was a no-brainer for us," he said.
He added anytime the department has a critical incident, it would have to typically call the county police for aerial assistance — assistance that may or may not come or could take an hour or more to arrive, depending on circumstances.
With a drone, when someone calls 911, he said, "You can get that 'officer' on the scene within 30 seconds — no red lights or sirens. They can fly straight through and immediately get eyes on the situation. That was just another advantage for us to continue exploring this option."
Additionally, what the city experienced last summer with social unrest persuaded Ayana to take his appeal to the chief, the mayor and the city council.
Ayana, who's been an officer for 15 years, said in his experience, 911 callers give unreliable information because they're stressed or excited. Depending on the information the dispatcher receives and relays, it primes the officer toward a particular response.
"No one knows what a cop faces truly except for another cop," he said. "If they believe there's a deadly weapon, they're primed for a potential assault."
A drone, meanwhile, can report actual details from the scene, including if there is a weapon or if it's holstered. "Drones can give information so (an officer) can make a more appropriate response."
For example, a 911 caller's report of a suspicious person may just be profiling, and sending a patrol car puts the citizen on defense. However, sending a drone first can accomplish the same mission with less confrontation.
"The drone is going to tell the ground unit what to expect — it's like 'Big Brother eyes in the sky,' but I believe when used responsibly, it will create safer communities and better police-citizen relationships."
Each situation is different, but the drone would largely observe a scene before reporting back without interacting with a person. It would also give the department an advantage to see around corners and whether someone there has a weapon, which would elicit a different response from the officer.
Ayana had the opportunity to go to Chula Vista for a week and saw a lot of its department's video footage, including where a suspect was running from officers and threw away a weapon or drugs. Without the drone, that gun or drugs might not have been recovered, leaving the potential for a small child to find it instead.
Ayana also mentioned the environmental benefits of drones over calling for a helicopter. There's no jet fuel cost as the drones are battery operated and continually rechargeable, which means there are no carbon emissions.
          They also can help with traffic safety, as the responding patrol officers get information from the drone, so they know whether to go full-out lights and sirens or have a slower response.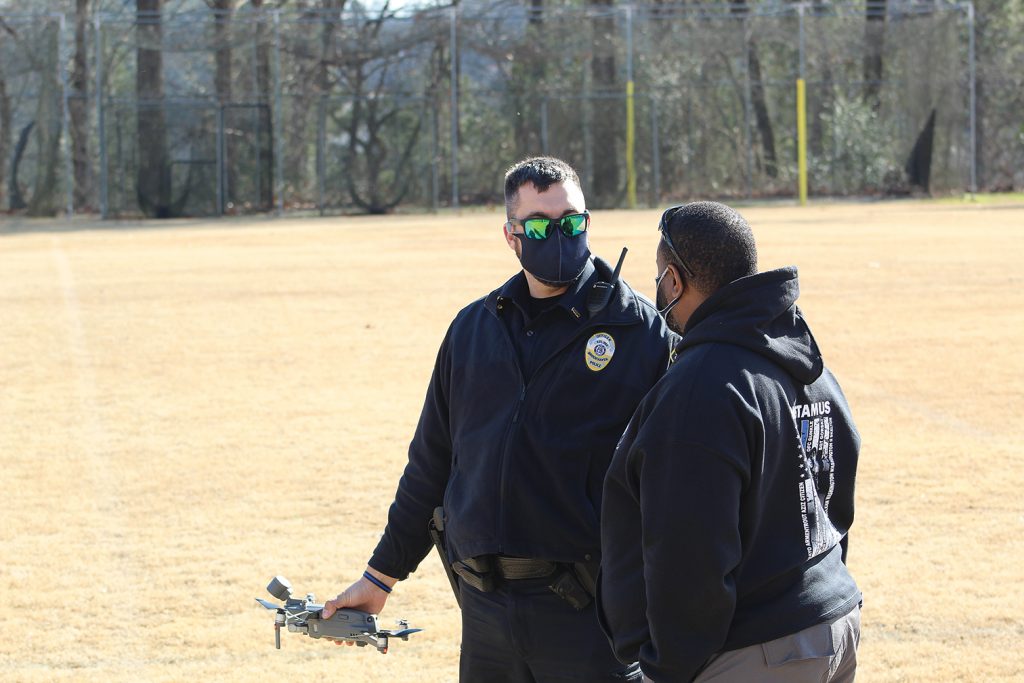 "We don't have the budget to buy a helicopter, but we can buy a drone," he said.
Cost versus benefits
Speaking of costs, Ayana estimates the initial cost to launch Brookhaven's program was about $50,000 to $60,000. That cost includes the department's main first responder drone — Matrice 300 series — with a total cost of $24,000 to $25,000, which includes the drone, a thermal camera with 200 times optical zoom ($10,000), spotlight and loudspeaker; a drone used for crime scene photos at the cost of approximately $3,000; a smaller one for training $500-$600; another drone that also has thermal capabilities at approximately $6,000; and the first year of software for $18,000.
After the initial cost, he anticipates an annual cost of $18,000 to $23,000 a year for software and maintenance. As a comparison, the purchase of a new patrol car with a police package is about $30,000. Ayana said the department would be tracking all data, including response time, the number of calls responded to and when an officer was not needed to respond. Ayana has read a report that stated operating a drone is one-tenth the cost of operating a ground unit.
Brookhaven used some COVID relief fund money to pay for about 60% to 70% of the cost for their drone program.
Wilmington applied for a Department of Justice grant in May, which included funding for eight more drones, with the thought it would help officers socially distance and save on PPE supplies, but according to Letson, the portion of the grant that would pay for the drones is on hold.
Letson added the cost versus benefits of the drone program is definitely measurable.
As for the challenges and concerns Brookhaven faced, Ayana said the number one concern was the right to privacy.
"The innuendo of 'Big Brother is watching' — we tell them our drone is not a surveillance tool. It's only going to respond to calls for service. We're not going to be out there looking for people. If you see our drone, it was called," he said, adding the video footage will be maintained like body cam footage and citizens can submit a request to the police department for the footage.
"We're going to be very transparent," Ayana said, noting the department has to submit monthly reports to the FAA as to where and why the drones flew. "We have a good relationship with our community, and we're trying to put everything we can from a policy perspective to put safeguards in."
Lessons and advice
Letson said future challenges for Wilmington's department are continuing education and keeping up with the FAA as it consistently grows and quickly changes regulations.
"We have to adjust accordingly," he said. "One thing I'd recommend is to make sure your policies and procedures are reviewed by your legal department, so there are no Fourth Amendment violations, and that should alleviate any public concerns, which is the biggest battle. If you can educate, inform and be transparent, those are the largest hurdles for any agency."
          Ayana thinks a drone is a logical solution for any size police department when looking at cost versus benefit, but it depends on the priorities.
"Our city council provides us the means to do the best job, and technology is at the forefront," he said. "If you have leadership that understands that, it won't be a problem, but if you have to fight for everything and if your relationship with your community is questionable, it'll be harder to sell."