Keeping your fleet safe during COVID-19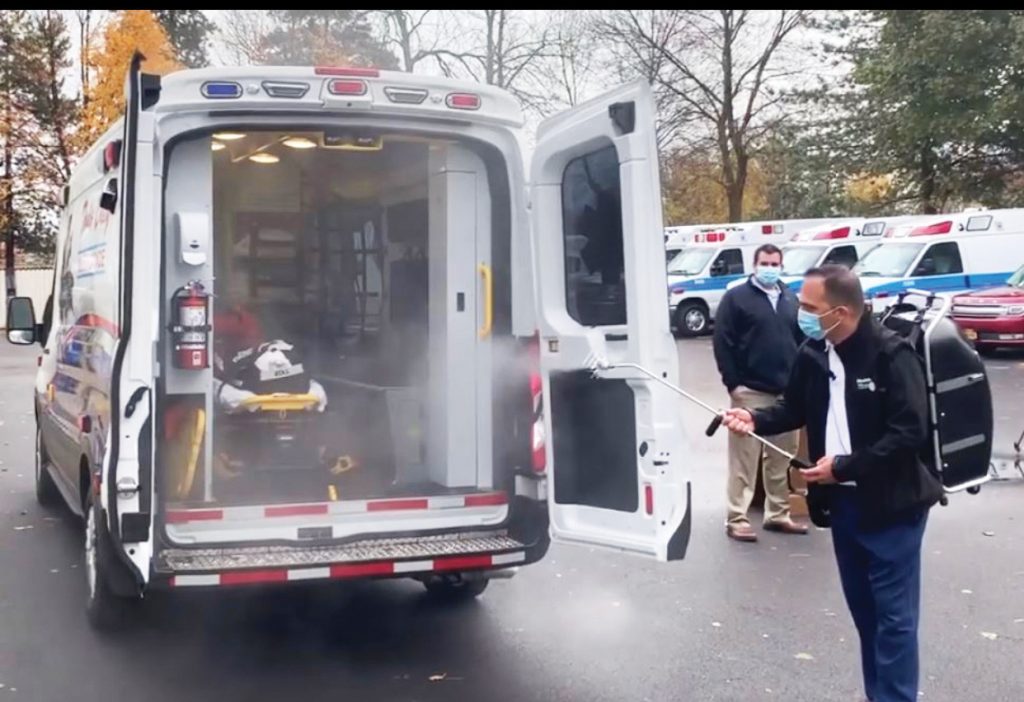 Dry fogging the way to go
Twin City Ambulance — a private ambulance company in New York, which serves Buffalo, Tonawanda, Amherst and more — purchased a fogging machine, and it has been extremely pleased with it.
Logistics Manager Joe Lavey said the ambulance company had an electrostatic sprayer, which gives off a fine mist, and with COVID-19, staff were using it a lot more. However, electronics and water are never a good mix; additionally, the sprayer left a residue that had to be wiped down and an odor that was bothering crew members.
Lavey was tasked with finding a better option that would save money while being safe and available, so he conducted research online and found Purus.
"The rep came in and did a demo, and it was out of this world — almost too good to be true," he said.
But once he researched the product and the science behind it, he was convinced. The Purus system is a true dry fog system and has a stand-alone and a backpack. Twin City Ambulance purchased the backpack, which has a wand and uses two different solutions.
One step is spraying the cleaning solution in the ambulance, and after two minutes, it will kill COVID, the flu, etc. In 10 minutes, it will kill other diseases. The second step is an antimicrobial dry fog that will then sit for 10 minutes, and it covers all surfaces and protects for 90 days, according to the Environmental Protection Agency.
Twin City Ambulance repeats the process every 30 days instead of 90 days.
"With dry fog, we leave all the equipment in the ambulance — computers, bags, etc. It coats everything 100% in 10 minutes then we open the doors, let it air out and we're good to go," he said.
There are no chemicals, no wiping down and no taking everything out.
The ambulance company had employees getting sick, but once it switched to the new system, COVID dropped to almost nothing. Once a month each ambulance gets decontaminated with both steps, but if staff take a call with a patient who has any type of breathing issues, they bring the crew back immediately after and go through step one again.
Lavey said Twin City Ambulance saved a lot of money from not buying wipes and sprays, not to mention the downtime for the ambulance. It used to take at least an hour to deep clean after COVID calls; now it's about 20 minutes.
The fog is sprayed in from the back door, and when staff can't see the windshield, they stop and let it sit for a few minutes. Afterward, it leaves a new car smell.
"The EPA gave it a 99.9% kill rate," he said.
According to Lavey, the purchase is "absolutely affordable" even for small municipalities, but Twin City Ambulance bought it early on. At that time, its investment was approximately $10,000 for the backpack and wand. A step one solution cost about $50 a gallon, and the step two antimicrobial solution cost about $100 a gallon. He said Twin City put the Purus system in place in September or October, and it has only used a couple of gallons of solution. When it needs more solution, Twin City calls and the representative brings it in the next day. The system comes with a three-year parts and labor guarantee.
Lavey said depending on one's location, if a municipality didn't want to buy the equipment, Purus has a service where they can come in once a month and do the cleaning, adding a lot of municipalities in the Buffalo area are jumping on board.
"It's the only way to get true 100% coverage," Lavey said, "and no cleaning afterward."
That investment in September is probably paid for by now, according to Lavey, and he thinks technically Twin City Ambulance has made some money back in the savings from not purchasing wipes, spray solution and the downtime for cleaning. In fact, Lavey said Twin City will "absolutely continue using this after COVID — it kills TB, AIDS, hepatitis and any human pathogen."
Lavey highly recommends the Purus system and declares that it works.
When you keep your fleet healthy and safe, you're better able to keep serving the public.
GSA Recommendations for Fleets
Rotate shifts or split days so fewer technicians are in the shop.
Conduct virtual inspections of vehicles versus having employees fly in for in-person inspections.
Stock up on supplies and parts in the event of supply disruption.
Use the EPA's list of approved cleaners for COVID and the CDC's guidelines for cleaning.
Have police agencies use drones more to remain social distancing.