MRL Equipment pushes needle forward on road striping solutions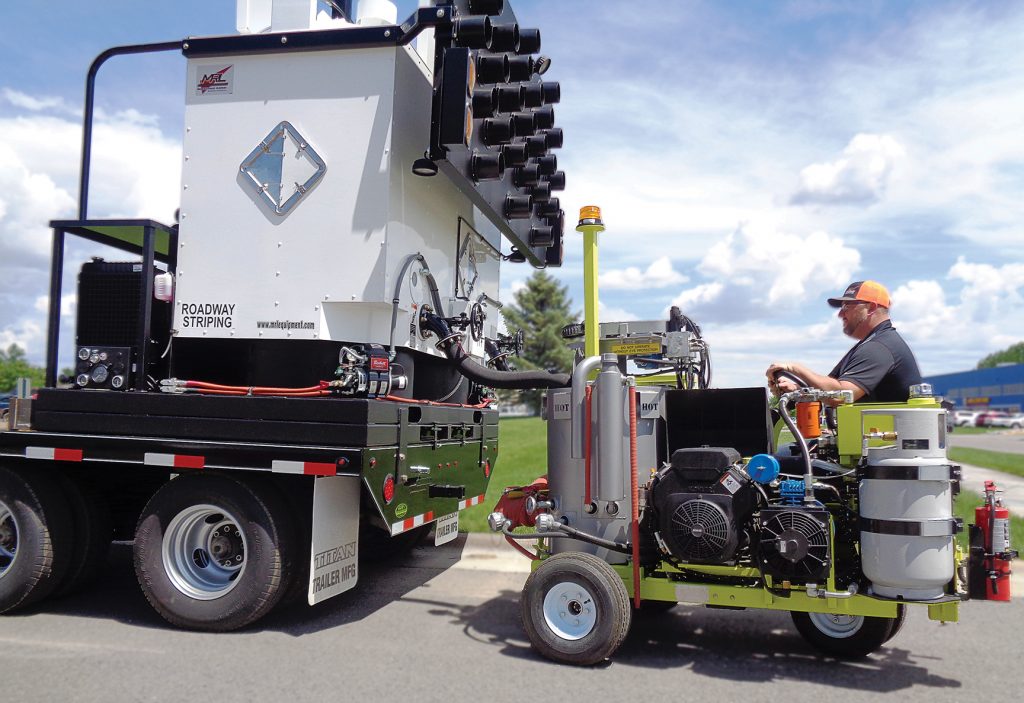 Throughout the pavement marking industry, thermoplastic road markings are widely used and known to be one of the most durable of all road markings. With the growing nationwide demand in infrastructure, the need for thermoplastic striping continues to grow exponentially.
For detail markings, stripers have traditionally utilized push propelled applicators, with not many upgrades or changes to this equipment in decades. Not only is this method slow and labor intensive, but there are numerous developments in recent years that could all but eliminate the grueling task of pushing a detail striper.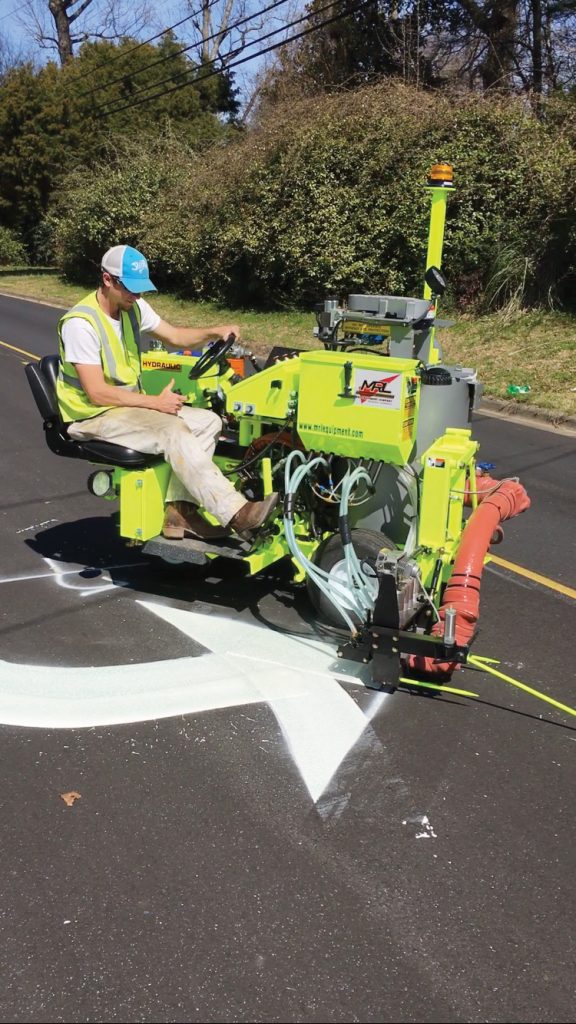 MRL Equipment Company's Mini thermoplastic product line has pushed the needle of innovation far forward across the entire category of thermoplastic detail road marking equipment. Specifically, its Mini Mac 400 Detail Striper, a versatile self-propelled ride-on unit, offers features that have caught the industry's attention and has numerous advantages over the older push model striper. Its one-man operation makes short work of intersection, crosswalks and lane markings. Roughly the size of a riding lawnmower and powered by a 25 hp Kohler motor, MRL's mini — yet mighty — detail striper is agile and compact in design, making it perfect for road marking application in congested, urban areas and limited work zones. The Mini Mac allows the operator to ride on the equipment and use the machine to help complete projects precisely and timely, while controlling many of the variables involved with a push striper: operator fatigue, safety and profitability. These factors, along with numerous equipment features, have made the Mini Mac particularly desirable with cities and municipalities nationwide.
The Mini Mac 400 comes equipped with a material tank that holds 400 pounds/181 kilograms of pre-melted thermoplastic material, yielding two to three times the production of a push handliner. MRL's Mini product line utilizes hydraulic power along with an exclusive hot oil heating system to maintain proper material temperature and correct application rates.
          Further product development of MRL's Mini thermoplastic product line brought improvements to the glass bead system. Gravity fed glass bead systems, with either single or double drop options, improve overall installed road marking reflectivity. The Mini Mac's standard 100 pounds/45 kilograms bead tank is available with additional bead system options, including single drop and double drop pressurized systems that can be utilized when specific types of glass beads are needed for proper reflectivity or government regulations. Application rates of each glass bead system are directly determined by the operator and can be modified on the fly to meet all requirements and adjusted to different line widths. Maintenance for each system may be completed very quickly with the ability to utilize on-board air compressor for quick clean out or easy removal of system components for proper cleaning. The ease of maintenance will empower operators to thoroughly understand each piece of equipment and take pride in both the application of road markings and the machine's appearance along with function.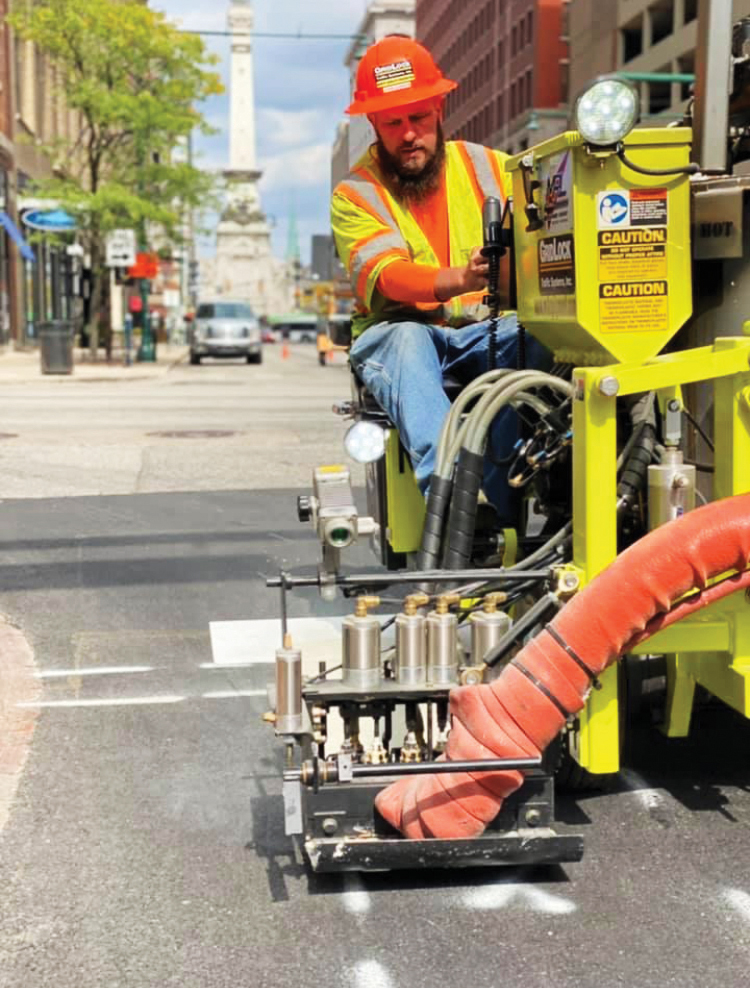 The capability of applying multiple line widths and symbols without further physical effort of the operator is yet another advantage of MRL's Mini Mac Detail Striper. The operator may change line widths "on the fly" without having to physically change any components on the striper. Specifically, MRL's most common application die, the Quad Die, allows the operator to adjust between single line widths of 4 inch, 6 inch, 8 inch and 12 inch via the machine timing system in the operator console. Double line application of a 4-inch line/4-inch gap/4-inch line, typically used on the centerline markings, can also be achieved by utilizing the standard timing system. Using electronic switches rather than changing physical parts on the machine saves a tremendous amount of job time, all with safe marking installation and decreased intersection work zone time.
Often times, road marking in congested areas requires both intersection and longer single line application. The Mini Mac's rear steering design provides enhanced maneuverability in these situations, allowing for precision movement in tight areas and straight single or double line application.
With numerous options available, MRL's Mini Mac is fully customizable for any operator's needs. Options include electronic skipline timing system, laser guidance, custom "easy load" transport trailers and many more. Units are available in both right-hand and left-hand drive models and with multiple die configurations. Standard Mini Mac equipment colors are Lime Squeeze Green, Traffic Orange, Safety White or Signal Yellow. Or you can customize your unit with your very own custom powder coat color at no extra charge.
Downtime with equipment can lead to substantial profit loss. This is where MRL's industry-leading parts department and customer service really offer the operator advantage, with parts in stock and experienced technicians on call. MRL's Mini product line has pushed innovation to a level that will initiate change within the road marking industry and create safe, profitable equipment for the end user.
For further information on MRL's entire Mini Mac product line, visit www.markritelines.com.