Brine Worth Its Salt for City of Bentonville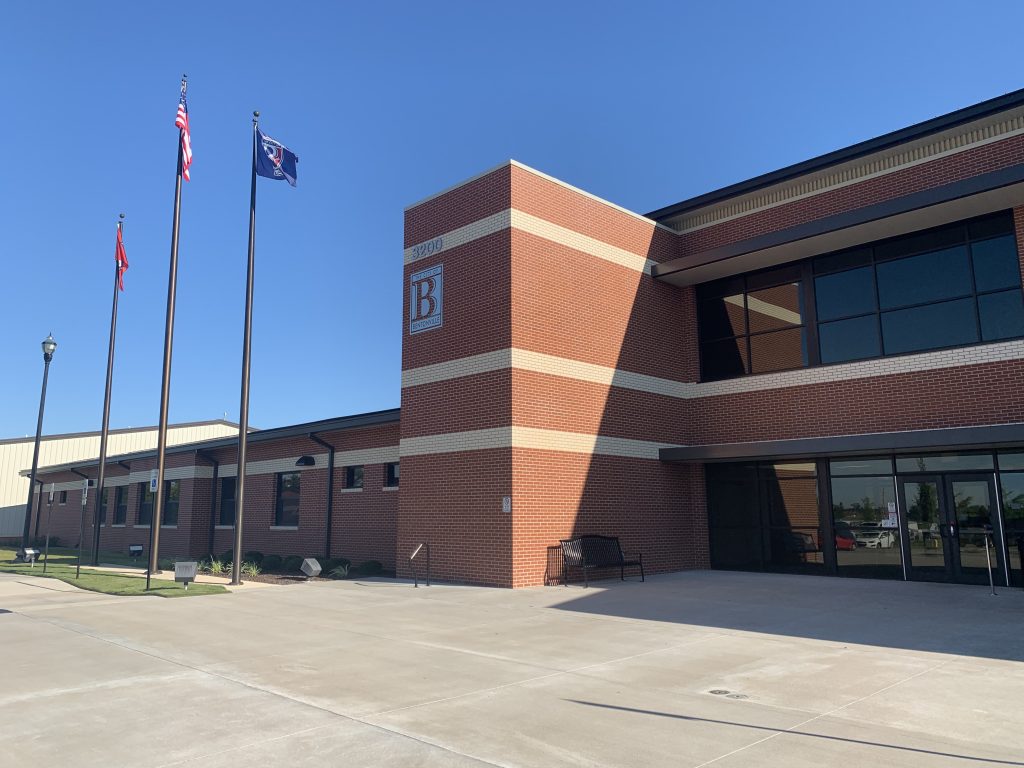 When thinking of areas that are known for their winter maintenance challenges, one immediately thinks of New England's brutal Nor'easters, the unrelenting snowsqualls of Michigan's upper peninsula and the seemingly unending winters of the upper Midwest. And, of course, Northwest Arkansas comes to mind. Ok…not quite.
With its average winter high temperatures ranging between 46 and 59 degrees Fahrenheit, it's safe to say that few snowfighters in the northern states give much thought to the trials and tribulations of winter maintenance in the humid subtropical climate of Northwest Arkansas. But as everyone knows, life doesn't stick to the averages. Temps in Northwest Arkansas commonly dip down into the low 20s throughout winter, and that teetering between freezing and thawing brings about its own unique challenges…especially when sporadic rainfall is a regular occurrence. That means ice storms are a common threat. Also, though yearly snowfall averages about nine inches, it's not unheard of for the area to get hit by a 20-inch event from time to time.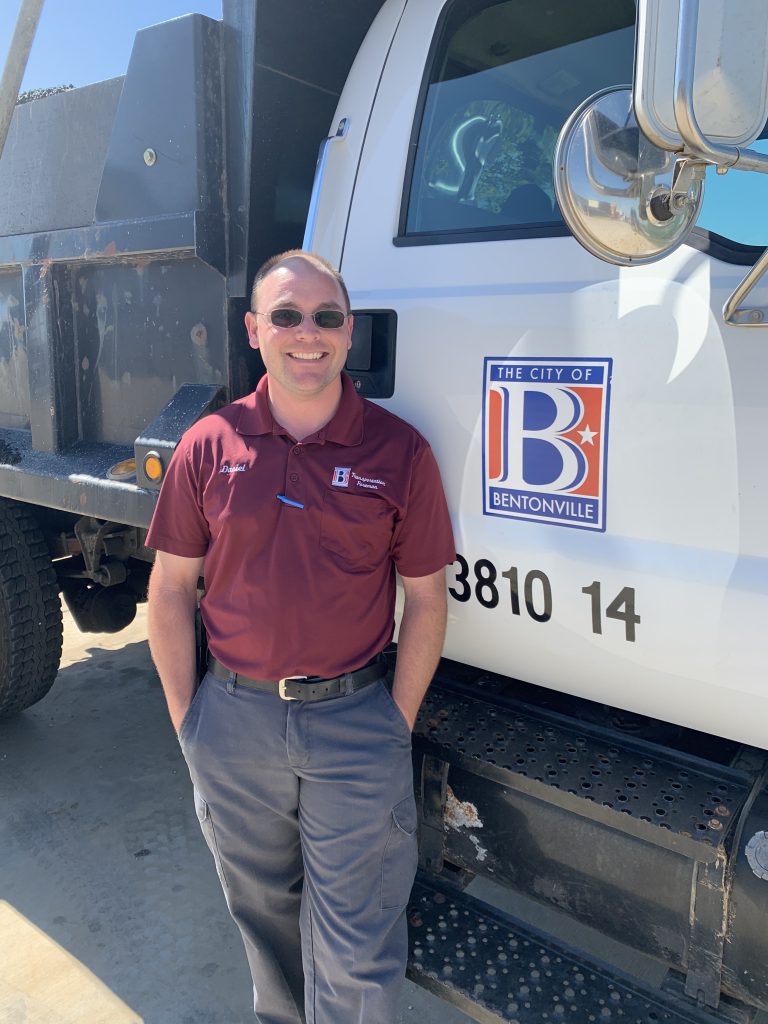 But Northwest Arkansas also has its own unique wrinkle when it comes to winter maintenance challenges. It's one of the fastest growing regions of the U.S. And the fastest growing city in the region is Bentonville. Just ten years ago, the city's population was a little over 35,000. Today, estimates have the population over 51,000 – an increase of more than 45 percent. And since the year 2000, the population has increased 159 percent. Obviously, being the home of the world's largest retailer, Walmart, has accounted for this impact. But it was further accelerated by the company's insistence that all of its prospective vendors needed to have established sales offices in the region. It's estimated that this has brought between 1,100 to 1,250 supplier offices to the area.
How much has this growth affected the responsibilities of Bentonville's street department? As Daniel Clardy, transportation foreman for the City of Bentonville simply put it – "a lot!"
"When I first started here about 15 years ago, the traffic lane miles we had to maintain were just shy of 400 traffic lane miles," said Clardy. "Currently, we're at 600 traffic lane miles."
These extra miles certainly demand more time to maintain, but the people relocating to the area have demanded a different approach to maintenance, as well.
"With the growth here, and many people coming from other areas of the country, we saw a lot of changes with what people expected for road conditions," said Clardy. "Twelve to thirteen years ago, we didn't even use salt on the roads. All we used was creek sand to establish traction on the driving surfaces. But residents didn't expect to deal with ice pack on the roads, so we transitioned into mixing salt in with the sand."
Though a major improvement in the quest for bare pavement, residents still expected a higher level of maintenance. That's when the City of Bentonville started considering the jump to using brine.
The effort started with research. Clardy and James Bise, one of the crew leaders at City of Bentonville, started by first doing online research to learn the industry best practices for the use of brine. Next, they reached out to surrounding agencies already using liquids, such as the City of Fayetteville and the Arkansas Department of Transportation (ArDOT) for their experiences. It was after this initial effort that they decided to not only get into the application of liquids, but to also make their own brine.
From the beginning, the intention was to purchase dedicated equipment for both the production and application of brine, but to get their feet wet before committing to a major capital investment, Clardy and crew started by building their own equipment.
"James Bise and I created our own homemade setup to make brine," said Clardy. "We just got some 250-gallon totes with cages and connected to a trash pump to circulate the brine solution. Ideally, we wanted that solution to be between 23- and 24-percent salinity, so we just had to keep checking the fluid until we reached that goal."
For the application sprayer, the street department basically used the same parts to create four homemade systems. A couple 250-gallon totes were mounted on a truck, connected by gas-powered trash pumps. These tied into a spray bar with a shut-off solenoid. The goal was to calibrate the applicator to put down 40 to 50 gallons per lane mile when driving 25 to 35 mph. It took some math, and a little trial and error, but they were able to get the system to work.
The street department first used the brine in a couple different ways. First, though it hadn't typically spread straight salt for applications in the past, the department started spreading salt followed by the brine sprayer to apply the liquid on top of the salt and activate its melting capabilities more effectively. This was a deicing tactic mostly used at signalized intersections, allowing the salt to work down underneath the already formed ice pack and break it up from underneath.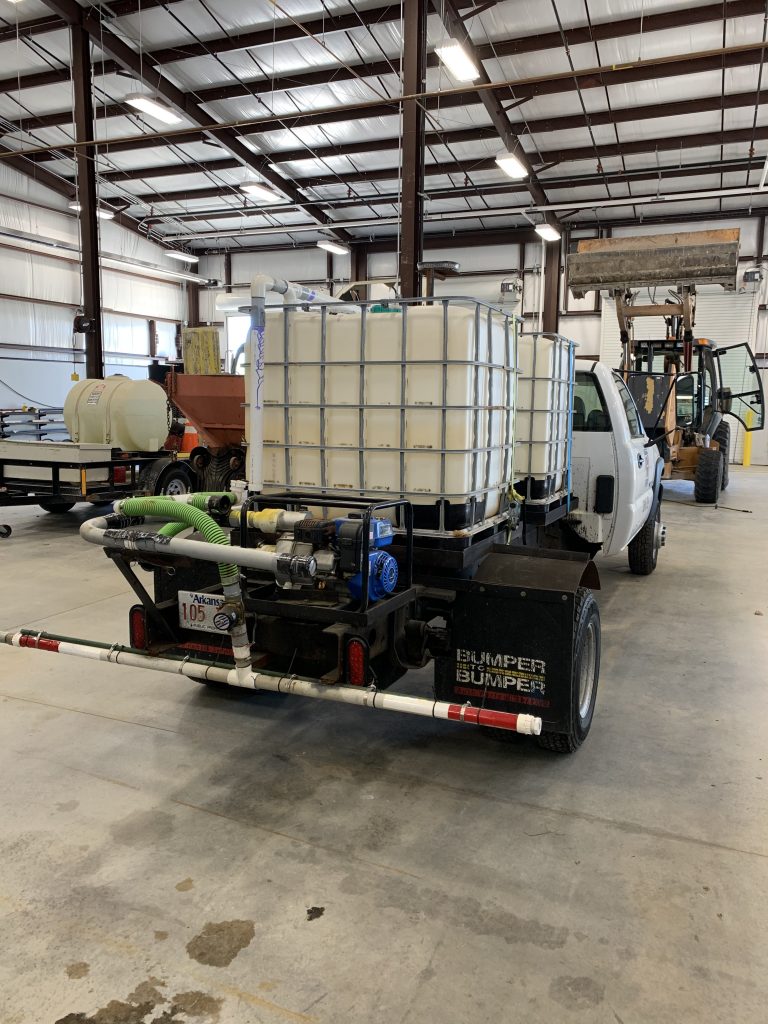 Secondly, the department used the sprayers to pretreat bridges, overpasses, collector streets and main roads leading into subdivisions with brine before a winter event. Also known as anti-icing, the goal of pre-treating a surface with brine is to establish a layer of salt that prevents ice from bonding with the pavement. This makes it easier to scrape away with a plow or simply keeps the surface clear of ice formation in the first place. After its first season utilizing liquids, City of Bentonville officials were impressed.
"What we saw with areas that we pretreated is they were melting off much quicker," said Clardy. "In fact, it was melting ten times faster than areas that hadn't been pretreated. And we were having this success using a lot less salt than if we came in and spread it after ice had already formed."
As much as the street department was sold on the tactic, it was not without its learning curves. The most important of these was learning the importance of sourcing quality salt.
"The salt we started with to make brine had a lot of dirt and sand in it," said Clardy. "I'd say it was probably 60-percent material other than salt. We saw wood chips in there, mud clods the size of basketballs, a lot of river sand and even nuts and bolts. And this low quality salt made it very difficult to achieve the right salinity of brine. So we learned early on to start sourcing a better grade of salt."
Also, the homemade equipment – though generally effective – had its limitations. "Our homemade brine maker wasn't very easy to use," said Clardy. "It really required someone who understood how it worked to monitor the process from start to finish in order to get our salinity right. Also, we were never really able to get it set up quite right to keep the solids to a minimum. So the salt that was produced tended to plug up the solenoids and nozzles on our sprayers. It 'worked'…but not the way we wanted it to."
And the sprayers presented their own unique challenges. "With the homemade sprayers, we have some tricky valve setups," said Clardy. "We've got two separate tanks that the pumps pull brine from, and you need to keep those tanks recirculating. Well, if the valves aren't turned in the right order, the pumps will pull everything out of one tank and put it into the other. The result is brine overflowing from the tank and all over the truck."
Foaming is also a concern. "With the need to recirculate from one tank to the other, and the splashing that occurs in the tanks during transport, the result is the formation of foam," said Clardy. "This is especially an issue when we're using a magnesium chloride type of mix for colder temperature applications. That foam builds up and overflows, which is an issue when you want to conserve materials and prevent rust and corrosion on the truck."
Based on these experiences, the City of Bentonville decided it was time to start switching from homemade to engineered and proven equipment. Once again, they started by tapping into other municipalities to see what they were using and share their experiences. Furthermore, they reached out to several truck equipment dealers for ideas. One of these was Grand Truck Equipment in Afton, Oklahoma. Phil Carrott, owner and operator of Grand Truck Equipment, introduced them to the SnowEx Brine Pro™ brine maker and Liqui Maxx™ sprayer.
"We needed a brine maker that was simple to use, took out the guesswork and could fit a smaller footprint," said Clardy. "And the Brine Pro checked all the boxes for us."
The City of Bentonville put the Brine Pro in play to handle all of its brine production. At any given time, the municipality is making/storing 10,000 gallons of straight salt brine and 5,000 gallons of a magnesium chloride and salt brine mix (25-percent mag chloride/75-percent salt brine). Clardy has been completely satisfied with the upgrade.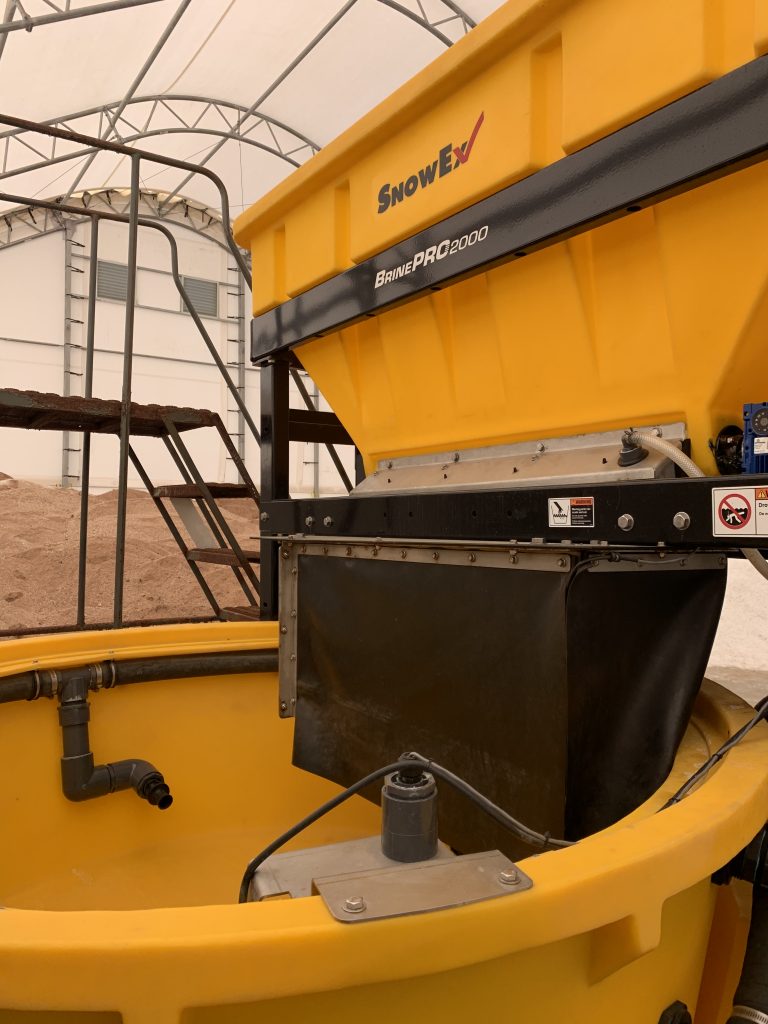 "The best way I can put it is if you can use a cell phone, you can use this brine maker," said Clardy. "Using a touch-screen, you just follow the simple directions, make a couple minor adjustments and consistently make brine at 23.3-percent salinity." The simplicity allowed Clardy and Bise to quickly get up to speed on making brine, and then train three others to do the same, so there is always someone on hand to replenish their stockpiles.
Following the move into a more refined brine making solution, the City of Bentonville invested in a Liqui Maxx sprayer to replace one of its homemade units for the 2018/2019 winter season. Again, the upgrade didn't disappoint.
"With our homemade units, we're only able to treat one lane at a time," said Clardy. "With the new sprayer, we could turn on the flood nozzles on either side of the boom and cover three lanes at a time. I went out myself once last season and quite literally did three to our times more pre-treating than our other sprayers could do over the same period of time."
Another appreciated advantage is the sprayer's GPS technology. Using GPS sensors, the sprayer can be set to automatically adjust the flow rate based on travel speed.
"You have to understand the major role traffic plays in our operations," said Clardy. "Though the population has been consistently growing in Bentonville, it doesn't take into account what happens during the work week. It's been estimated that between Monday and Friday, with all the commuters traveling in, the population basically doubles. So having a sprayer that changes flow based on our vehicle speed ensures that we're not wasting material, even when traffic is at a standstill, which can happen a lot."
Though the new equipment has upped the City of Bentonville's game when it comes to winter maintenance, there are still some unique challenges the street department regularly deals with that are difficult to avoid. "One of the challenges of being in this area is we never really know what we're going to get," said Clardy. "Most of the time it rains before we have ice accumulation. So we pretty much have to wait as long as we can before pre-treating with brine because we want to avoid the rain washing away that base layer of salt."
Even so, the ability of the new sprayer to treat more lane miles at a time, more efficiently, is ideal for a maintenance crew that may have to wait until seemingly the last minute to pre-treat driving surfaces. Because of this, the City of Bentonville plans to flex in two more new sprayers for the 2019/2020 winter season. Furthermore, the neighboring jurisdictions of City of Centerton and Benton County have followed suit with brine usage and equipment selections based on Bentonville's experiences. "We're firm believers in helping our neighboring jurisdictions out," said Clardy. "Making and applying brine has made us more efficient and effective, while cutting down on overtime. But most importantly it's made everything a lot safer for the traveling public. And that's the ultimate goal for all of our jurisdictions."