Redding, California, water manager recounts battle against Carr Fire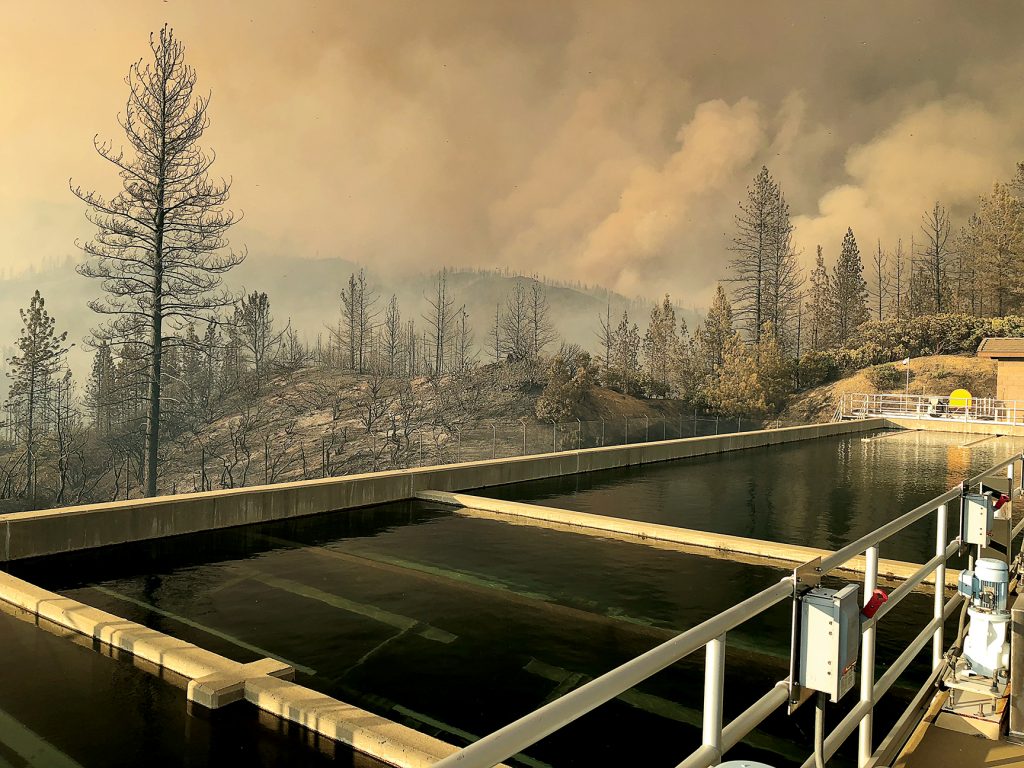 Battling a wildfire is no simple task. The flames can burn for days, depending on conditions. If they reach city limits, diverting enough water to battle them can be taxing on a city's water utility, which must provide sufficient water while keeping the pressure up.
When the 2018 Carr Fire blazed into Redding, California, the local water utility was able to keep the hoses running without ever losing significant pressure.
The fire began Monday, July 23, 2018, when the mechanical failure of a vehicle caused sparks. Because of dry conditions, flames kindled and quickly spread.
Several days later, by the time all was said and done, the Carr Fire destroyed 1,079 homes and a total of 229,000 acres. Eight lives were lost, including four area residents and four responders.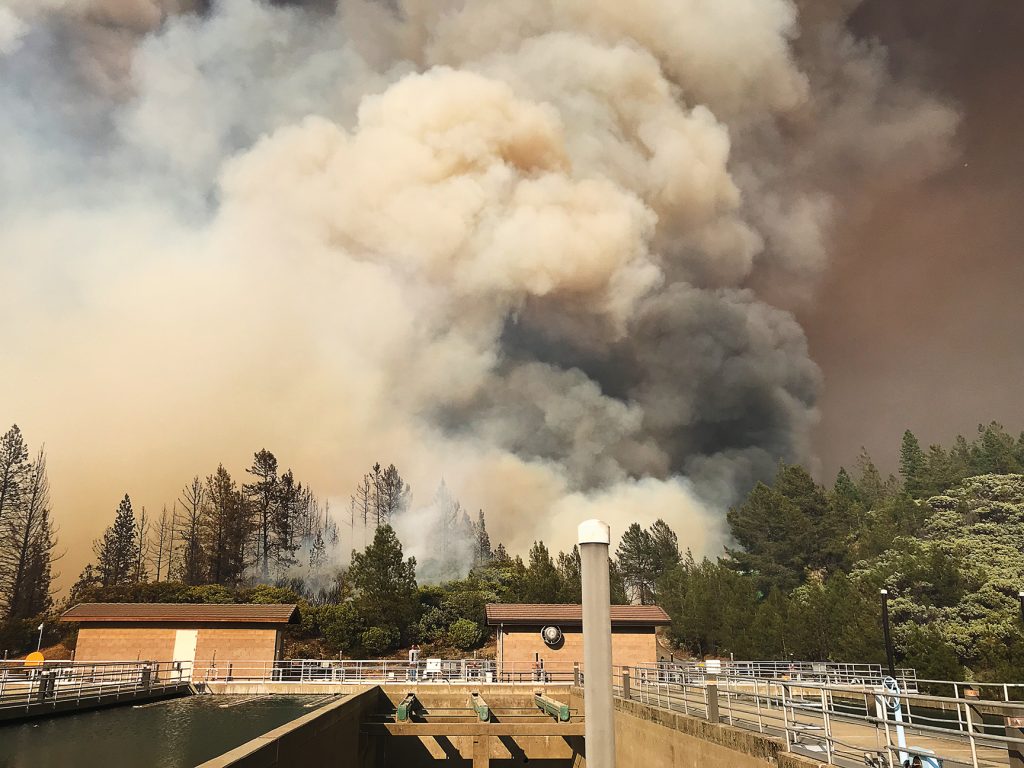 Initially, there were few concerns that the fire would reach Redding.
"We have fires here all the time that are nearby," city of Redding Water Utility Manager Matt Watkins said. "We even have fires around Whiskeytown Lake, where this fire started, and they stayed in the forest more than this one."
Nature, however, had other ideas. By Thursday, July 26, the winds had shifted and the flames entered city limits. At that point, one of the utility's top priorities became protecting its facilities, which supplied the much-needed water for fighting the fire.
"My water treatment supervisor got a phone call Wednesday night, early Thursday morning, from the Shasta County Sheriff's Office," Watkins said. "They were evacuating the area where we had one of our surface water treatment plants, the Buckeye treatment plant."
The plant also houses chlorine gas used to disinfect water. Measures were quickly put into place, which included wetting down the building and surrounding area and cutting away as many branches as possible.
All seemed to be going smoothly at the plant until some time Thursday, when its power was cut off. Watkins was not sure if a pole had burned or if electricity had been shut down for firefighters' safety. He did know, however, that loss of power to the plant meant loss of pressure to the pipes underground.
To further complicate the matter, the backup generator did not kick on as it was supposed to.
"We had to send out operators to troubleshoot that," Watkins said. "It was a pretty easy fix. They just had to start it manually, and once that generator was back on, our treatment plant was up and running again."
A loss of water pressure could have been disastrous in more ways than one. According to Watkins, when water pressure drops during a fire, hot gasses can be pulled into the pipes, creating toxic chemicals like benzene.
This had happened the year before, during a fire that burned in Santa Rosa, Calif. Later in 2018, during the Camp Fire, another city had experienced depressurization in large parts of its system. Hot gasses were sucked into the plastic pipes, creating harmful byproducts.
"They had a hard time flushing out the line and getting the water to where it was safe to allow customers to drink it again," Watkins said.
Because workers had cleared away the branches and other combustible materials, the Carr Fire burned around the Buckeye plant, but did not get near enough to cause damage.
The winds picked up Thursday evening, fanning the flames and allowing them to jump across the Sacramento River into several neighborhoods and subdivisions.
"It devastated entire streets," Watkins said.
About 40,000 people were evacuated and traffic jams formed.
"You're just right in the middle of it and you really don't know what's going to happen next, but we just knew we had to keep the treatment plants running and we had to keep water in the water tanks," Watkins said.
Around that time, a "firenado" formed, equivalent to an EF-3 tornado made of flames.
Approximately 350 Redding homes were destroyed. Friday morning, water utility workers went into the devastated areas. They found many places where water mains had been burned, but the water was still on and spraying into the air.
"We knew we had to shut off all of those service lines or else we would never be able to keep up with all of that water demand," Watkins said.
Throughout the entire ordeal, the city's water mains never lost significant pressure. After the fire was out, testing revealed no toxic chemicals in Redding's water.
"The main thing is, if you keep pressure in the water lines, you're not going to have that chemical composition change where you're creating a harmful byproduct," Watkins said.
Saving Redding's water system began long before the Carr Fire.
"Part of that is the efforts that have gone into building our entire water system and having enough water storage tanks so we didn't run out of water," Watkins said. "… Part of it was our preparation in building a robust system and, honestly, part of it was luck. If the fire had lasted longer and if more houses had burned, at some point we were not going to have enough water."
Redding is in the northern part of California and has a long dry season. According to Watkins, rain stops falling in May and does not usually start again until October. Because of this, the threat of wildfire is a day-to-day reality.
"Because of the number of homes and the magnitude of the damage and the impact of the fires over the last four years, it is really something that is on everybody's mind, what are we doing to make sure we have enough water supply?" Watkins said.
Once the fire was out, the next concern was how the burned areas would affect the area's natural water supply.
"The biggest fear we had was, because we get a lot of our water from Whiskeytown Lake, that entire watershed burned. It touched everything," Watkins said.
Case studies of similar situations had shown that, depending on the amount of rain received in the year following a fire, mudslides and debris flows can wash into lakes and rivers, causing a dramatic increase in what is known as turbidity.
During the water filtration process, organics and anything else suspended in the water are filtered out. Chemicals are added to help the particles coagulate and fall to the bottom of the sedimentation tank as sludge, which is later removed.
"We were anticipating that if the turbidity got high enough to where we were producing so much sludge, it would limit the amount of water we could run through the plant and get out to the residents,"
Watkins said.
Fortunately, that did not happen.
"We had some spikes in turbidity, but it wasn't as bad as what we thought was possible," Watkins said. "We got pretty lucky." 
With this in mind, Redding has added a new pump station, known as the Cypress Pump Station. In the event that both Whiskeytown Lake and the city's other major source of water, the Sacramento River, both experience high turbidity, water can be drawn up from underground wells.
"The idea was, in a worst-case scenario, we would be able to take that well water from the east side of the city to the higher elevations on the west side if we couldn't treat our water because of turbidity," Watkins said.
Protecting its facilities in the case of future fires is also a top priority, and a lot of trees and other combustible materials have been removed in a wide radius around each building and pump station, to keep flames at a distance.
Watkins does not see the Redding Water Utility's efforts as heroic, but as simply doing its duty.
"Everybody really stepped up and did what needed to be done to make sure we were delivering water, especially for the firefighters," he said. "If they don't have water coming out of the hydrants, they really can't do much. At all costs within reason, we had to keep water in our tanks and the water moving throughout the system."
As for evacuated residents waiting to hear news of their homes, Watkins gave the county GIS department kudos for keeping everybody informed.
"They did a lot during the fire," he said. "It was up to nine or 10 days that some people were out of their home, so this information that the GIS department put together was some of the best people had that, 'Hey, our house made it.'"
Other departments and utilities worked just as hard, keeping the lights on or cutting power as needed, cleaning up debris and other post-fire work.
"It was a citywide effort," Watkins said.