Saving the environment, one municipality at a time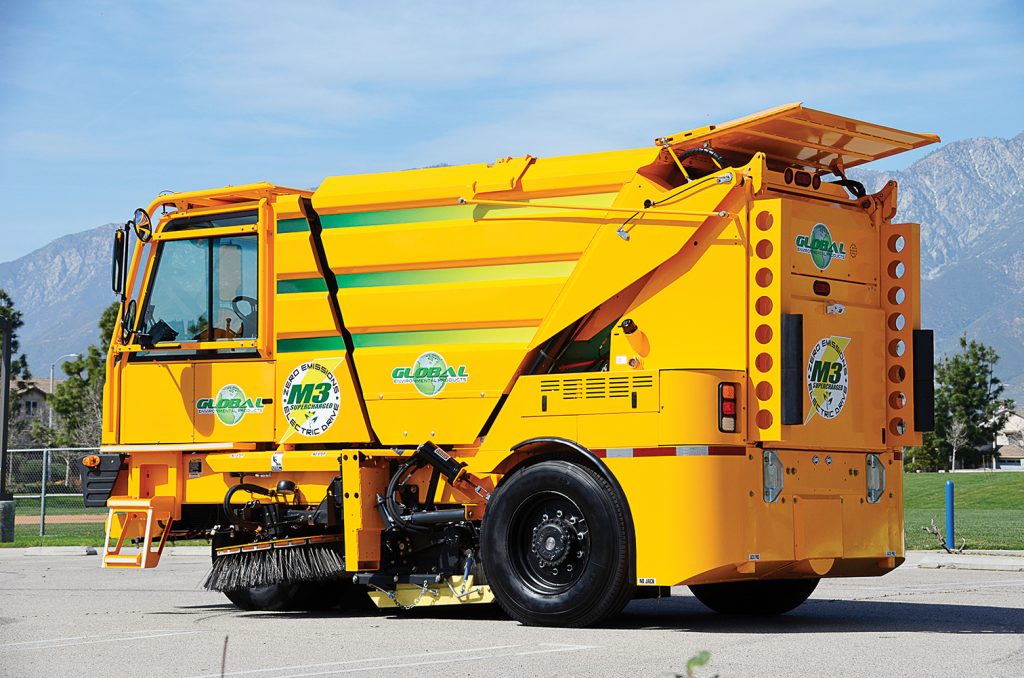 Global Environmental Products has always envisioned an all-electric, environmentally friendly street sweeper. The company's pursuit of this goal led first to a hybrid electric/diesel model in 2011, which was followed in 2018 by its first fuel cell model that used hydrogen. Recently, Global Environmental made the jump to building its first fully electric sweeper — the first 100% electric heavy-duty street sweeper in the U.S. — offering cities a means to better achieve their environmental and emission goals.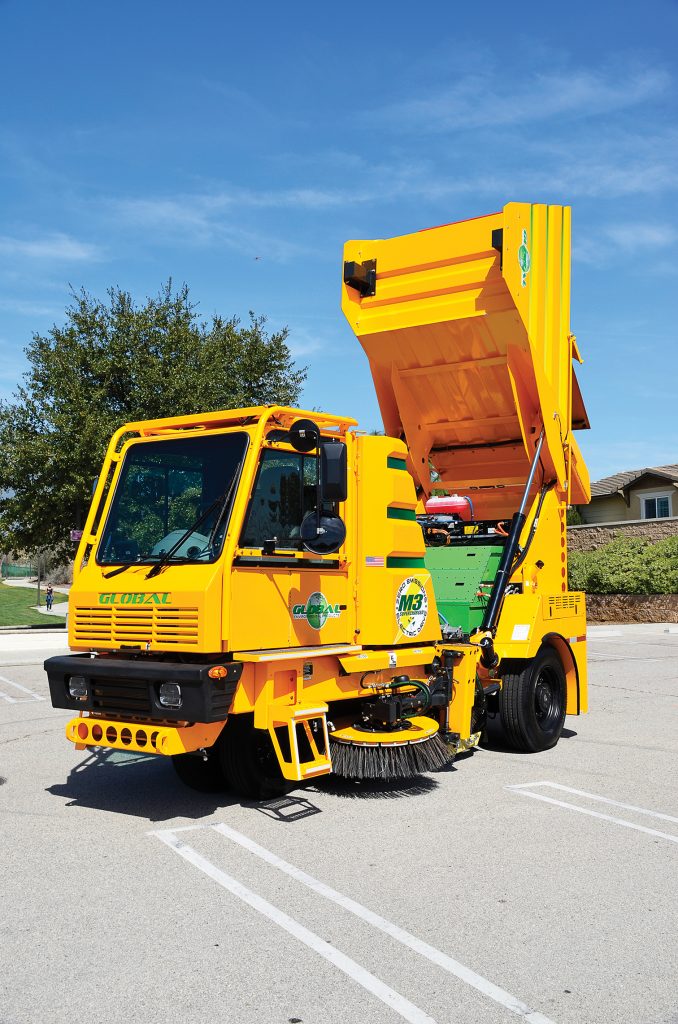 The company is one of the leading manufacturers of specialized street cleaning equipment and has been leading the industry with innovative designs that have been tested in real-world environments.
"All of our equipment is purpose built. We build sweeper chassis specifically tailored to sweeping environment and are the only manufacturer that does so," Sebastian Mentelski, a partner in Global Environmental Products, explained.
As class 7 vehicles, the electric sweepers offer a lot of power to easily complete the tasks set before them and have gross vehicle weight ratings of between 26,001 to 33,000 pounds. Customers can choose between the three-wheel or four-wheel model.
The standard electric machine comes with a SAE 1772 Level II charging system standard, which is 240 volts with 80 amp breaker. This system will charge the sweeper overnight with an average charge time of eight hours — perfect for operators who can plug in the sweeper after they finish their shift. A J1772 SAE Level III supercharging system is available as an option, too, reducing charging time to less than four hours.
"Normally when you have large equipment like ours, recharging takes a lot of time," Mentelski explained. "Supercharging cuts down the charging time. But supercharging stations for municipalities are not quite there in most areas yet. Cities still have a ways to go when it comes to supercharging infrastructure. It's going to be the future though."
For the now, however, standard chargers have a major benefit. Mentelski said, "You can charge overnight and don't have to modify the building or the charging grid."
Operators can expect about 14 hours of sweeping time before needing to charge the three-wheel model and 11 hours for the four-wheel one. The sweepers do use regenerative braking, in which they are designed to turn the force generated when drivers slow down into energy, extending sweeping time.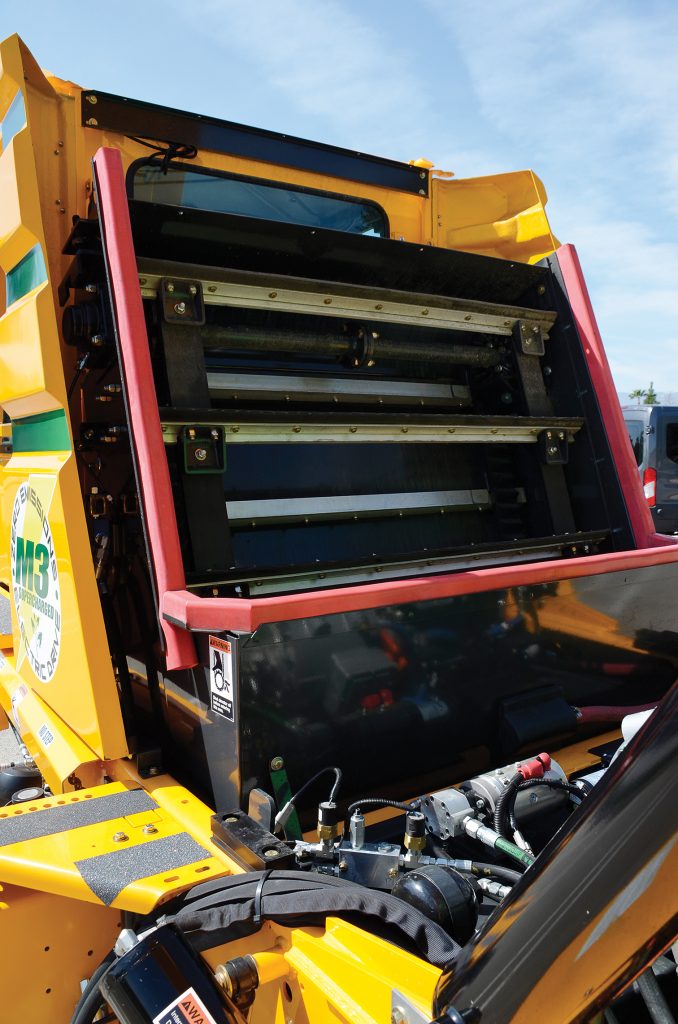 In addition to reducing emissions and aiding in the realization of environmental goals, electric sweepers require less maintenance from city fleets. Diesel sweepers require a tremendous amount of maintenance from replacing diesel particulate filters to preventive maintenance services like changing oil, cleaning coolants and radiators, and swapping out fuel filters. Since Global Environmental Products' electric sweepers have no engines, these steps are made obsolete.
The front-mounted cooling system also requires zero maintenance and is self-cleaning. The control system is located above the batteries, allowing for easy accessibility for troubleshooting.
"Historically sweepers have been costly in maintenance," Mentelski said. "With electric, there is zero maintenance when it comes to the engine."
As further cost savings, the electric sweepers use no fuel beyond the electricity used.
One of the biggest concerns fleet managers have when it comes to electric vehicles is the life span of batteries as they are so used to cellphone batteries quickly charging and discharging. The batteries used in the all-electric street sweepers slowly charge and discharge, which makes a big difference in their life expectancy. Fleets can expect a battery life of up to 10 years, with an anticipated battery efficiency loss of 15% in eight years of its life span.
"The batteries we currently use are designed to last the length of the tenure cycle," Mentelski said, adding, "As battery technology gets better, tomorrow's batteries will not be the same as today's. Their size and weight will decrease."
Global Environmental Products and its team of engineers have tested the sweepers extensively, including placing them in real-world environments to put them through their paces. Operators and technicians have enjoyed the ease of use these purpose-built machines offer as well as the ability to demonstrate to their communities that their fleets are being environmentally conscious.
"Our goal is to convert every municipality to electric sweepers," Mentelski shared. "Our mission is to save our planet one municipality at a time."  For information, visit Global Environmental Products online at globalsweeper.com.