Legacy Tension Fabric Buildings Feature Structural Steel Frame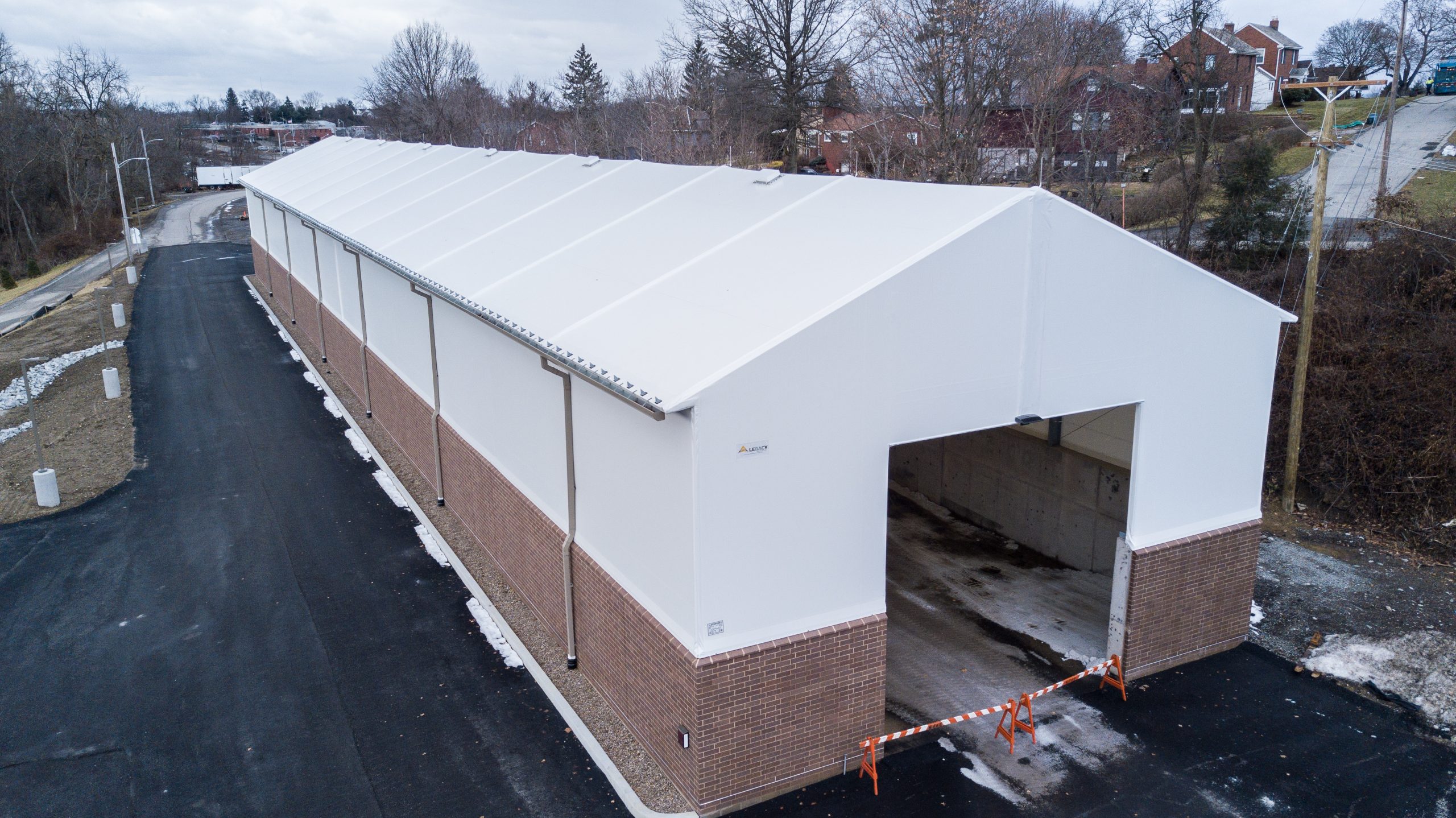 SOUTH HAVEN, Minn. — Combining rigid-frame engineering with the proven benefits of tension fabric membranes, Legacy Building Solutions offers superior quality fabric structures that are fully customizable. This design concept provides a high level of flexibility for county and municipal buildings, including public works and salt/sand storage.
Legacy fabric buildings utilize a durable rigid frame in place of the hollow-tube, open web truss "hoop" framing traditionally used for fabric structures. The strength of the structural steel frame provides several engineering advantages, most notably the ability to easily customize buildings to the exact width, length and height required. In addition to long clear spans, the buildings have straight sidewalls that maximize the useable square footage inside the structure.
The design allows for much more structural flexibility than traditional fabric structures, including the ability to add lean-tos, mezzanines, sidewall doors and more. The structures are also engineered to provide desired overhangs or handle additional loads for items such as sprinklers and conveyors.
Unlike hollow tube steel, Legacy's solid structural steel I-beams are not vulnerable to unseen corrosion originating inside a tube. Additionally, there are multiple coating options available for all steel components, including hot dip galvanizing, primer and powder coat paint.
Legacy buildings feature high-quality fabric roofs that eliminate the corrosion concerns associated with metal-constructed facilities. A wide variety of polyethylene and PVC fabrics are available. The durable fabric allows natural light to permeate the structure during daytime hours, while insulation and liners can be added to meet energy codes or satisfy customer specifications.
Installation is up to three times faster than with conventional buildings, and the design can be adjusted for stationary or portable applications. Sidewalls can be customized and built with any desired material — including steel, concrete or stone — and then easily lined with fabric to prevent corrosion to the interior, or to create a seamless look for occupied buildings. Legacy steel components and fabric covers are backed by a comprehensive warranty.
Legacy Building Solutions was the first manufacturer of fabric-covered buildings to incorporate structural steel beams instead of open web trusses. The company offers assistance from concept to completion, including renderings, foundation design, installation and project management. To date, Legacy's in-house, professional installation crews have constructed more than 35 million square feet of fabric buildings. Committed to quality and continuous improvement, Legacy maintains ISO 9001:2008 and CSA A660-10 certification. For more information, contact Legacy Building Solutions, 19500 County Road 142, South Haven, MN 55382, call 320-258-0500 or 877-259-1528, or visit the company's website at www.legacybuildingsolutions.com.