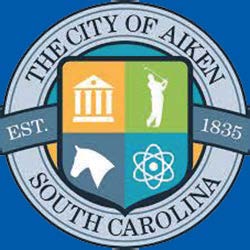 The central features of the city seal of Aiken, S.C., represent prominent facets of its history and community life. They include a building with traditional antebellum pillars, a golfer, a horse head and a molecule.
Strangely, one symbol not included in the seal is a depiction of a railroad.
The city of 30,721 is the namesake of William Aiken, president of South Carolina Railroad Company. One of the state's leading cotton merchants, Aiken hired the engineer who later built the Brooklyn Bridge to build a railroad from Charleston, 130 miles to the east.
Work began in 1830 and the first train arrived in the new settlement on Oct. 2, 1833. The following year two local engineers laid out the planned community with wide streets and parkways.
The town was chartered in 1835 and immediately attracted visitors from Charleston who spent summers at the self-described "place of retreat from the heat and malaria of unhealthier regions."
In 1865 the Union's westward advance was stopped at Aiken in one of General William Tecumseh Sherman's rare Civil War defeats.
The town quickly recovered from the war and in 1870 began attracting wealthy tourists from the North, lured to the area by Aiken's celebrated equestrian sports. The area's sandy soil was ideal for horse training, and polo and fox hunting were added to the menu of equestrian diversions. Fred Astaire, a thoroughbred horse owner, maintained a second home in Aiken.
In 1949 the Soviet Union detonated a nuclear weapon. President Harry Truman responded by asking the Atomic Energy Commission and DuPont Company to design, build and operate a nuclear material production facility for a hydrogen bomb.
The Savannah River Plant near Aiken broke ground February 1951 and the first production reactor was red up in December 1953. More than 38,000 workers helped construct more than 200 structures on the 300-square-mile site.
The facility met every product shipment on time, maintaining an unprecedented safety record with stellar environmental management. A er the Cold War, the plant, which today employs about 10,000 workers, made fuel to power commercial nuclear reactors.
Aiken also hosts several other large employers, including Kimberly-Clark, Firestone and United Parcel Service.
The city holds several annual events, including a Civil War re-enactment, weeklong musical festival, horse races and polo tournament, bluegrass festival and a juried arts and crafts show. For more information, call (803) 293-7846 or visit www.visitaikensc.com.