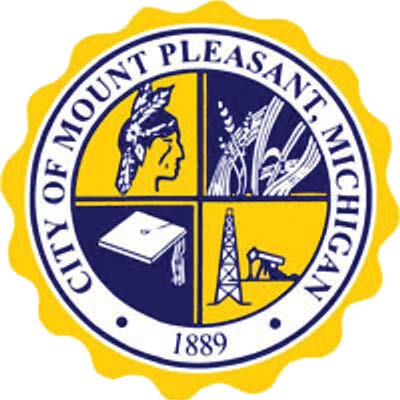 The four emblems comprising the city seal of Mount Pleasant, Mich., population 26,313, represent the four pillars of its defining heritage.
In the upper left quadrant, the facial profile of a Native American with headdress represents the Chippewa bands from Swan Creek and the Saginaw and Black rivers who were relocated to the area pursuant to the Treaty of 1855.
The relocation occurred one year after the federal Graduation Act of 1854 permitted European-American settlers to purchase government land at a discount.
The presence of the tribal bands enticed an influx of non-native settlers who reckoned they could prosper from their relations with the Chippewa.
The upper right corner sports several growing plants blithely waving in the breeze, depicting the importance of agriculture in the town's growth. A diversification of crops still plays prominently in the local economy.
The role of education in the town's history is shown by the tassel-topped mortarboard in the lower left quarter of the seal.
Central Michigan Business School, a community-funded college, opened in 1892. The following year the federal government established an Indian boarding school, where Indian children were encouraged to abandon their native culture and adopt the ways of European-Americans.
The school operated until 1933. The deleterious influences of such schools have only recently been recognized. The original school building in Mount Pleasant was abandoned and subsequently purchased by the Saginaw Chippewa Tribal Nation.
The final image portrays an oil derrick and pumpjack, signifying a major oil strike in 1928 on a family farm near town. The oil well produced hundreds of barrels a day and made Mount Pleasant the state's oil capital at the time.
The town is surrounded by natural enhancements, including lakes, rivers, forests and fertile farmland. Its residents consider Mount Pleasant one of Michigan's most walkable communities.
Mount Pleasant was named by its founder, David Ward, a timber cruiser, surveyor, physician and teacher, who purchased land from the United States government in 1855 and platted the town along the Chippewa River.
He sold the plat to investors from New York, who promoted the location to attract settlers to form the community. Mount Pleasant was incorporated as a village in 1889.
For more information, visit www.mt-pleasant.org.