ALL Crane Rental of Tennessee Wins "Supplier of the Year"
Associated General Contractors of Tennessee – Knoxville (AGC) Bestows Honor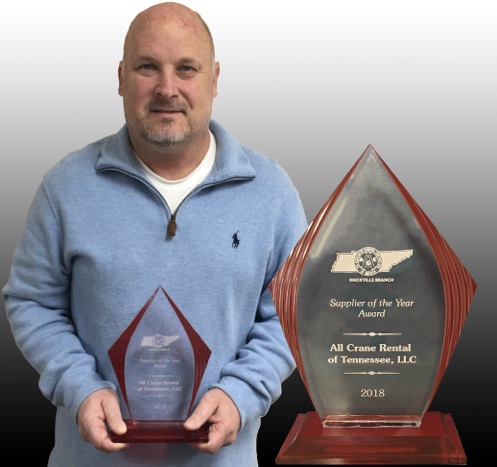 January 30, 2018—ALL Crane Rental of Tennessee has received the prestigious Supplier of the Year Award from theKnoxville Branch of the Associated General Contractors (AGC) of Tennessee.
Billy Vaughn, general manager of ALL Crane Rental of Tennessee, a member of the ALL Family of Companies, accepted the award, giving his employees full credit. "Our people know that the name ALL Crane stands for excellence in our business," said Vaughn. "They know we deliver a whole-team effort, always go the extra mile, and bring not just the equipment, but also our expertise to every job. And they're proud of that." Vaughn also credits the ALL Family of Companies for its commitment to a well-maintained, modern fleet of cranes and lift equipment.
Every year, the AGC of Tennessee – Knoxville Branch presents its subcontractor, supplier and service provider of the year awards. Winners in each category are selected by the branch's membership through ballot voting. Recipients will have demonstrated a clear commitment to quality, continuous improvement, and customer satisfaction throughout the construction industry.
"ALL Crane Rental of Tennessee was selected out of 22 companies by their peers to be 2017 Supplier of the Year," said Danielle Settlemoir, executive director of the AGC of Tennessee. "We congratulate them on this wonderful achievement."
ALL Crane Rental of Tennessee became a member of the ALL Family of Companies in 1999.
About ALL
The ALL Family of Companies is the largest privately held crane rental and sales operation in North America. Their strategically located branches have access to one of the world's largest and most modern fleets, operating under the ALL, Central, Dawes, and Jeffers names. ALL provides rental, sales, service, and jobsite analysis, helping to ensure that customers have the right equipment for the job. For more information, contact ALL Erection & Crane Rental at 4700 Acorn Drive, Cleveland, OH 44131. Phone: 216-524-6550. Toll free: 800-232-4100. Fax: 216-642-7633. Web:www.allcrane.com.