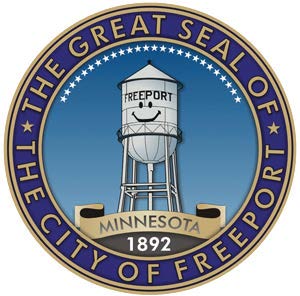 Visitors to Freeport, Minn., are always greeted with a big smile.
The felicitous image of the smily face on the town's water tower is also front and center on Freeport's city seal. "When they were putting up our water tower, they wanted to put something on the tower, so one of the employees of the public works maintenance department used a cardboard stencil and put on the smily face," said Adrianna Hennen, Freeport's city clerk.
The town came into existence after the Great Northern Railway laid its tracks from St. Cloud to Melrose. Several farmers had settled the area, but German immigrant John Hoeschen opened the first store in the railroad settlement and his brother, Joseph, built the village's first hotel.
Originally dubbed Oak Station, the name was changed owing to confusion arising from the names Oak Station and nearby Osakis. The name Freeport was suggested by the Benolken family, owners of some of the originally platted town property, who hailed from Freeport, Ill.
The town began with its first building, a railroad station. In 1874 School District No. 102 was organized, comprising Freeport and the surrounding vicinity, and soon the small log schoolhouse was replaced with a larger frame structure. A post office was established in 1879, with John Hoenschen serving as its first postmaster.
Freeport was incorporated in 1892. John Wahls, the town's first settler, owned the town site. Two village blocks, John Hoenschen's and Joseph Henschen's blocks, were platted, but to obtain the requisite population for incorporation, the town limits were extended to embrace several surrounding farmsteads.
When the articles of incorporation were approved, the village was laid out in 16 blocks. Two additions were appended in 1900 and 1912.
The first oak plank sidewalk was laid in 1894 and the village hall was built a year later.
A steel jail cell soon followed and a water works system was installed in 1903. An electric light system was completed in 1913.
The pleasant little burg of 657 residents served as the inspiration for Garrison Keillor's fictional Lake Wobegon, and in 1998, the surrounding Stearns County honored Keillor and his radio show, "A Prairie Home Companion," by naming a section of abandoned rail line the "Lake Wobegon Trail." An aerial shot of Freeport, including its iconic water tower, was featured in the opening scene of the fourth episode of the Syfy miniseries "Ascension."
For more information, call (320) 836-2112.