Bandit's Morgan holds off Boileau, Rude at packed G-P Speedway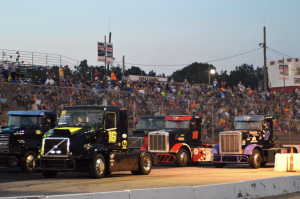 (Easley, SC June 2017) – Ricky Rude (#14) gave it his all Saturday night, but a wily veteran prevented Rude from winning his fourth straight Minimizer Bandit Big Rig Series event.
A packed house at Greenville-Pickens Speedway was treated to Mike Morgan's (#88) first win of the 2017 season, as he bested Tommy Boileau (#16) and Rude for the checkered flag in the 25-lap A-main.
"We've been waiting for this win since the start of the season," Morgan said.
Morgan and Boileau were back-and-forth before Morgan took control on the 14th lap.
Rude may have had a better chance at his fourth straight win had he not had to pit mid-race following contact on a re-start.  Despite the setback, he still managed to race his way to third by the end of the night.
"It was a fantastic event featuring some great racing," Bandit Director of Operations Brian Madsen said. "And once again, the fans packed the stands, which is great to see."
With the win, Morgan passes Justin Ball (#17) for second in the points standings.  Rude remains on top with 2030.5 points, 115 in front of Morgan.
"I have a feeling this season's championship will go down to the wire," Madsen said. "Too many talented drivers and too many races remain for anyone to walk away with the title."
The Minimizer Bandit Big Rig Series moves on to Highland Rim Speedway in Greenbriar, Tennessee, July 1st.
About Bandit Big Rig Series
The Minimizer Bandit Big Rig Series returns big rig tractor truck racing to the short track in the United States. The series was designed to be affordable and accessible for anyone wishing to put together a race team.
For additional information, please contact Brian Madsen at (507) 676-6627, or email brian@banditseries.com.