Fecon Adds FTX128R Rubber Tracked Mulcher to FTX Tractor Line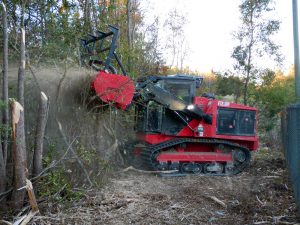 Fecon Inc is proud to introduce the FTX128R Rubber Tracked Mulcher. The new rubber undercarriage utilizes a heavy duty bogie roller system and metal imbedded rubber tracks. The FTX128R offers 23" of ground clearance, powerful steering, excellent traction, and a PSI of 4.5 for responsive handling in soft wet conditions.
The FTX128R is ideal for right of way clearing where working on both sides of the road is necessary, or for moving a short distance to the next clearing site.  The ride quality is smooth with excellent performance on or off pavement.
The FTX128R features attachment versatility with a quick attach coupler combined with up to 60 GPM of in cab adjustable high flow and optional pressure adjustment.    
Fecon also supplies many forestry and construction related attachments to make the FTX128R the best choice for mulching, tree shearing, stump grinding and even asphalt milling with wider cold planers.