Enforce idling ordinances by making them known
Public safety has always been meant to keep citizens from dangerous situations. It's no question on whether or not it's legal and safe to park in a fire zone or to pull a U-turn when there are signs implicating its dangers. But what about laws that citizens don't know about?
Avoid controversy, inform civilians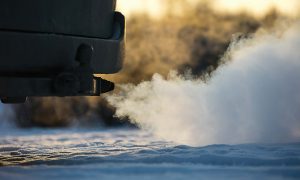 In January 2017, a man in Roseville, Mich., was issued a $128 fine for idling his vehicle in his driveway. In Michigan, there is a state law that says vehicles cannot stand idling at all, the car must be parked, locked and have no key in the ignition. The man took to social media to express his personal feelings over the matter, which caught the attention of national media who questioned the importance of idling laws.
The controversy of the fine created an uproar, and while these laws may be well known by municipalities, it's important to make it known to the citizens. While not knowing the law isn't a defense, municipalities can take steps to prevent another controversy by posting to social media or running awareness on public access channels. Most idling happens during the winter, which means that the reminders would only be need to be posted seasonally. At that point, the municipality has approached the topic as possible to bring awareness to the law.
Idling ordinances vary from place to place with some cities allowing as much as 10 minutes in 20 degree weather and others not allowing it at all. Roseville's Chief of Police James Berlin has recalled many dangerous accidents that have occurred because an idling vehicle was stolen. Even if a vehicle was left alone for a few minutes while the owner ran into their home to grab something, a few minutes is all a thief needs.
"People park their bikes and lock it to a rack, so why would you leave a thousands of dollars car unattended?" questioned Berlin. "Often times when the police are involved in high-speed chases for a stolen car, it ends critically. It can create chaos and tragedy."
While the controversy was relatively irritating for Roseville, Berlin added that he believes it educated more people and caused them to look into the idling laws that would impact themselves. Since it is a state law and Roseville can't do much to alter it, Michigan citizens will have to withstand the cold weather while their vehicles warm up.
Illinois also maintains a state law regulating idling ordinances, but there are many exemptions for civilians and truck drivers. Truck drivers have available resources thanks to the Illinois Truck Enforcement Association, an organization composed of police officers. ITEA teaches police officers how to do truck enforcement while also helping truckers avoid tickets and stay up to date on ever-changing regulations. They create clarity of the law so that if an issue arises, truck drivers will understand why there is an issue and how they can best avoid it in the future.
"It's important for the government to get the information out there so the law is known," commented ITEA President Marc Fisher. "It's (idling) one of those laws that has changed. Every situation is different and should be dealt with accordingly. There should be a clear guidance and a solid reason for having an idling law. It's important to know who will be impacted, such as truck drivers. If the law is too strict, it could possibly steer business away from the municipality."
Environmental impact
Idling laws are important not just for public safety, but for environmental awareness. Burning fuel and releasing emissions largely impacts the environment by contributing to air pollution and the overuse of natural resources. The use of cars has significantly contributed to global warming by sending greenhouse pollutants into the ozone.
While idling during traffic can't always be helped, taking the correct steps to avoid and control unnecessary idling can still help prevent environmental harm. The unnecessary idling would not only waste money, but fuel. Just by idling during stalled traffic, a person can waste upwards of 26 million tons of extra gas emissions a year.
At that point, car emissions wouldn't just impact the environment but human health as vehicles are the biggest contributors to smog and carbon monoxide. While the quality and technology of vehicles have come a long way and the air quality is much better than the 1970s due to the Clean Air Act everyone should be cognitive of the effects of idling, no matter how big or small.
Modern times
Car starters have been observed, but it remains uncertain if using a car starter in some cities would be considered a violation of idling ordinances. Most ordinances address a car being locked, parked and with no key in the ignition while some specifically reference no running engine.
As with most laws, idling laws may change as city and town councils move to address certain technological advances. When new technology may impact the subject of a law, it's important that the law be revisited. When times change, laws should change with them so they remain relevant. The law should remain as clear as possible and acted out by officers with good judgement.
Unlike 50 years ago, a car no longer needs to run for five minutes for the engine to warm up since those have also improved with time. There will still be a need for the windshield to defrost, but the car engine itself shouldn't need more than 30 seconds to warm up. Today's technology has improved so much so that a vehicle from the past few decades will actually become warmer while it's driven.