Abraham Pickering: Pickerington, Ohio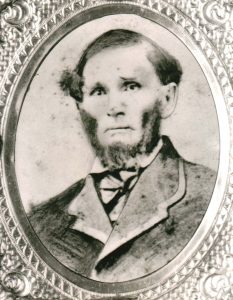 Having your neighbors and friends name a town in your honor shows a lot of respect — especially when they displace the name of a war hero to do so.
Abraham Pickering (1776-1833) earned that respect. Pickering was born in New Market, Va., four days after the signing of the Declaration of Independence.
He married Ann Looker, his first cousin once removed, in 1799. Seven years later they migrated to Ohio with their young son and daughter and settled in Fairfield County, southeast of Columbus.
In 1815 Pickering acquired the land that would later become his municipal namesake. He purchased the parcel from his father-in-law, cleared the land and platted out the town, reserving three lots for a cemetery, an education building and a church.
He sold the other lots and soon log houses were built and a trading post was established.
For some time, though, the settlement remained unnamed.
That changed the day Pickerton caught word of General Andrew Jackson's decisive victory over the British in the Battle of New Orleans, whereupon he dubbed the village Jacksonville "after the fighting son of a gun, Old Hickory." The name and first plat of the town were recorded at the Fairfield County courthouse Sept. 15, 1815. By 1820, 49 people resided in Jacksonville.
The town, surrounded by woods abounding with wildlife, continued to grow, with Pickering a central figure to its success. He generously donated land to accommodate communal amenities. His last donation, made the year he passed away, was a lot for building the First Methodist Church, the first church in the township.
In 1827 the townspeople collectively petitioned the Ohio state legislature to honor Pickering by changing the name of their town to Pickerington. The legislature did so by special act.
Postal service arrived in Pickerington March 3, 1831, with the mail initially delivered on horseback.
Pickering lived in his namesake town until his death in 1833. He and Ann had eight children, six of whom survived to adulthood.
Now a suburb of Columbus, Pickerington was incorporated as a village in 1881 and certified as a city in 1991. The municipality of 19,000 was designated the "Violet Capital of Ohio" by the state legislature in 1996.
Pickerington hosts the Motorcycle Hall of Fame and its downtown features a historic shopping area. The parks department oversees the city's 10 parks and offers classes on topics such as jewel crafting, herbalism, archaeology and engineering.