Lincoln Electric Expands Line of CrossLinc-Equipped Flextec Welders
Heavy-Duty Flextec® 650X delivers multi-process capability in a flexible, rugged package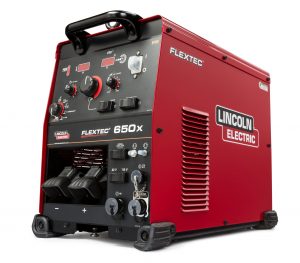 Cleveland – The Flextec® 650X multi-process welder from Lincoln Electric® gives operators full functionality and control at the arc without an added control cable, thanks to embedded CrossLinc® Technology.
The Flextec 650X expands upon the well-established and proven Flextec 650 platform. Like its predecessor, the Flextec 650X is rated at 650 amps, 44 volts at 100% duty cycle. It delivers up to 815 amps for heavy applications or a stable arc at low currents for MIG or TIG welding on thin materials. Typical applications include construction, shipbuilding and heavy fabrication. It's ideal for large-diameter stick, flux-cored, MIG or submerged arc welding on thick materials and is also capable of gouging with up to a ½ inch (12.7 mm) carbon. The 650X yields a fast arc response, smooth arc action and smooth bead appearance on all DC wire, stick and TIG processes.
Using CrossLinc, the Flextec 650X now enables remote control of procedure settings at the arc.  This leads to improved weld quality and increased productivity by reducing trips to the power source. It also improves safety by reducing jobsite cable clutter. With the Flextec 650X, CrossLinc can be used with an LN-25X feeder for wire fed welding processes or the new CrossLinc® Remote for Stick, TIG or gouging processes.
Broad wire-feeder compatibility is not an issue with the new Flextec 650X. It now is not only compatible with existing Lincoln Electric standard bench, boom and across-the-arc wire feeders, but it also is compatible with the CrossLinc-equipped and advanced digital ArcLink® feeders.
With the addition of ArcLink, Lincoln Electric's digital communications protocol, the Flextec 650X can be used with an expanded list of wire feeders compared to the previous 650 model. Applicable feeders include weld schedule memory storage to give operators easy recall of critical or often-repeated weld procedures.
The Flextec 650X can be used with a wide range of available, three-phase input power. Engineered for outdoor use and harsh environments, the machine is IP23 rated. It also is Desert Duty® rated for extreme temperatures up to 55°C. Components are designed to run cool for long life in high-temperature environments.
For more details, visit www.lincolnelectric.com.
Lincoln Electric is the world leader in the design, development and manufacture of arc welding products, robotic arc welding systems, plasma and oxyfuel cutting equipment and has a leading global position in the brazing and soldering alloys market. Headquartered in Cleveland, Ohio, Lincoln has 47 manufacturing locations, including operations and joint ventures in 19 countries and a worldwide network of distributors and sales offices covering more than 160 countries. For more information about Lincoln Electric and its products and services, visit the company's website at www.lincolnelectric.com.