Amanda Edmonds, mayor and food systems champion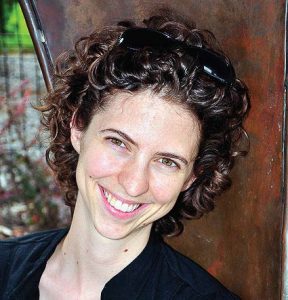 While Amanda Edmonds might be mayor of Ypsilanti, Mich., she is also the full-time executive director of the nonprofit Growing Hope, which came out of her work on beginning an educational garden at Ypsi's Perry Child Development Center in 1999. Growing Hope is now working in schools where it helps youth grow food and cook; running an urban farm; coordinating farmer's markets; and running a downtown retail shop. Additionally, it hosts food business support training workshops. Now as mayor, Edmonds can be a policymaker as well as a policy advocate. Her focus in all this is local and regional food systems that work. The Ypsilanti Food Co-Op — as well as newer experiments like the Hope Clinic's free produce store for the underprivileged — is just one example of the new agricultural faces emerging in Ypsilanti.
One part of this effort is to work with urban agriculture so that people understand that a city farm, like a small farm in the country, should have the same infrastructure for distribution, etc.; they are both part of the same regional food system. City planners need to see food as one of their areas of oversight, like roads, sewers and park districts. One good resource for this work is Michigan State University's Center for Regional Food Systems. The center is involved in academic and community work.
Edmonds said, "What has happened is that our food system became globalized and people got disconnected from their food sources and now people are re-localizing. There is value in farms where people are growing any kind of plant on smaller spaces — though along the way, this is changing the face of agriculture. Urban areas have deficits like vacant land and space, but this has given rise to new opportunities. Empty buildings could have food production on the roof and inside. Cut out the cost of transportation and storage."
Cultivating urban agriculture
What are some start-up suggestions for city managers or mayors who would like to move more in the direction of encouraging agricultural elements in their cities?
See whether zoning supports or prohibits agricultural work. The American Planning Association has a food system planning guide, which is a great resource. It is accessible at www.planning.org/policy/guides/adopted/food.htm.
See if there is local college or university that you could partner with to do a food community system assessment. What elements of a local food system are available and what is still needed? Students can be excited to be involved in assessing what makes sense in their locality.
Think about food in the way you think about roads, water and schools. This needs to be a chapter in the master plan of the city. Look locally and regionally for food policy councils and networks of people deep into this field; consult with them.
Despite Ypsilanti's long winter, the Michigan Farm Bureau states, "Michigan produces more than 300 commodities, making us the state with the second most diverse agriculture industry in the nation just behind California."
One problem smaller local farms have is how to get from the local farm to the local consumer. Community-supported agriculture is one response. A gap, however, arises as the local school is trying to figure out how to get the volume needed for the school cafeteria. What is lacking is the aggregation and distribution piece. Food hubs are efforts to fill these gaps by people creating smaller distribution systems, matchmaking systems and online ordering systems. These can help connect the farmer who has the cantaloupe with the school needing fruit for students. A facility can fill the gap by preparing the cantaloupe.
"Right now," Edmonds said, "we have the product and people to buy but steps still need to be taken to fill that preparation gap."
Edmonds' work first focused on gardens: school and neighborhood gardens. Since then, it has shifted to be about healthy food and how to get that to the community. The town of Ypsilanti is 4.3 square miles. One quarter of that land is composed of the University of Michigan-Ypsilanti. There are also gardens, patches of gardens and small urban farms. The small food manufacturers and facilities are growing in town as a next step. Breweries are one of the local events in food generation.
As mentioned before, processing is a big gap between smaller farms and the user. Commercial kitchens can enable entrepreneurs to get started. Farmers, for example, can be making salsa out of their tomatoes. This kind of kitchen is called a "kitchen incubator." For them to exist, there needs to be planning, zoning and policies at the local level. Ypsilanti passed urban chicken and bee ordinances and an ordinance that allowed for urban garden farm hoop houses and mobile food trucks.
Planning can be a barrier. "We need to move the needle on these policies," Edmonds said. "Some neighborhoods that are food deserts may have people growing small farms or gardens, but they aren't allowed to sell food to their neighbor from their farm. This could come from a fear of daily garage sales, but there are ways to not allow that … How do you zone for an indoor fish farm? In many ways urban planning is making allowance for agriculture-related activities in urban areas with ordinances. Municipalities can proactively create policies to allow that. Growing Hope does consulting with cities for what makes sense for agriculture within the city. They work particularly around farmer's markets, deciding if that would work and helping with the overall planning on how to make it work."
In Ypsilanti, Growing Hope's farmer's markets are outdoor and indoor year-round facilities. There is also a large hoop house, growing spinach throughout the year — this is heated by the sun's "greenhouse effect" solely, no solar cells involved. Such hoop houses can revitalize a downtown and enable farmer's markets to go year-round.
"We are developing a site for November and December, and maybe throughout the winter as well," Edmonds said. "Part of an indoor farmer's market will have microkitchen incubators. These are some of the new forms of agriculture that make sense in a city, and it can look differently than what you've thought in the past as 'agricultural country.'" With Edmonds' leadership, Ypsilanti is on the fast track for new forms of agriculture, compatible with the city.
Here are useful resources on community and regional food systems and planning:
• growinghope.net
• foodsystems.msu.edu
• foodsystems.msu.edu/resources
• planning.org/resources/ontheradar/food