Fleet Complete makes the Greater Toronto's Top Employers 2017 list
Fast-growing Fleet Complete celebrates its win as one of the GTA's Top Employers for 2017.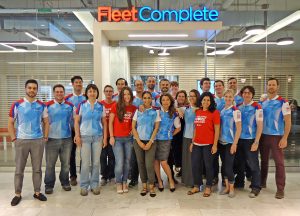 (Dec 12th, 2016 – Toronto, Canada) – Fleet Complete®, a global software company that connects businesses with their remote vehicle fleets, mobile assets and in-field workers in real-time, is among the winners of Mediacorp's Greater Toronto's Top Employers 2017 competition. With more than 300 employees worldwide, Fleet Complete continues to grow and further expand its international presence. In the last year and a half, Fleet Complete acquired ITmobile in the Netherlands and Securatrak in Australia, significantly increasing its staff roster and presenting greater employment opportunities in the Toronto's tech hub.
"Our success has created opportunities for new and existing employees," said Larry Indovina, Executive VP of HR at Fleet Complete, "We've made over 100 hires in the past 12 months, from software developers to sales and marketing roles that required seasoned professionals as well as new graduates."
The GTA's Top Employers nomination is attributed to a number of key factors, such as workplace amenities, employment and health benefits and the company's dedication to employee development. "We are devoted to the employee experience at work as much as their career progression," explains Larry Indovina, "Our state-of-the-art headquarters in downtown Toronto has our own tailored design that ensures a productive and collaborative work environment, providing the right tools for professional and personal growth. The central downtown location draws top talent to the company, provides a vibrant setting for many of our employees' active lifestyles and a convenient commute to and from the office. Moreover, Fleet Complete's highly competitive benefits packages, vacation allowance, parental leave and stock option plans ensure our employees are well taken care of."
The company's continuous growth and global expansion put Fleet Complete at the forefront of employment opportunities in the GTA. "It's a great honour to have earned our spot amongst an elite group of companies, like Salesforce, Pepsico, Cisco, RBC and MLSE, as winners of the Greater Toronto's Top Employers 2017 award," said Tony Lourakis, CEO of Fleet Complete. "Not only does it validate the culture and the values that have driven Fleet Complete to its success, it celebrates the achievements and contributions of our employees, who have made the company an industry-leader."
Entering its 12th year, the Greater Toronto's Top Employers competition is an editorial project that recognizes employers with exceptional human resources programs and forward-thinking workplace policies. Editors at Mediacorp grade employers on eight criteria, which have remained constant since the project's inception: (1) Physical Workplace; (2) Work Atmosphere & Social; (3) Health, Financial & Family Benefits; (4) Vacation & Time-Off; (5) Employee Communications; (6) Performance Management; (7) Training & Skills Development; and (8) Community Involvement. The editors publish detailed reasons for selection and grades for these criteria, providing transparency in the choice of winners and a catalogue of best practices for employers and job-seekers. For more information, please visit Reasons for Selection.
About Fleet Complete®
Based in Toronto, Fleet Complete® is a global IoT provider of mission critical fleet, asset and mobile workforce management solutions. For over sixteen years, Fleet Complete has been providing dispatching, fleet tracking and mobile resource management solutions to more than 8,000 businesses worldwide. The company maintains key distribution partnerships with AT&T in the U.S., TELUS in Canada and Telstra in Australia, remaining one of the fastest-growing companies in North America that has won numerous awards for innovation and growth since its inception in 2000 (as Complete Innovations Inc.). For more information, please visit fleetcomplete.com
About Mediacorp
Founded in 1992, Mediacorp Canada Inc. is the nation's largest publisher of employment periodicals. Since 1999, the Toronto-based publisher has managed the Canada's Top 100 Employers project, which includes 19 regional and special-interest editorial competitions that reach over 13 million Canadians annually through a variety of magazine and newspaper partners, including The Globe and Mail.  Mediacorp also operates Eluta.ca, the largest Canadian job search engine, which includes editorial reviews from the Canada's Top 100 Employers project. Together with Willis Towers Watson, Mediacorp also hosts Canada's largest conference for senior-level HR professionals, the Top Employer Summit.