Switching to Aladtec Helps Falmouth Fire Rescue Department (MA) Manage Overtime
Online employee scheduling and workforce management allows this career fire department to plan, control, assign and track overtime quickly.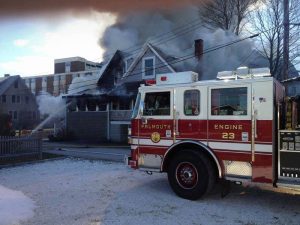 Boston, MA – In the Public Safety Sector, it's vital to fill any required overtime shifts quickly and efficiently. It's also important to manage it effectively to save money and to distribute it fairly.  This agency, comprised of career fire personnel, previously had to determine which qualified staff should be offered overtime and then try to contact them.  "We had to call each member eligible to work and speak to them or leave messages, wait for their response and try to fairly decide who to assign it to. It was very time consuming," states Deputy Fire Chief Timothy Smith, Falmouth Fire Rescue Department, Falmouth, MA.  "Now, we use Aladtec for scheduling overtime by looking for coverage through the system when needed.  We send out the shift coverage request via the text/email system. Personnel can respond immediately if they want the shift. This is a significant time savings for our Duty Officers who are responsible for filling any open shifts. Our department has complex overtime but we can easily manage it by using Aladtec."
Since implementing Aladtec, Deputy Fire Chief Smith indicates they now save up to 10 hours a week in time spent finding coverage for overtime shifts.  "We use an overtime roster that is generated each day by virtue of overtime hours each person worked. This creates a report based on "all" hours worked and positioned personnel from low hours to high overtime hours each day.  When a position needing to be filled is created, we just use the "find coverage" paging feature and have a limit of 10 minutes for members to reply.  We can then quickly look to see who has the lowest overtime hours and then approve that member for the shift.  At a glance, Aladtec allows us to have continuity throughout all shifts and we can quickly make corrections or adjustments to manage each oncoming shift."
All processes completed within Aladtec are documented which helps with checks and balances, so overtime is distributed fairly and communication is tracked. "The Shift Commander can send out specific group or individual texts when station assignments change. When this occurs, it is recorded and ensures that they got the message.  From an administrative overview, we can see what's being made and it's all documented – regarding detailed texts, emails, time off requests, etc. The fact that we can record these notifications and review any discrepancies asserted by our personnel is important."  Smith adds, "Plus, the attendance accrual tracking is a great feature as well."
Aladtec's mobility was also a valuable feature to this department. Before, the members had no way of knowing what type of changes were made to their assignments after they went home. Now all administrators and members can access the schedule from any computer, smartphone or other mobile device via the Internet.  They can immediately see in real time when an adjustment has been made to the schedule. "The ability for our 70 members to be able to use their smartphones was also a selling point for us.  Personnel can check the schedule and make time off requests on their personal phone or home computer."
Smith shares that they did consider another online employee scheduling and workforce management product.  After trying Aladtec's free demo they determined because of the features available, along with the ability to subscribe to the system annually, Aladtec was the best choice.
"We are able to easily budget Aladtec into our contractual services year to year.  The fact that we now use technology based scheduling and attendance has created a better tracking system overall. Additionally, Aladtec's support and training component made it clear that we made the right decision.  We are very impressed with the system and our personnel are all happy with this product," concludes Deputy Fire Chief Smith.
About Falmouth Fire Rescue Department:  Falmouth is a coastal town on scenic Cape Cod, Massachusetts. This agency serves their community and the influx of tourists The Cape brings throughout the year.  Their mission statement reads – "To provide to the citizens and visitors of our town the most effective, efficient and expedient emergency services for the protection of life and property due to fire, medical emergencies, and natural or man-made disasters."
About Aladtec: They proudly provide online employee scheduling and workforce management software to over 1,700 organizations, primarily within the Public Safety Sector. These customers count on Aladtec every day to help them save time and improve efficiency.  For information about their affordable industry specific options, or to try a free demo, please visit www.aladtec.com.