Fireaway Inc. Is Building a Full-Scale Fire Research and Test Facility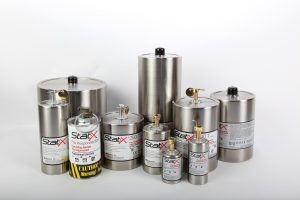 MINNEAPOLIS, Minn. – Fireaway Inc., the manufacturer of Stat-X® condensed aerosol fire suppression generators, is constructing a new fire research and test facility in the United States.
This facility will be capable of full-scale testing of fire extinguishing systems in a volume exceeding 500 cubic meters.  The capability will include data acquisition, video, IR imaging, and gas analysis.  It will be the only facility of this size and capability in North America.
Once completed, this new capability will be used for testing to confirm the suitability of Stat-X aerosol systems to meet customers' demanding requirements, further development of Stat-X aerosol extinguishing systems, testing for new applications and obtaining additional international approvals.
This new facility reinforces our commitment to innovation in fire extinguishing.  It is located at Fireaway's agent manufacturing plant in Minden, LA, USA.
About Stat-X Fire Suppression Systems
Stat-X First Responders® and Stat-X fixed systems are highly-advanced automatic condensed aerosol fire suppression solutions. These fire suppression units are UL Listed, made in the USA, and approved for normally-occupied spaces.  Our product is used to save lives and protect assets. These units are deployed in the toughest conditions worldwide, including surface and underground mines, military vehicles, long haul buses, rolling stock, remote telecom sites, wind turbines, power substations, electrical cabinets, and various marine and off-shore settings.   Capable of being manually, thermally or electrically activated by industry-standard control panels, Stat-X provides highly effective and economical fire suppression solutions to customers around the world.
Stat-X is manufactured by Fireaway Inc., an ISO 9001-2008 certified company with production facilities in Minnetonka, Minnesota and Minden, Louisiana.
Please visit our website, www.statx.com, for further information or to locate a certified distributor in your area.