AGF Manufacturing's CORRINSITE™ Corrosion Monitors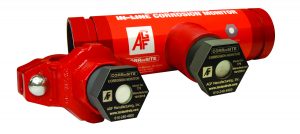 AGF Manufacturing has developed the CORRINSITE™ Corrosion Monitors to address the increase of corrosion-related failures in both wet and dry fire protection systems. The CORRINSITE™ Corrosion Monitor is a new, reliable monitoring tool designed to measure wall loss under real world conditions.
Corrosion is a continuous and virtually unstoppable process. It can cost millions in damages, disable safety equipment and put lives at risk. Unchecked corrosion can develop into major failures that lead to greater overall damage and higher overall cost. Early detection is critical to fast response and allows for more effective intervention methods.
AGF's CORRINSITE™ provides an inexpensive and foolproof method to monitor for hidden corrosion problems in any fire protection system; it is easy to install and maintenance-free. It is incorporated directly into the sprinkler piping system where it is subject to the same conditions as the pipe. As the pipe corrodes, the monitor corrodes. When the monitor corrodes beyond its limit, moisture penetrates the sealed chamber and transforms the white sight glass to a fluorescent orange color indicating a corrosion problem and need for further investigation.
The CORRINSITE™ comes in two models and various sizes. The CORRINSITE™ Model 7700 In-Line Pipe Corrosion Monitor is suitable for new construction and retrofitting into existing fire protection systems. It is available in schedule 10 or 40, black steel or galvanized pipe.
The CORRINSITE™ Model 7800 Mechanical Tee Corrosion Monitor is easily retrofitted into existing fire protection systems and is available with a painted red or galvanized steel mechanical tee.
Don't leave your fire protection systems exposed, and don't wait for an emergency to start thinking about safeguarding against corrosion problems. To learn more about AGF's corrosion monitors and other innovative product lines, call 610-240-4900 or visit www.agfmanufacturing.com.