"Vac-Tron Equipment is now rolling out a new size of the PTO (Power Take Off) truck driven vacuum excavator system.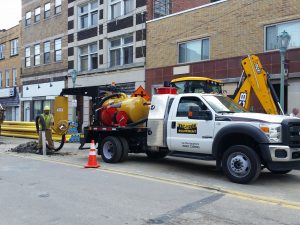 This new truck is available on a Ford F-550 and has a 300-gallon size debris tank.  It is also available with our patent pending remote debris tank and air compressor.
The Power Take Off of the truck drives a positive displacement vacuum blower that produces 1,000 cfm. This unit is standard with a high pressure water system, full hydraulic rear claw door, reverse pressure, and the patented "Big Red" filter housing that cleans the air down to 0.5 microns (best in the industry) before it passes back through the vacuum pump. Hydraulic booms are also available on the PTO series units.
A major benefit of the PTO Driven unit is that all components are controlled from the truck eliminating the extra weight, space, and cost of the pony motor.  The available towing package is another benefit allowing you to tow other equipment to the job site to help with efficiency.
This is an exceptional vacuum excavator for many projects as well as directional drill site cleanup, confident utility locates, job site safety, and productive job site management.
For more information about the HTV PTO, contact Vac-Tron Equipment at 888-822-8766 to request a free demo or visit www.vactron.com."