Seven inches of safety ASA Electronics® releases the VOM74WP Quad-view Monitor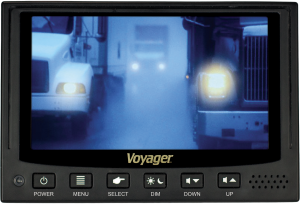 ELKHART, IN. – Announcing the release of the new VOM74WP Voyager seven inch, quad-view monitor. ASA Electronics is proud to offer another product in their Heavy Duty lineup. This system was engineered for the toughest environments with IPX5 waterproof rating and multiple camera inputs to get all of the necessary views to keep drivers safe.
"We are excited about the introduction of the new VOM74WP rear observation monitor. This monitor combines the features of the ever dependable AOM713WP and feature-rich AOM7694 into one durable, waterproof, and affordable 7" monitor," Pat McCullough, ASA Electronics' V.P. of Sales said.
This monitor, designed specifically for the Commercial Vehicle application, is truly in a class of its own. It can be used on all commercial vehicles, such as box trucks, over the road trucks, buses, agricultural applications and construction equipment. Customers love the multi-camera inputs and knowing that this product is durable and is built to handle their rugged applications.
For OEM information, please contact Joe Camacho at JCamacho@ASAElectronics.com
For Fleet information, please contact Justin Garver at JGarver@ASAElectronics.com
ASA Electronics® has been designing and manufacturing mobile electronic products for the Commercial, Marine, RV, Agricultural, Construction, Van, Bus and Limo industries since 1977. Their proprietary brands are JENSEN®, JENSEN Marine®, JENSEN Heavy Duty®, Marine Audio®, Voyager® and ADVENT®. ASA is also a distributor in specialty markets for SiriusXM® Satellite Radio and Polk Ultramarine® products. For more information, please visit www.ASAElectronics.com.