PWX (Formerly APWA International Public Works Congress & Exposition)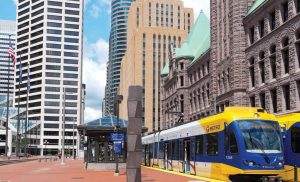 PWX Aug. 28–31
Minneapolis Convention Center,
Minneapolis, Minn
www.apwa.net/PWX
By any name, the annual gathering of public works professionals still stands as the "Best Show in Public Works" for education, networking, new product demonstrations and displays.
The American Public Works Association announced the first rebranding in the event's history following the 2015 congress and exposition in Phoenix, Ariz. "PWX," which stands for "Public Works Expo," was adopted by the organization in response to generational trends in the workforce.
More than just the name, the event itself has been revamped. In this year's host city of Minneapolis, Minn., public works directors, solid waste managers and coordinators, public fleet directors, managers of operations, city engineers, water services directors, sustainability coordinators and others will encounter hundreds of exhibitors and have the opportunity to develop their skills by attending more than 125 outstanding education sessions led by experienced public works professionals. Of course, all education sessions and exhibit showcase presentations are eligible for continuing education credits.
APWA also plans a more integrated presence on the floor of the 15,000-square-foot exposition hall. The "APWA Connect Live" booth will be modeled after the online APWA Connect community and will provide attendees with a place to meet experts, network and ask show and product questions of staff members.
The organization is proud to announce that pioneer astronaut Scott Kelly will give the keynote address at PWX 2016. Kelly's 20-year career reached a new height earlier this year, when he returned to Earth after a record yearlong deployment in space, and PWX attendees will have the privilege to hear about Captain Kelly's extraordinary adventure firsthand.
Of particular interest to stormwater professionals will be the Public Works Stormwater Summit, taking place over the course of two afternoons. APWA's Water Resources Management Committee plans an event that will feature the latest approaches for stormwater planning and management. There is no additional fee to attend the summit. Additionally, education sessions on active transportation, emerging technologies, solid waste, flood control and 29 other categories will be offered over the course of four days.
For an up-close view of local public works projects, visit www.apwa.net and check out the workshops and tours scheduled for PWX. Early registration is required. The list of sites includes US Bank Stadium, the St. Croix bridge, the Full Circle Organic Facility and the transportation system serving the Mall of America.
Registration is open at apwa.net/PWX, and as always, continuing education credits are available. Don't miss the opportunity to hear about exciting new developments in thought, trends and procedures affecting public works today, and to get an up-close look at applications of public works technology in the forwardlooking city of Minneapolis.

NASA astronaut Captain SCOTT KELLY will be the keynote speaker on opening day, Sunday, Aug. 28. Kelly knows a thing or two about pushing one's personal limitations, which will be the topic of his presentation.
"Uncrapify Your Life" is the title of Monday's keynote address, given by motivational speaker JEFF HAVENS. His mission will be to demonstrate how small changes in communication strategies can strengthen relationships, increase loyalty and create a culture of teamwork and mutual respect.
On the third morning of PWX, learn how to identify the behaviors that keep people from reaching their true potential — and how to overcome them. The speaker will be CNN commentator and opinion writer MEL ROBBINS.
CHARLES MAROHN, founder and president of the nonprofit organization Strong Towns, will give a keynote presentation Wednesday on its mission to support a model of development that builds financial strength and resiliency within America's cities, towns and neighborhoods.
TOPICS, PRODUCTS AND OPPORTUNITIES AT PWX:
• Career and personal development
• Construction management
• Emergency management
• Environment/Sustainability
• Engineering and technology
• Facilities
• Fleet services
• Management
• Parks and grounds
• Snow and ice
• Solid waste
• Stormwater/Flood control
• Streets, roads, bridges
• Traffic engineering
• Utility and public right-of-way
• Water and wastewater
• Active transportation
• Asset management solutions
• Emerging technologies
• Leadership
• Funding resources and budgeting
• Sustainability
• Workforce solutions