Back that thing up, safely – ASA Electronics releases rear sensor system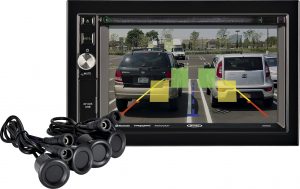 ELKHART, IN. – Backing up has never felt so safe. With ASA Electronics' new Voyager® CVRPS14 Rear Sensor System, drivers of medium and large vehicles have the comfort of knowing what is behind them at all times. Newly released to the market, this system comprises four, independent rear sensors spaced evenly along the back of a vehicle, giving drivers an accurate reading of the surrounding areas along with excellent range of vision.
When attached to a compatible display, the sensors will provide an audible and visual notification when an object is detected. The audible warning progressively beeps as objects approach the vehicle. The visual warning and real time video can be displayed on any attached Voyager monitor or any JENSEN touch screen stereo with a camera input.
"Customers love the fact that the sensor system is fully integrated into the Voyager camera system. The sensor system utilizes the same cabling that the standard Voyager system uses which displays the OSD and audible alert on the Voyager monitor," Pat McCullough, ASA Electronics' V.P. of Sales said.
Each sensor operates independently from the others giving off four distinct, constant signals to alert the driver of objects currently behind the vehicle as well as objects moving toward or across the rear of the vehicle. "The color coded signal warning zones, along with the actual camera image, show the driver just how far away an object is. And when combined with the audible beeps, it allows a driver to back into a location with complete confidence," Joe Camacho, CV Division Accounts Manager added.
For more information on the CVRPS14 Rear Sensor System, contact JCamacho@ASAElectronics.com
ASA Electronics® has been designing and manufacturing mobile electronic products for the Commercial, Marine, RV, Agricultural, Construction, Van, Bus and Limo industries since 1977. Their proprietary brands are JENSEN®, JENSEN Marine®, JENSEN Heavy Duty®, Marine Audio®, Voyager® and Advent®. ASA is also a distributor in specialty markets for SiruisXM Satellite Radio and Polk products. For more information, please visit www.ASAElectronics.com.