Little Beaver Introduces Heavy-Duty Geotechnical Drill Rig New Lone Star Drill Enables Auger Drilling To 100 Feet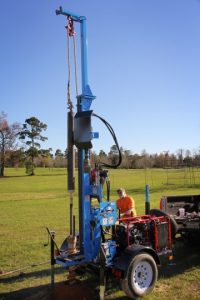 LIVINGSTON, Texas (June 20, 2016) – Little Beaver, a manufacturer of safe and productive drilling equipment,introduces the new Lone Star LST1 heavy-duty geotechnical drill rig.The LST1G+HD drills to 100 feet with an optional 4.25-inch hollow stem auger. The new model offers enhanced power and capabilities when compared to Little Beaver's smaller LST1G+ geotechnical drill. Little Beaver added a planetary reduction gearbox for more torque and a reduction mechanism for increased push/pull-back force over its standard geotechnical drill rig. It gives engineers and soil technicians an efficient, robust and dependable drill for standard penetration tests (SPT) and sampling soils for academic testing.
"Last year, a New Zealand university needed a quality drill with enough torque to reach depths of 100 feet for academic soil testing," said Joe Haynes, Lone Star Drills' president. "Power and durability were a must to take on this kind of challenge time and time again. We saw this as an opportunity not only to help one customer, but to open up opportunities for future customers in new applications."
The new heavy-duty geotechnical rig's torque increased from 500 with the standard model to 1,100 foot-pounds, doubling the drill depth to 100 feet. In addition, it provides users with 8,500 pounds of push/pull-back force for tackling challenging soil conditions, as opposed to 5,000 pounds on the standard model. Little Beaver accommodated for the additional force by increasing the unit's pull capacity with a double-row 80 drive chain. The strength of the steel frames on the unit also increased by 50 percent for enhanced durability.
The heavy-duty rig comes with Little Beaver's SSK1 kit, which includes a tower, pulley, third hydraulic valve and a steel cathead. The kit allows users to perform standard penetration tests with Little Beaver's optional 140-pound safety hammer, split spoon samplers and AWJ drilling rod. Solid stem augers are available in 3- to 8-inch diameters, and the unit is capable of drilling 6-inch boreholes down to 100 feet. Little Beaver also offers two sizes of hollow stem augers, one for drilling to 50 feet and one for 100 feet. The unit's hinged shuttle plate allows users to swing the rotary aside for quick and easy access to the borehole.
The drill's bypass flow control system gives users exceptional control and allows them to make precise adjustments to achieve the necessary push-down force in challenging soil conditions. The drill's lifting capacity allows for easy removal of augers and extensions, and the optional anchor kit enables the unit to deliver even more force to push beyond the trailer's weight. The unit comes standard with a 27-horsepower Kohler electronic fuel-injection gas engine and features a powerful 3,000-psi hydraulic system. The hydraulic power pack operates at 13.5 gpm to achieve a rotary speed of up to 200 rpm.
The drill is mounted on a rugged, lightweight, single-axle trailer that can be towed by an ATV or small truck for quick and easy maneuverability from site to site. It's also equipped with a 2-inch hitch, three leveling jacks and a spare tire. A hydraulic lift cylinder raises and lowers the mast, which folds down when the unit is moved. The drill can be shipped fully assembled in a 20-foot container or knocked down and palletized for transportation by standard truck or ocean freight.
Little Beaver designed the drill rig for longevity and ease of use. The frame, rotary and swivel are constructed of high-strength welded steel for enhanced durability, and all crucial maintenance and greasing points are easily accessible. The drill also comes equipped with assembly tools for fast and easy setup.
About Lone Star Drills
Lone Star Drills are an innovative addition to the Little Beaver product family. The models are designed to be convenient, powerful solutions in areas with minimal resources for transportation and operation. Eight models are available for use in a variety of applications, including soil sampling, geotechnical testing and auger drilling. For more information: Little Beaver, 2009 South Houston, Livingston, TX 77351; 800-227-7515; fax 936-327-4025; sales@littlebeaver.com; www.lonestardrills.com or www.littlebeaver.com; Facebook; LinkedIn; and YouTube.