ClipperCreek, Inc. Receives Technology Award from Delphi Automotive
Auburn, CA – ClipperCreek recently received a 2015 Technology – Pinnacle Award for Supplier Excellence from Delphi Automotive. The award recognized ClipperCreek for its ability to focus creative resources and help Delphi deliver globally relevant solutions that capitalize on the megatrends of safe, green and connected.
"We are honored to be recognized by Delphi with the 2015 Technology Award," said Jason France, Founder and President of ClipperCreek. "We serve a great portion of electric vehicle owners in the United States with our cordsets, which are the most rugged and reliable charging stations in the industry. Our partnership with Delphi is an important piece of our success. We look forward to a continued partnership  for many years to come."
"Delphi values its strategic partners who share our passion for excellence and innovation," said Sidney Johnson, senior vice president, Delphi supply chain management. "When innovation and collaboration meet, it leads to excellence that needs to be recognized. We are pleased to ClipperCreek today for its contributions in 2015 that helped Delphi to better serve our customers."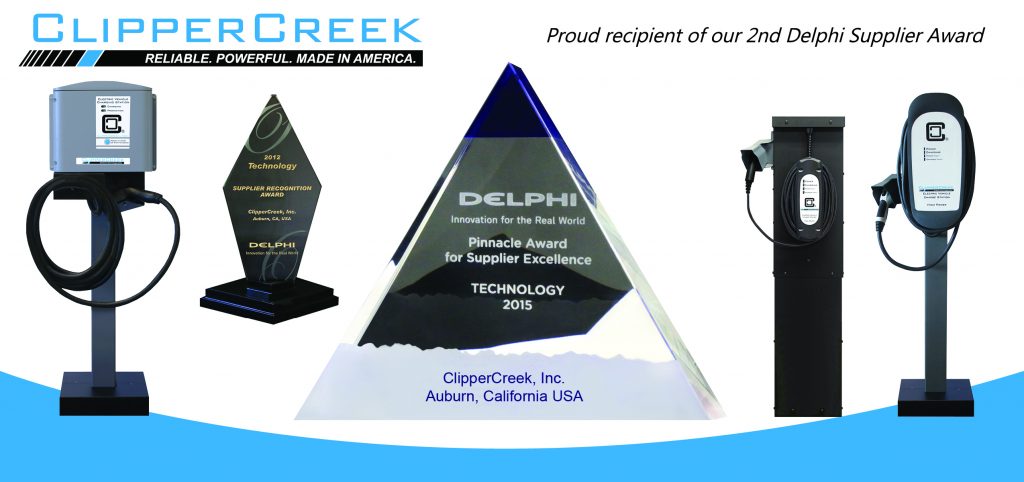 Delphi recognized five suppliers with its 2015 Technology award.
About ClipperCreek: Founded in 2006 by Jason France, ClipperCreek is a worldwide leader in Electric Vehicle Supply Equipment (EVSE). The company offers a wide range of products designed to be the safest, most innovative, and grid-ready EV charging stations on the market. ClipperCreek advances the plug-in vehicle market and broadens the acceptance of the most exciting vehicle revolution in a century. The industry pioneers at ClipperCreek build more than 20 years of real world EV charging expertise into every EVSE they manufacture. All ClipperCreek products are Made in America. For more information, please visit www.clippercreek.com.