Chicago, Rock Island and Pacific Railroad: Audubon, Iowa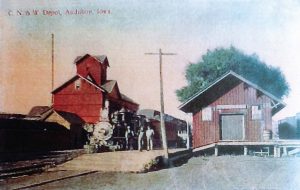 Audubon, Iowa, was platted by a railroad, settled through the invaluable efforts of two highly energetic real estate promoters and named after a vaunted ornithologist and artist who may or may not have passed through the area 35 years before.
During the 19th century the Chicago, Rock Island and Pacific Railroad was granted 163,000 acres of choice land by the U.S. government to ribbon its iron lifeline of commerce from coast to coast. A significant stretch of those acres ran through the heart of Iowa, where the tiny municipality of Audubon, population 2,072, is located.
The site was a fortuitously situated stopover for people and cargo, so the railroad platted the town on Sept. 23, 1878.
Three weeks later, on Oct. 15, town lots were auctioned off by public-spirited land agent Ethelbert Freeman and Civil War veteran Charles Stuart. Every lot was snatched up that day for the aggregate price of $6,190, and by nightfall several buildings were already in the process of construction.
Building continued vigorously throughout the winter. Within two months more than 50 homes and businesses dotted the former wilderness, including, according to a resident who recorded the progress, "one bank, five general stores, one jewelry store, two hotels, one restaurant, three meat markets, three blacksmith shops, one harness shop, two coal yards, two lumber yards, one elevator, three grain dealers" and a school house "with 14 scholars and Bob Hunter, teacher."
Over the next several years the population exploded. The 1880 census counted 792 residents in the town. By 1900, 1,866 people lived there, reflecting 235 percent growth in Audubon's first 20 years.
Freeman, dubbed "The Father of Audubon," was — and remains — the town's singularly most celebrated denizen. Audubon's first permanent resident, he was unanimously elected its first mayor and served as fire chief, waterworks and electric light plant manager, school board member, county treasurer and member of several Masonic groups. He also owned half of the town's only bank. Noted for his generosity, Freeman helped establish lodges, a Grand Army post, band and drum corps, a fire department and the county fair.
Stuart was a Vermont native, reared as a farmer, who took up work in Chicago. He bought large tracts of land in Iowa and founded the town of Stuart before migrating to Audubon. He was instrumental in moving the Audubon County seat from Exira to Audubon the year after the town was founded.
Audubon was incorporated in 1886, and though its population has leveled off, the small town — less than two square miles in area — is still recognized for its nearly unprecedented growth rate more than a century ago.