Snow hauling and relocation
Snow relocation is only an occasional event in the lives of street departments and grounds crews at educational institutions. It's of some inconvenience when it is required, however.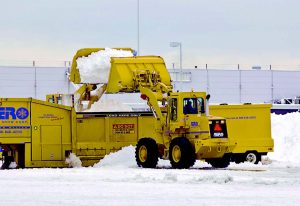 Safety considerations are paramount when relocating snow. They should be, given that — particularly in the municipal arena — operators of the loader, trailer and excavator are the same crew members who have already been de-icing and plowing for a full shift.
Lester Lawson's grounds maintenance team at Iowa State University typically winds up hauling snow off-site two or three times a year. The team has been trained in relocation operations, but to maximize safety needed procedures are scheduled for early morning, when fewer cars and pedestrians are present.
"Our equipment operators usually haul our snow and they're well-versed in operation so we have few issues with this task," Lawson said. The facilities planning and management department at ISU prioritized purchases of multi-use and highly maneuverable snow removal equipment. Single axle and tandem dump trucks transport the snow to a dump site on campus, and an articulating loader speeds up the process. The trucks have to travel a good distance from some pickup sites to get to it, however.
"We do have longer travel times with only one location," he noted.
The nighttime and weekend nature of relocation is pretty much a given on college campuses, for the reason mentioned by Lawson. That's the timing Kent State University in Ohio will also choose to converge a couple of loaders or skid steers and dump trucks, if the plows have run out of room to stack snow on grassy areas in and around parking lots.
"We try to use a couple of loaders and two to three dump trucks to maximize time and efficiency," said Parking Services Manager Larry Emling. "If you only use one dump truck, time is wasted because the loader is sitting idle while the truck is offsite dumping the snow. If you use a couple of dump trucks, one is always getting loaded while the other is taking snow off-site."
Offsite, for Kent State, is a retention pond or the corner of a remote lot. "The dump trucks will dump snow in and around the dump site, and then a loader will come by and push all of the snow up and out of the way."
On the municipal side, issues stemming from significant snow events are most often handled by private contractors.
"Plowing roads versus plowing municipalities are two different businesses," said Eric Hartmann, vice president of sales and marketing for Tovar Snow Professionals and a 15-year member of the American Public Works Association Winter Maintenance Committee.
"What I've found is that although they have the equipment to plow and de-ice, when it comes to removing snow from the downtown, it's hard to get to because they're working around the clock to clear the roads. And do you really want guys who have been out there for 12 hours and are beat doing something that's only an occasional procedure? With heavy equipment?"
Not among the least of considerations is the amount of miles that have to be covered by the plow team, keeping track of where on the road a truck is and when it's going to be finished and available for relocation work.
By contracting with a private company for services like plowing a library parking lot and relocating plowed snow from downtown sidewalks, not only can a public crew devote more time to roads but the need to purchase that extra $200,000 dump truck that maybe only works a few times a year is eliminated. Supplementing services this way can also be a solution for understaffing at a time when the level of expectation has risen in regard to how quickly transit should be able to resume after a snowstorm.
Using a private contractor for big events can be cost effective, providing that's not the only time he's used. Any contractor who keeps his equipment off the street on the chance a municipality might call will be out of business in no time, so large snow removal companies won't sign storm-only contacts.
Instead, contract out the regular plowing of a few municipal lots and add a blizzard contingency consisting of a couple loaders and a semi to haul snow from the central businesses after a large winter event. Or hire him for some regular winter work, like the library and city hall, and add a clause asking for him to add, say, snow removal from the police department when a storm dumps more than 8 inches.
The contractor will be self-insured. Don't forget to include a performance bond before you sign, however: The practice has become commonplace during the last five years or so and prevents lastminute surprises.
"A lot of times, in a blizzard, everybody needs everything they can get," Hartmann said. "I've had cities call me and say, 'Hey, I had a guy lined up but I didn't call him in time and his five loaders are already working. So go hit,' say, O'Hare. But this guy had a contract in place, so now it's sticky for him."
Lastly, there's the significant consideration of a place to dump the relocated snow. Many cities point a finger toward a local park.
That's sometimes fine, Hartmann said, but give some thought to what might be in that snow and whether you want it melting onto a grassy area, mud/gravel, asphalt or concrete surface. Whichever you choose, chances are good the spot will need cleanup in the spring.
For cities with an agreement to dump on property owned by another entity, Hartmann has a stronger warning.
"One thing that tends to be forgotten is, although we may take a municipality's snow from their property, it's still theirs. As it melts it remains theirs, so whatever's in that snow, if it causes a problem later, they're responsible for addressing it." He has seen the need to remove silt and even pull garbage manually from snow piles.
Wrappers, debris and chemicals contained in relocated snow can cause problems, too. These release into the local groundwater, waterways and sewers during the melting process.
"I recommend going to the site preseason and looking at all the possible environmental concerns that might arise from dumping there."