Theodore Koch: Clara City, Minn.
Theodore Koch, founder of Clara City, was born in the Netherlands in 1854. An exemplary student, he mastered four languages before his formal education was cut short for lack of funds. After that, the energetic and frugal entrepreneur schooled himself through his experiences in the business world.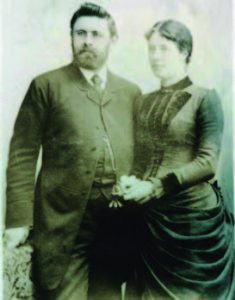 After several years working on his father's estate, Koch, then in his mid-20s, entered into a partnership with a commodity business, brokering produce and livestock between Holland, Germany, France, Belgium and Great Britain. He cultivated relationships with several Dutch banking houses, one of which served as the immigration agent for several American railroad companies.
This contact prompted Koch to sail to America in 1884 with a load of cattle. Aft er delivering the 50 milk cows, Koch met one of his Dutch financial backers, who was heading to Minnesota to arrange land deals for Dutch immigrants. The Dutch had been immigrating to the United States for several generations; largely a cloistered lot, they shunned the urban life of the East Coast in favor of the spacious rural prairies of the Midwest, establishing settlements in Iowa, Wisconsin, Illinois and Michigan.
He seized the opportunity to entice his fellowmen to avail themselves of the vast untapped natural resources of Minnesota and began a lifetime career brokering real estate, founding Dutch communities there.
He frequently traveled back and forth to Europe for his brokerage business. In 1886, Koch visited the home of a German customer who had purchased 100 carloads of baled straw. There he met the customer's eldest daughter, Clara Hoeborn, deemed her "beautiful" and returned a month later with a marriage proposal.
The two were married on April 12, 1887, in her hometown of Hemer, Germany. That same year Koch founded a Dutch colony 110 miles west of Minneapolis and named the settlement Clara City, after his beloved bride. The small burg, population 1,318, comprises an area of a little over 1,100 of the more than one million acres Koch and his partners sold during his 30-year career in real estate.
The keys to his success in establishing colonies in Minnesota and throughout the Midwest were fourfold. First, he possessed an unerring instinct for recognizing good farmland. Second, he intimately knew his target market. Employing a multilingual staff, he circulated advertisements in the language of his intended Old Country audiences, particularly his fellow Dutchmen. Third, Koch always secured financing from several banking sources. Fourth, he personally kept a tight rein on his affairs. His on-site agents included his trusted brothers, and his sister-in-law served as his cashier and bookkeeper.
Despite some financial setbacks, Koch's legacy stands as one of the pioneers who helped propel Minnesota into its status as an agricultural giant.
Oddly, however, the Kochs lived only a short time in Clara's namesake community. They found Clara City to be intolerably bleak, and they hated the cold wind and treeless prairie.
They opted instead to settle in St. Paul and later moved to Texas. They did, however, revisit Clara City in 1937 for the town's — and their — 50th anniversary.