EMS Agency Selects Aladtec to Resolve Issues Found by Internal Audit
Improvements to this organization are easily accomplished by implementing
online employee schedule and workforce management software.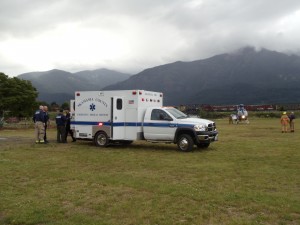 Vancouver, WA – With most businesses and organizations, there's typically room for improvement regarding how administrative tasks and processes are accomplished.  With this in mind, Skamania County EMS hired a firm to come in and conduct a comprehensive audit of their agency.  They discovered they could resolve many issues found in the audit by implementing Aladtec, an online employee scheduling and workforce management software system.
"The audit resulted in 57 areas of improvement.  By using Aladtec, I'm satisfying multiple areas, including:  staff scheduling; fleet maintenance tracking;  accident reports; training logs; consumable medical supply tracking; facility maintenance records; shift logs; records retention; overtime tracking; and the list goes on and on," indicates Patrick Nicholson, Chief, Skamania County EMS, Washington.
Previously, this agency used a spreadsheet to schedule staff; when it was complete, they emailed it out to their employees.  This method took a long time and sometimes emails weren't received, or seen; also, updates and schedule changes were hard to keep track of and difficult to document. Chief Nicholson determined they needed a live interactive solution to these problems.
"I tried four different web-based software programs.  I chose Aladtec due to the employee scheduling component, the great user interface and the system's customizable forms.  Now when scheduling, it's easy to deal with time off requests, trades, and to see the availability of our part time staff.  I've moved the majority of our agency forms into our Aladtec system and will continue to add more," Shares Chief Nicholson.
For example,  Nicholson created a vehicle repair form – when it's submitted, their vehicle maintenance Captain receives a text and email notification there's a repair request.  The Chief added fields on the form for the maintenance Captain to fill out…including the repair cost, whether it was preventative maintenance or not, a parts list, the vendor, mechanic, etc.  He can then export the data to Excel, separated by vehicle, and SUM the cost columns to see how much each vehicle in the fleet is costing in repairs and preventative maintenance.
"I save at least 12 hours in time every week by using Aladtec for staff scheduling and our department forms.  Brad Parmeter, our point of contact at Aladtec, was fantastic and assisted with the customization we wanted.  The customer service is great and we look forward to building more customized forms for additional time savings and data collection purposes," adds Chief Nicholson.
About Skamania County EMS:  They are a Public Hospital District in a rural area of Washington along the Columbia River.  They provide EMS, ropes, extrication, and technical rescue services to over 1700 square miles to over 12,000 residents and thousands of tourists.  They have 20 paid staff, 15 part-timers, and over 20 volunteer EMT's and Paramedics.  For more information visit: www.skamaniaems.com.
About Aladtec:  They proudly provide online employee scheduling and workforce management software to over 1,600 organizations, primarily within the Public Safety Sector. These customers count on Aladtec every day to help them save time and improve efficiency.  For information about their affordable industry specific options, or to try a free demo, please visit: www.aladtec.com.