Walter Law Briarcliff Manor, N.Y.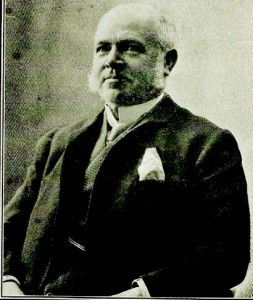 Walter William Law, 1837–1924, a 23-year-old carpet dealer from Kidderminster, England, arrived in New York with a dream, a sense of adventure and enough money to last him two weeks.
By the end of his 64-year stay in America, he had thrived in several businesses, donated millions to civic and religious causes and founded Briarcliff Manor, N.Y., a village still hailed as one of the more beautiful and affluent communities in the country.
Industrious, committed to excellence and possessing the golden touch in all his business endeavors, Law steadfastly followed the advice of a poem his father gave him when he was eight years old:
"If a Cobbler by trade, I'll make it my pride The best of all Cobblers to be; And if only a Tinker, no Tinker on earth Shall mend an old Kettle like me."
The early days of his professional life were pockmarked with struggles. He quit his first job as a carpet salesman because his employer misrepresented the domestic merchandise as imported and overcharged his customers.
His next employer, an outfitter of steamships and hotels, went out of business, ravaged by the Civil War.
Law finally found his success in a 24-year career with W. & J. Sloane, an upscale furniture and rug store in New York City, becoming a partner within four years and retiring as vice president in 1890.
That same year, Law bought a 236-acre parcel of property in what would become Briarcliff Manor. Over the next 10 years, he purchased 40 more parcels, accumulating more than 5,000 acres of real estate in Westchester County.
His highly successful second career as a dairy farmer, realtor and greenhouse owner yielded enough finances to develop a village, where he founded a fire department, churches, schools, parks and world-renowned Briarcliff Lodge.
Briarcliff Manor was officially established in 1902, when it met the criteria of having at least 300 residents per square mile: It had 331. Most of the residents were Law's employees, on whose homes he held the mortgages.
The village was mapped out in a manner unlike most others. Law refused to crosshatch his geographic brainchild with sterile perpendicular streets. Instead, he preferred gently meandering roads lined with trees aft er which they were named. He planted elm trees along Elm Road, maples along Maple Road and so forth. The greenery included oak, larch, pine, birch, hickory and willow.
Briarcliff Manor rapidly became known for its wealthy, estateowning families, including the Vanderbilts, Astors and Rockefellers. The village now boasts about 8,000 residents.
Law passed away in 1924 in Somerville, N.C., where he had gone for a rest cure.