A little bit of good news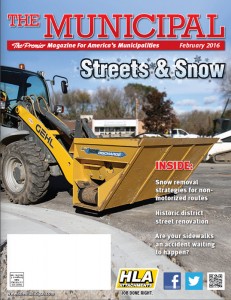 Just in the nick of time (as usual), President Obama signed into law the Fixing America's Surface Transportation Act: a five-year, $305 billion highway funding bill that will pump air into the stale transportation infrastructure discussion.
Unlike previous extensions of FAST, this one is of a long enough duration for transportation planners and officials to feel a sense of certainty that's been lacking for quite a while. NTEA, the Association for the Work Truck Industry, noted that the new law also reauthorizes the Export- Import Bank for four years. The bank plays an important role in helping many businesses compete and succeed in the global economy; it will also jump start public transit, Amtrak and highway safety program developments. While the move isn't everything that our infrastructure needs, at least it's a start. Danville, Ill., is one of many cities to know what it feels like to urgently need an infrastructure solution but not have even a fraction of the funds to search for it.
A couple years ago the small municipality found itself facing the imminent failure of a viaduct that was the only option for traffic, including emergency responders, to circumvent six busy Class II rail lines. Taking a leap of faith, a bond issue served as leverage against funding made available through the National Environmental Policy Act, the Illinois Commerce Commission Grade Crossing Protection Fund and the U.S. Department of Commerce. Today the city has a far more workable solution in place than the original viaduct: a safer, well-lit overpass that citizens even use recreationally.
Congratulations to Mayor Scott Eisenhauer and his staff for their creative thinking and for taking the extra step — in spite of the timesensitive nature of the project — of polling constituents about what form they thought the best solution should take. The answer went a different direction than expected, but the dramatically higher pedestrian and cyclist utilization rate of the overpass proves it was ideal. Read the whole story in this issue of The Municipal on pages 26 to 31.
At this point most of us have seen our first major snowfall of the winter, and I've been reminded how much of a difference having the right snow and ice removal equipment means. You, too, have probably had the chance recently to evaluate whether your equipment is doing the job quickly and completely, or if it's leaving you holding the shovel.
If there's room for improvement, a good use of your time would be to check out the custom solutions available at HLA Snow. If you have a truck, tractor or skid steer loader, HLA Snow has an attachment that will do the job you need done; and do it right the first time. It even has plows that will attach to a compact tractor or skid steer loader so you can clear those bike/pedestrian paths and walk-to-school routes quickly and completely. Have a look at page 10 to see what other responsibilities HLA can make light work of, or give them a call. Eli and Larry would be happy to talk to you.
We hope you find this issue of Th e Municipal useful. Happy snowfighting!