The what, how and where of lift station assessment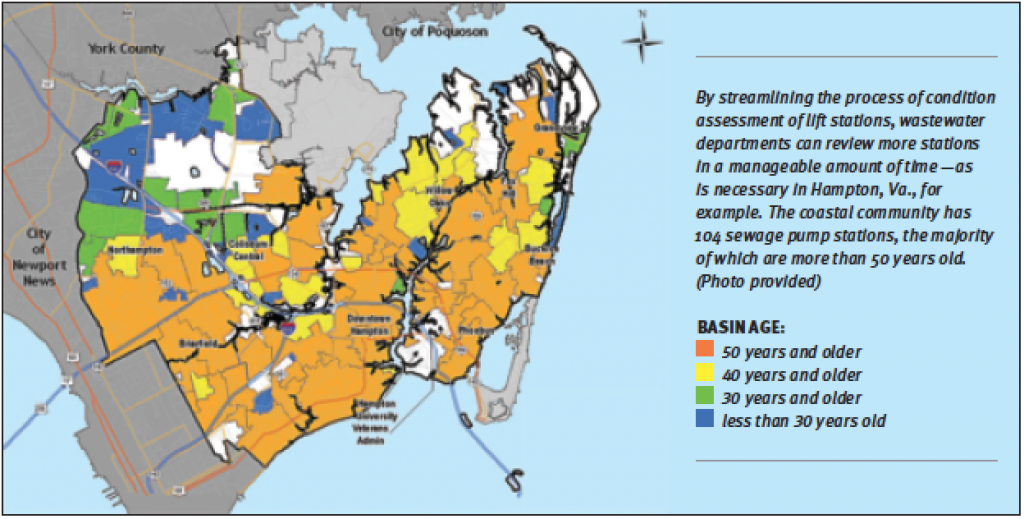 Part 1 of 2 – Having a large number of sewerage lift stations that need assessment is only one of the wastewater treatment challenges in need of actionable, real-world solutions. Sewerage problems of all types, but particularly overflows, raise the public's ire at the speed of light: which is why techniques for assessing, repairing and rehabilitating sewerage lift station problems made the docket of Water Environment Federation's webcast menu earlier this year.
During the presentation, titled "Lift station condition assessment, repair and rehab — the 'Full Monty,'" volume was the first obstacle discussed. In a case study presented by Dr. David Powell, water resources engineer at Woolpert, the methodology and analysis priorities for assessing sewerage pump station conditions were viewed through then lens of Hampton, Va., a historic coastal community with sewer stations that date anywhere from World War II to the present day.
Seventy-three percent of the 104 sewage pump stations in the Hampton area are more than 50 years old. They reflect different best practices in well design, including both two-well design and suction lift station. In the 1990s sewer service expanded farther into coastal area, adding numerous low-volume stations. Custom and individual facility stations are also part of the mix.
The process of pump station assessment, whether sewer or stormwater, is comprised of knowing what information you should collect, how to collect it and what to do with it: i.e., who to pass it off to and what information requires action. The same general categories apply to both, although maintenance-specific conditions are different for stormwater.
What to collect
First, look at the building envelope, both above and below ground. Where is your station, and what is its elevation? Things that should be noted about the condition of the equipment are things that "most people equate with safety and anything needed to keep the station in good functioning order," like fans, hatches and lights, Powell said.

Take into consideration the architecture of the well itself. In some older stations for example, hatches open directly into the dry well, leaving the potential for gas "and all of those other unpleasant things that come along with accessing a wet well inside the pump station." Other notable situations may include surface degradation, coatings that are failing and — as has actually happened — a drive shaft station in a corrosive environment being held up by a two-by-four.

Pumps and piping data will vary markedly. Their install dates are reliable keys to how they should be performing. Drawdown testing will provide actuals; failure and breakdown histories; and data from preventative and reactive maintenance records, which should be weighed as well. Piping and valves can also be tested, he said, but testing tends to show what the thickness is only at that exact spot. Testing at a low versus a high spot will give very different results that can skew the overall picture. As an alternative, consult the preventative maintenance records.

Accept that the pool of professionals qualified to assess electrical components and controls is quite small. "Not everybody knows, or needs to know, what all of the individual components in here are. But where do you stop?" he asked. While not every single counter or sensor needs to be tracked — usually via purchase order or work order management system — it is helpful to know how often you have to go out and work on the control panel. "You don't have to get into all the weeds, but you do need to know, generally, where to look," Powell said. "The control panel, and then the associated wires for the motors, really are two good categories to look into."
Data on the operating condition of hydraulics must be collected because, "This is where the finished floor and the inverts come in." This will provide an idea of what the operating volume can be. If the operating volume is relatively small compared to the flow rate, the pumps will run often and parts will wear out faster. It also lets the operator know when the system is going to surcharge.
In both submersible and suction lift stations, on the gravity side, the pump start/stop, depth to influent, depth to ground and control points need to be documented. On the pressure side downstream, the information collected should include the elevation from the discharge side out.
Hampton, Va.'s pump stations vary in building material, size, design and elevation. Some of them were built during World War II; others as recently as the 2000s. (Photos provided)
Hampton, Va.'s pump stations vary in building material, size, design and elevation. Some of them were built during World War II; others as recently as the 2000s. (Photos provided)
Collection methods
The two main ways to collect and keep track of building envelope, pump, pipe, electrical component and hydraulic data are digitally and the old-fashioned way: pencil and paper.
With use of a laptop or pentop the data is consistent. There tends to be less forgetting to write something down or mislabeling something (such as 2" vs. 2 inch vs. 2 in). This methods takes a little extra training, he noted, because it requires the operator to be computer savvy.
Paper recording sheets, on the other hand, can be handed off easily to the next person due to complete a task on the station. Additionally, the data input process can be easily resumed if disrupted, something that happens often in high-pressure environments. Handwritten records are sometimes difficult to read, however, and sometimes need to be cleaned up.
Powell also recommends taking pictures to document situations, if possible; but be mindful whether there's room to store them on the system.
Lastly, review work orders. Custom reports can be created in most asset management or computerized maintenance management systems.
"This is really where you can parse through a lot of history all at once. But unless you are hearing every day from the people that have to go out and service these things, you really can fool yourself into thinking a station is fine, when in reality it just takes a lot of work to keep up."
Analyzing the data
Now that the information has been collected, "the more the merrier really is the key. Operations crews have the institutional knowledge: They know which ones they go out to all the time. Engineers typically have the bigger picture in mind of where's the capacity problem in the system … going even way out, sometimes, to your finance managers can really get everybody on the same page."
But know your limitations. For example, Powell noted that not many operators have the expertise to evaluate the structural condition of the building; so don't overstep.
"Keeping your eye on the prize is key, in that we want to reduce overflows." For instance, mortar cracking and chipping are not always critical.
In Hampton it was discovered that preventative maintenance and reactive maintenance records were lacking in terms of specific information. Yet there were numerous PMs and RMs filled out on the pump stations, which then had to be waded through whenever anything went wrong to determine if it was related to the pump or if maybe a fan broke or a hatch needed replacing.
Instead of creating computerized maintenance management system work order codes for each one of them, he recommended, concentrating on the general categories: building envelope, pumps and mechanicals, electrical and operating conditions, which includes debris in the wet well. "That will help you keep an eye on things."
Field access to work orders is also helpful. Accurate drawdown testing can be difficult, but critical.
"If you don't isolate the wet well on a station that has significant changes in flow rate, you really can shoot yourself in the foot by saying that the pump performance is half of what it should be, or even twice what it should be." Compare that hand-collected data to flow meters for an idea of the flow the station is really seeing.
Next month: Repair and rehabilitation