Pensacola partnership sets an example
A unique partnership between the city of Pensacola, Fla., and Emerald Coast Utility Authority is an example of public/private partnership success. As municipal budgets continue to be stretched to the limits, it seems as if the public/private partnership trend will continue to drive forward in 2016. 
Pensacola has its own natural gas company, Pensacola Energy. PE wanted to create an infrastructure for compressed natural gas, so city representatives approached officials at ECUA — a regional water, sewer and sanitation company covering portions of Escambia and Santa Rosa counties in Florida — about joining resources to build this infrastructure. The two agencies reached an agreement to build not only the infrastructure, but also several CNG fueling stations in the metro area — two of which are at ECUA facilities.
"We had the property, and it seemed like the logical location for the first fueling station," said Nathalie Bowen of ECUA. "We provided the land and they built the station — the first one was adjacent to our facilities. We were their first contracts."
The first 1.8 million fueling station, at 6722 Pine Forest Road, serves more than 80 natural gas vehicles operated by ECUA, the city and Escambia County. At the time the station opened on Oct. 3, 2012, the national average for a gallon of diesel fuel was over $4 a gallon, versus $2.05 for compressed natural gas. The second station located on ECUA property opened at its main campus in the Ellyson Industrial Park. That station went online in January 2014 and serves ECUA's main fleet as well as other fleets located in the industrial park.
Compressed natural gas is a fossil fuel and reportedly one of the most sought-after fuel sources. There are two reasons why CNG is in such high demand: economical and ecological. CNG is cheaper because of advances in drilling techniques that allow for better and easier extrication of the natural gas.
Natural gas is called the cleanest-burning alternative fuel because of its low carbon content. According to the Alternative Fuels Data Center, using compressed natural gas results in a substantial reduction of hydrocarbon, carbon monoxide, nitric oxides and greenhouse emissions. Based on results of testing from Argonne National Labs, natural gas emits 6–11 percent lower levels of greenhouse gasses than gasoline through the fuel's life cycle, and even less than liquid natural gas because compressing the gas requires less energy than liquefying it.
This type of data spurred Pensacola Mayor Ashton Hayward to pursue the partnership with ECUA. The city reportedly gives ECUA a discount on natural gas in exchange for providing the land and helping to build the infrastructure.
According to the American Gas Association, 85 percent of new garbage trucks purchased across the United States run on CNG, as do 25 percent of new city transit busses.
Jim Roberts, public information specialist for ECUA, explained that the fuel is "perfectly structured for established route use" such as those used for buses, trash collection, postal service and package delivery. Part of the reason is that being able to determine the amount of miles a given vehicle is driven daily makes estimating fuel costs easier. Also, the stop-and-go of such vehicles uses more fuel and creates more wear and tear on the vehicle — problems that are lessened with a natural gas vehicle.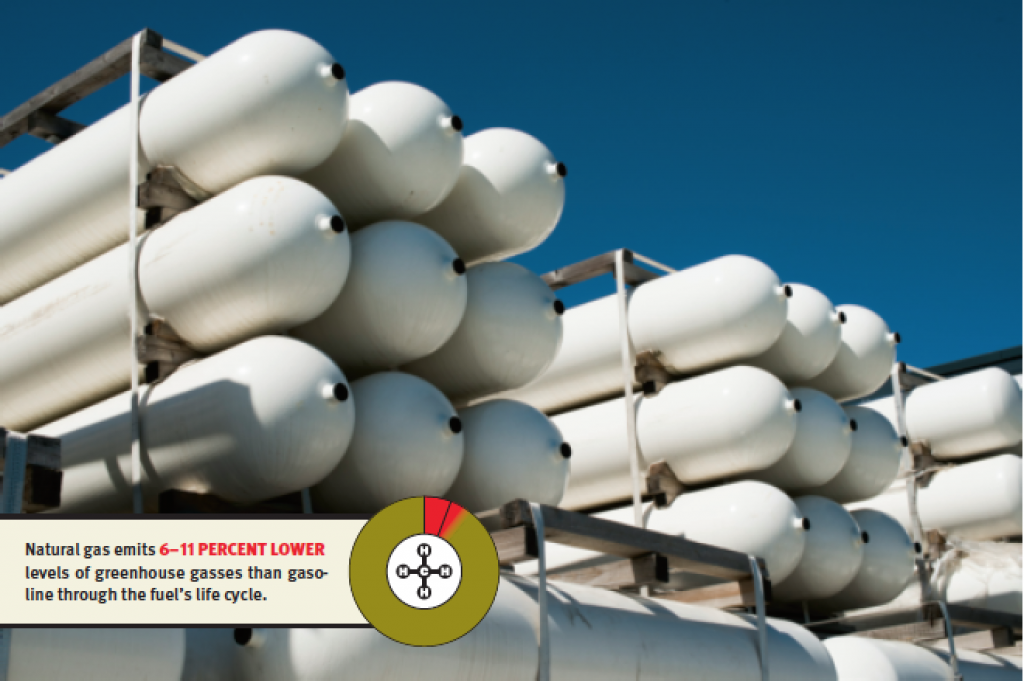 Emerald Coast Utility Authority's board of directors decided not to ease into the waters, but to jump in with both feet when they authorized the switch to natural gas vehicles and approved the purchase of 50 vehicles. Finances were the reason. With the cost of diesel fuel rising and the utility already having added a surcharge to customer's bills, "we knew there had to be a better way" Borden said.
Roberts said the utility saw a savings the very first year. Its "very diverse fleet" hit the roads in 2012, and in 2012–13 it saved 1.1 million in fuel costs. From 2013–14 that number went up to $1.3 million. Last year the savings dropped a little, but that was because gas prices went down. He said they are getting double the miles per gallon with CNG — 4–5 used miles driven per gallon, versus 2 miles with diesel fuel.
There has been a tremendous savings in maintenance costs as well. Roberts said that when the ECUA used diesel fuel, brakes had to be replaced every 90 days: By using CNG, it's only replacing brakes every two years.
The savings were passed on to customers, who saw the fuel surcharge removed from their monthly bills.
Increased business
Not only has the partnership saved money for both the city of Pensacola and ECUA, it has also gained income sources for each entity. ECUA gained business by being able to bid lower on contracts because of the savings it is experiencing.
The city has been able to market the CNG infrastructure to new businesses looking to locate to the area. National companies like Frito-Lay and AT&T, whose fleets regularly travel through the state, can fuel up at Pensacola's CNG stations. The Pine Forest Station's location a few miles south of Interstate 10 makes it a convenient stop for commercial drivers.
In addition to the cost savings and income generated, there are also benefits such as being responsible for reducing harm to the environment via greenhouse gas emissions and using American-based fuel sources rather than relying on foreign oil. Neither is lost on the people they serve, because Pensacola is home to a lot of veterans and active military.
"CNG is called 'America's fuel' and people here love that ECUA is supporting American workers and is not dependent on foreign countries for fuel," Roberts said.
He works closely with Larry Hunter at Pensacola Energy, and they both said the partnership has been a good one. They see this type of partnership continuing to grow not only in Pensacola, but across the country.
"I think projects like this require intergovernment relationships," Bowers said. "You're able to get the project done quicker and less expensively. It's worked extremely well for us and for the city. It's been a very positive association."
For other municipalities considering such a venture, Roberts said once the fuel costs versus the investment is analyzed, it just makes sense. ECUA plans to continue working with the city to expand the current facilities and the number of CNG fleets in Pensacola. "I'm excited about the future!"