Aero Industries donates to Folds Of Honor
Indianapolis, Ind. — Aero Industries Inc., a global leader in the manufacturing of tarp systems and trailer accessories, is committed to supporting the men and women who have served in U.S. military forces.
Aero raised $10,600 for Folds of Honor, an organization that provides "annual educational scholarships to the military families of those who have been killed or disabled while on active duty," according to its mission statement.
Aero's donation will aid in the effort to support the nine out of 10 veterans that do not qualify for federal scholarship assistance.
Aero Vice President of Sales and Marketing Jeff Boyd presented the donation of $10,600, which will provide scholarships for two local applicants.
For more information or to make a donation to Folds of Honor, visit www.foldsofhonor.org.
APWA president, new and reelected board members announced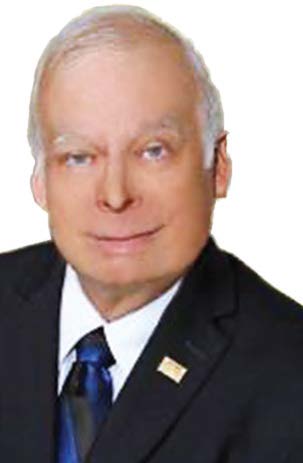 Kansas City, Mo. — Brian Usher, PWLF, director of public works, Largo, Fla., assumed the offi ce of president of the American Public Works Association during the 2015 APWA International Public Works Congress and Exposition in Phoenix, Ariz. Usher leads the board of directors and organization, which provides professional development and educational services to its members, advocates for investment in infrastructure and supports 63 APWA chapters in North America.
Usher serves as president of APWA for the 2015–16 term. Usher is joined by APWA president-elect Ron Calkins, P.E., PWLF, Ventura Public Works director (retired). Calkins will serve a one-year term as APWA president-elect. Also on the board is past-president Larry Stevens, P.E., PWLF, project director, HR Green Inc., Johnston, Iowa.
New to the board is Shahnawaz Ahmad, P.E., president of SA Associates, director of Region VIII. Other members reelected to the board of directors are Mary Joyce Ivers, CPFP, PWLF, director-at-large fleet and facilities, Ventura Public Works, Calif.; Richard Stinson, PWLF, director of public works, Wakefi eld, Mass., Region I director; Harry Weed, II, PWLF, superintendent of public works, Rockville Centre, N.Y., Region II director; Richard Berning, (retired) Springfield, Ill., Region V director; and Chuck Williams, PWLF, director of municipal services, Lenexa, Kan., Region VI director. For more information about APWA, visit www.apwa.net.
APWA 2015 Presidential Award for Leadership presented to Darwin Durnie, PWLF
Kansas City, Mo. — The American Public Works Association Presidential Award for Leadership was recently given to Darwin Durnie, PWLF of Alberta, Canada. The Presidential Award for Leadership is bestowed at the sole discretion of the APWA president to a member who has distinguished himself or herself with leadership in the public works profession. This year at the APWA International Public Works Congress Aug. 31 in Phoenix, APWA Past President Larry Stevens, P.E., PWLF, presented it to Durnie, who is principal and director of business development for Stantec Consulting Ltd. in Red Deer, Alberta, Canada.
Durnie has also been recognized as an APWA 2015 Top Ten Public Works Leader and has served in many capacities for APWA and the Canadian Public Works Association. During 2010–14 he served two terms as president of CPWA. He previously served as president of the Alberta Public Works Association and is currently on the CPWA board as director from Alberta.
Stevens cited Durnie's impact on the entire association and the public works profession across the U.S. and Canada through his management style and intuitive leadership at the local, regional and national levels, and his education and certifi cation eff orts for APWA and CPWA.
American Traffic Safety Services Association hires William Dallas as convention sales manager
Fredericksburg, Va. — William Dallas, who has a background of nearly two decades in the D.C.-area national association industry, was named convention sales manager for the American Traffic Safety Services Association in Fredericksburg, Va. Dallas will be responsible for the sales and management of ATSSA's Annual Convention & Traffic Expo, the Northeast's largest trade show of its kind dedicated to roadway safety products and services.
Prior to his employment with ATSSA, Dallas worked as corporate development manager for the International Test and Evaluation Association in Fairfax, Va. He served as marketing specialist with DECA Inc. in Reston, Va., after working as conference coordinator for the National Association for Variable Annuities, also in Reston. He served the Arlington, Va.-based American Association of Motor Vehicle Administrators as coordinator of member and conference services; the National Association of Home Builders in D.C. as national marketing assistant of the meetings and conventions division; and the National Association for the Education of Young Children, also in D.C., as information associate.
Port Metro Vancouver's Low Level Road project earns ISI's Envision Sustainable Infrastructure Platinum Award
Washington, D.C., Vancouver, B.C. — Port Metro Vancouver's Low Level Road project recently received the Institute for Sustainable Infrastructure Envision sustainable infrastructure rating system's Platinum Award. The project is the first transportation project to receive an ISI Envision-verified sustainable infrastructure rating system award.
The Low Level Road project involved the realignment and elevation of approximately 2.6 kilometers of Low Level Road in North Vancouver, British Columbia, Canada, providing space for two new rail tracks. It also eliminated three existing road and rail crossings and provided direct access to major port terminals. In addition, the project addressed safety, recreation and noise challenges associated with port operations along the Low Level Road, including the reconfiguration of three intersections and improved lanes for cyclists.
The project was designed to enhance rail and port operations as international trade continues to grow and to address long-standing community safety and traffic congestion challenges in the area. Stantec Consulting Ltd. was the principal consultant on the project, which was funded by Port Metro Vancouver, port industry, Canadian National Railway, Translink, Canadian Pacific Railway and the city of North Vancouver.
Finley Fire Equipment Co. purchases Bluegrass Fire Equipment
McConnelsville, Ohio — Finley Fire Equipment Co. Inc., the foremost leader of fire and emergency apparatus and equipment for Ohio, West Virginia and Kentucky, announced in September its purchase of Lexington, Ky.- based Bluegrass Fire Equipment. BFE will retain its name as it combines its resources with FFE.
The acquisition better positions FFE and BFE — with a broader product selection and expanded service offerings — to continue to exceed customers' needs and provide hands-on service and assistance during and after the sale. The quality products represented by FFE and BFE, along with a knowledgeable sales force of over 35 representatives and over 25 outstanding service technicians — all of whom undergo continuous extensive training — ensure that departments have as little out-of-service time as possible. Annual maintenance and testing of air compressors, air packs, pumps, aerials, rescue equipment and air bags are also performed by company employees, most of whom are current or former firefighters.