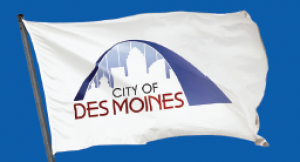 Settled: 1843
Pop: 207,510 (2013)
Government type: Mayor, city council, city manager
It was the same chief characteristic that made Des Moines a desirable place to settle — the convergence of two major rivers — that gave rise to modern Des Moines' most iconic structures: its downtown bridges.
The arched architecture of spans crossing the Des Moines River inspired a design that was featured on flags flown over the city from 1974 to 2009. Painted in patriotic hues, it featured three of the similarly constructed structures that traversed the river at downtown locations.
In 2008, the city opted to develop a new flag design, however. According to Public Information Officer Amelia Hamilton-Morris, the intent was not to retire the bridge imagery but update it to include a representation of the extensive redevelopment that has taken place in the area.
"We went to the new design in 2008–2009, because much of Des Moines has been transformed: It's a totally different landscape. Old buildings are gone and we now have new bridges, including a pedestrian one." The city has also become a formidable business center, which is also represented by the skyline. "We did the redesign because it's not the same city. Once we rebuilt the downtown, we needed something more reflective of who we are now."
The image is the city's new brand and appears on everything from business cards to work apparel. It appears next to the U.S. and Iowa flags above every city building that's equipped to fly them and is available for purchase at city hall.