Aero Industries Donates to Folds Of Honor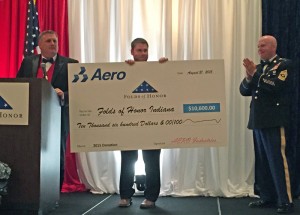 Indianapolis – Aero Industries, Inc., a global leader in the manufacturing of tarp systems and trailer accessories, is committed to supporting the men and women who have served our country.
Aero raised $10,600 for Folds of Honor, an organization that provides "annual educational scholarships to the military families of those who have been killed or disabled while on active duty," according to their mission statement.
Aero's donation will aid in the effort to support the nine out of ten veterans that do not qualify for federal scholarship assistance, according to the Folds of Honor website.
Recently, Aero has developed a relationship with the local chapter of Folds of Honor. Every year, the Indianapolis Chapter holds a Gala to raise funds as well as present scholarships to their recipients. At the third annual event on August 21, Aero's Vice President of Sales and Marketing, Jeff Boyd, presented the donation.
Aero's $10,600 donation will provide scholarships for two, local applicants. The recipients received their scholarships at the Gala. Aero Industries looks forward to strengthening their relationship with Folds of Honor, both on a national and local level.
Folds of Honor is an organization founded by Air Force Major and Pro Golfer, Dan Rooney. Rooney founded the organization in 2007 after witnessing a late soldier's family, including a young son, await the casket's arrival at the airport. Thinking of his own wife and daughter, he vowed to take care of the family and finance the son's education, raising money through golf tournaments. Since then, Rooney has expanded his team and provided countless scholarships and educational opportunities for families with soldiers that have been killed or injured while on active duty. For more information or to make a donation, visit www.foldsofhonor.org.
About Aero Industries, Inc.
Aero Industries, Inc. is a global leader in the manufacturing of tarp systems and trailer accessories. The company holds 67 patents and manufactures a complete line of American-­‐ made accessories for dumps, flatbeds, agriculture, refuse and other trailer applications. The company serves the trucking industry in North America and South America with locations in Indianapolis, Indiana; Omaha and Valley, Nebraska; Streetsboro, Ohio, Ontario and Quebec, Canada and Chile. To find out more, contact Aero Industries toll free at 1‐800‐535­‐9545 or visit them on the web at www.aeroindustries.com.