Acceptance of body cameras gains ground
Over the past year, police use of body cameras has become a prominent issue nationwide. As more media coverage highlights law enforcement's use of force incidents, more pressure is being put on administrations to adopt the technology. South Carolina recently became the first state to mandate that all police agencies adopt body cameras, and according to the National Conference of State Legislatures, more than 30 other states are deliberating legislation related to the topic.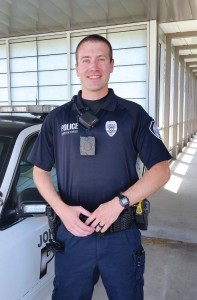 This means that police agencies should be looking into this technology whether they currently feel the need for it or not. The problem is that there are few studies or guidelines that recommend best practices for using the cameras. Despite the small body of research, departments will be able to make an informed decision by considering three central issues: function, cost and policy.
Much of the discussion about body cameras has been from the public's perspective. Citizens want police to use technology that promotes greater transparency and accountability. While this is often a priority of law enforcement agencies, individual officers may initially be wary of using body cameras for a number of reasons. However, as Captain Blake Rieboldt of the Marquette, Mich., Police Department explained, reservations fade away once officers see what the cameras can do for them. They have already proved useful in protecting officers, especially from cases of frivolous or hearsay complaints.
"We saw an increase of situations where we were being videotaped by the public and that this was going to be a popular tool for law enforcement. Our officers were very open to dealing with them after training and showing the reason for the equipment: It's for their safety — an extra tool in their belt to protect them. When there are complaints, it substantiates the professional behavior of our officers."
In addition to enhancing officer safety, the cameras help with collecting and preserving evidence more effectively, as noted by Chief Bill Vaughn of the Johnston, Iowa, police.
"Many times evidence is perishable. If you do not capture it immediately, it can be lost. A written description of a person's behavior or an interaction between event participants does not compare to the testimony value of video."
According to Chief Dave Funkhouser of the Kiel, Wis., police department, presenting video evidence is quickly becoming standard practice in court.
"It used to be that people were surprised when we had video evidence in court. Now people have come to expect it and want to know why we don't have video available."
The market for body cameras offers a wide variety of options. Each camera differs in features such as wearability, weight and size, which is important to keep in mind since officers are already carrying a lot of equipment. Durability was a major priority for the Summerville, S.C., police, as Captain Jon Rogers explained.
"The biggest thing is that you get what you pay for. We opted for a more expensive camera because they are going to have wear and tear. Officers get in scuffles, and stuff happens on the side of the road. We didn't want to go with the cheapest thing and have it break down every other day."
The camera's field of view, mounting positions and video resolution are also crucial aspects, because they affect the quality — and hence the usefulness — of the footage. If the camera is mounted in a position that is frequently blocked by the officer's body, or if the resolution isn't sharp, it may hinder its potential as evidence. But if an investment is made in a camera with quality resolution, it can be used with other tools such as facial recognition software.
This technology is constantly evolving, making the task of choosing the best equipment seem daunting, but Chief Vaughn cautions against getting caught up in the Goldilocks syndrome. "Embrace the technology, knowing that it is a work in progress. Waiting for the perfect time and technology enhancements will result in analysis paralysis."
The cost of acquiring these cameras must also be considered because it adds up quickly: prices typically range from $250 to $1,000 per unit. Yet, the camera itself is only the most visible cost. According to Captain Tom Lyter of the Pensacola, Fla., Police Department, managing the data is a full-time job. "Understand going into it that capturing video is less than half the project."
Someone will have to be responsible for managing, cataloging and storing the data, along with preparing it for court purposes and public record requests. If the department is small enough, current staff or IT personnel may be able to manage the extra data; but at a certain point departments have to start dedicating additional staff to the project. Some departments alleviate part of the cost and hassle of data storage by using a cloud service, but managing the data in-house provides the advantage of retaining control over sensitive data.
While it is important to understand the technical aspects of body cameras, it's equally important to have a clearly defined policy for how and when they will be used. Such a policy must take into account state laws, input from the community and the practical limitations that the department must face. All three points are involved in determining when an officer must begin recording.
Most agencies require an officer to record only when they have contact with a citizen. However, many groups want a much more stringent standard.
"Many community groups want cameras rolling the entire duration of an officer's shift," said Joe Sheeran, communications director at the Minnesota Chiefs of Police Association. "This presents several issues for law enforcement, including the expense of data storage. We can address this concern by urging agencies to develop their body camera usage policy in conjunction with key community leaders such as the local ACLU, NAACP and other stakeholder groups."
One positive aspect of mandating constant recording is that it eliminates potential accusations of misconduct that come from leaving recording to an officer's discretion. But most police officials view this type of policy as unrealistic due to a camera's limited battery life, the enormous amount of data to sift through and the negative effect on morale, as Chief Vaughn highlighted.
"Our officers, like all people, do not like to have someone standing over their shoulder. Our officers are professionals; they are well-trained and competent."
Whether the camera is recording constantly or at an officer's discretion, respecting a homeowner's or a victim's privacy is another important policy component, as Sheeran also noted.
"Body-worn cameras capture incidents up-close in real time, and the data subjects are often people in the midst of traumatic, vulnerable or embarrassing situations. Right now, the Minnesota Chiefs of Police Association is working with legislators and other stakeholders to strike a balance that protects the privacy of victims, witnesses and minors and allows police to fight and solve crimes in an accountable manner."
A written policy also needs to comply with state laws pertaining to releasing video as a public record and obtaining a citizen's consent to record. Some states have two-party consent laws that require police to inform citizens that they are being recorded, while in other states an officer has no obligation to do so. Likewise, states vary as to whether police video should be treated as public record and who should be able to access those records. Both consent and public record laws are bound to be revised as the topic continues to be deliberated.
Many law enforcement officials believe this technology is quickly becoming a vital tool of the trade. According to Sheeran, "In five to 10 years, body cameras will likely be as common as dash cams, especially if technology allows for more cost-effective data storage costs. As legislatures work out data retention and classification issues, more agencies will feel comfortable making the investment in this tool. Prosecutors will also soon begin pressuring local law enforcement agencies to acquire body cameras in an effort to help secure convictions. With the enhanced transparency body cameras bring to police/community interactions, the call from police accountability groups will only gain volume in the years to come as well."