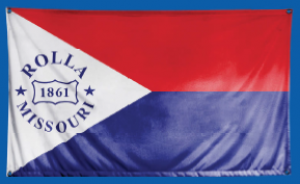 Settled Early 1800s Pop: 19,561 (2010) Government type: Mayor, administrator and council www.rollacity.org
As discussions initiated regarding the upcoming sesquicentennial celebrations of Phelps County in 2007 and the city of Rolla in 2011, the topics came around to the entities' flags.
"I wondered if we had one. It turns out we did. We had to find it, and when we did it was old and horrible," remembered John Petersen, Rolla director of community development.
Although the city was officially founded in 1861, that first design was created as part of an observance of the U.S. bicentennial anniversary in 1976. Afterward it was relegated to storage.
During the early 2000s Rolla began to cultivate and value a relationship with sister city Sondershausen in Germany. The process taught Petersen that Germany maintains a strong tradition of displaying flags, emblems and banners.
"They wanted to fly our flag and wanted us to fly theirs, but we had nothing to give them," he said. "That kind of got the thing rolling."
After gathering some input from a local high school vocational class, Petersen and Rolla Public Works Assistant Anne McClay laid out a new flag design that not only represented the city, but also complemented the county and national flags that would fly alongside it.
The Rolla flag is proudly displayed at the local fire and police stations, city offices, school district buildings and library and can be requested by other entities and individuals as well. Although its design is intentionally cost-effective — partly to keep replacement costs down and partly to encourage its diffusion — Petersen admits to not being diligent in collecting the purchase fee. "I just want the flag to be flown," he said.